Do, Eat, Drink: Williamsburg
 I'm not a "New Yorker" by any means, but I've lived in the city long enough to host quite a few visitors, plan several days of fun and start to find my favorite local haunts. Here are my favorite things to do, eat and drink in Williamsburg (where I used to live and where plenty of my friends currently live): I'll update it whenever I find something new and noteworthy!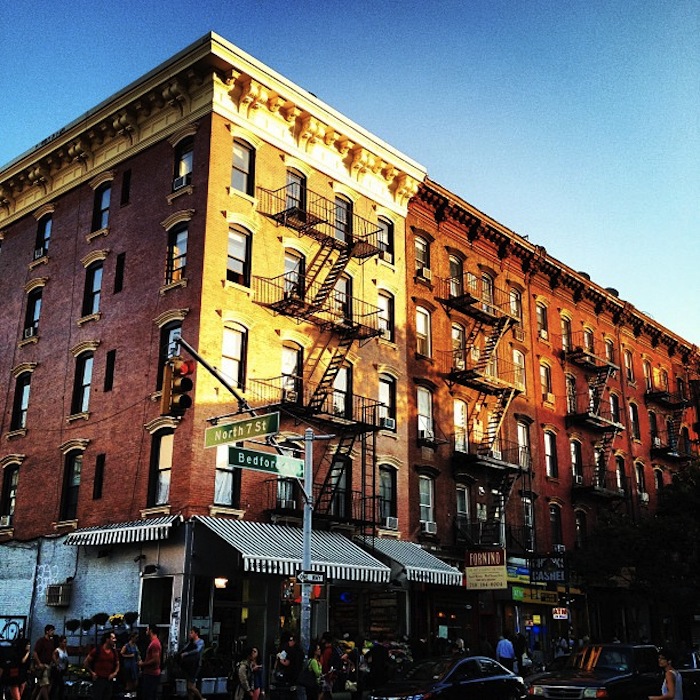 // DO
Bedford Street
The main thoroughfare of Williamsburg, this street is lined with cafes, bars and boutiques. On the weekends, independent artists set up sidewalk tables to sell prints, photos, jewelry, handknit scarves, vintage bicycles–you never quite know what you'll find!
Artists & Fleas
My local friends won't go with me to this anymore because they are embarrassed by how I know all the vendors, but don't buy (enough) things. However, I still bring out-of-towners here every chance I get. It's a warehouse filled with jewelry makers, artists, vintage clothing–super fun to wander around, and perfect for unique souvenirs. My favorite shops are Elephant in the Attic and Love Hue Studios: a beautiful vintage illustration and book clock grace my favorite frame wall.
Waterfront at Ferry Park
My favorite place to empty my wastebasket and watch the sunset.
McCarren Park
It's not Central Park or Prospect Park by any stretch, but there's a (crowded) public pool, baseball diamonds, tennis courts and a large swath of grass. A nice spot to people-watch or read magazines on the weekends.
Catbird
The cutest little jewelry store in Williamsburg, Catbird features a ton of independent designers and always has something to swoon over.
Brooklyn Brewery
I love a good brewery tour, and Brooklyn Brewery puts on one of the best. Schedule a tour for 5 p.m. on the weekdays, or just pop into the tasting room on the weekends to try out beers that are only at the brewery or only in the borough.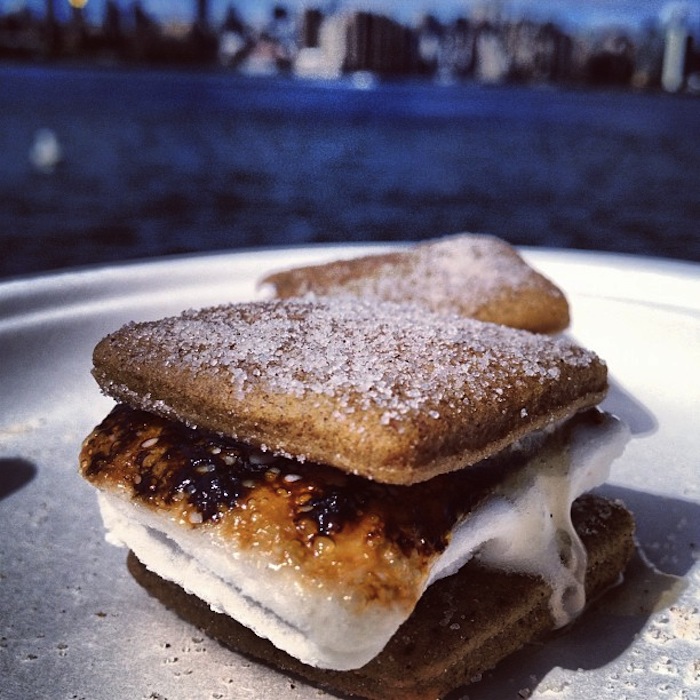 // EAT
Smorgasburg
My favorite, favorite thing in Williamsburg: every Saturday, an empty lot on the waterfront overflows with food trucks. Go hungry, and don't forget to take a photo with the Manhattan skyline in the background! My favorite finds: the original grilled cheese from Milk Truck, the lamb burger at Land Haus, a Mexican sandwich from Cemitas, passionfruit doughnuts from Dough, salted sailor s'mores, and people's pops.
Desnuda
This just opened a couple of months ago, but this "Peruvian sushi place" has already earned a solid spot in the rotation in date night dinners. Desnuda is a super cute place to start the night: the cocktails are amazing (I love Prufrock and a Hard Place) and you get free truffle oil popcorn to snack on while you sip. If you stay for dinner, don't miss the sweet potatoes–so good, we've stopped splitting them and order one each as a side.
Cafe Colette
Cafe Colette is a favorite for a laid-back brunch or dinner, especially when the weather is good–grab an outdoor table for some late-morning sunshine. My favorite is the roasted chicken chilaquiles, even if I can never pronounce it properly.
Roebling Tea Room
A delightful option for a first date, or a n-th date: don't let the name fool you, Roebling Tea Room serves up plenty of beers and a killer cheeseburger. Heck, even Jerry Seinfeld brought Seth Meyers here!
Cafe Moto
I'm a sucker for horseshoe bars if you haven't already caught on, and Cafe Moto has one of my favorites. There's often live jazz, which just adds to the feeling that you've been magically transported to a classier, more romantic age.
Traif
The service can be a little moody–it's definitely a "scene" in Williamsburg–but I just love the cheek of this place. Traif means "non-kosher" in Yiddish–and everything on the menu fits the description, with plenty of bacon, pork belly and shellfish (there's even a bacon-rimmed cocktail!). The kicker is that it's just a few blocks from Brooklyn's main Hasidic Jewish neighborhood.
Five Leaves
Technically it's in Greenpoint, but Five Leaves is still one of my top choices for brunch. The decor is cute, the Bloody Marys are delightfully spicy and it's right across the street from McCarren Park–perfect for an after-brunch wander!
PT
Another date night staple: PT has a fantastic little courtyard and a great window nook to people-watch on Bedford. The food is standard Italian fare, but the service is just exceptional and you get bread AND cheese while you wait!
DuMont
Here's how you do DuMont: a nice pint of beer, overwhelmingly delicious and rich mac and cheese as a starter, an incredibly good burger as a main. And then roll yourself home.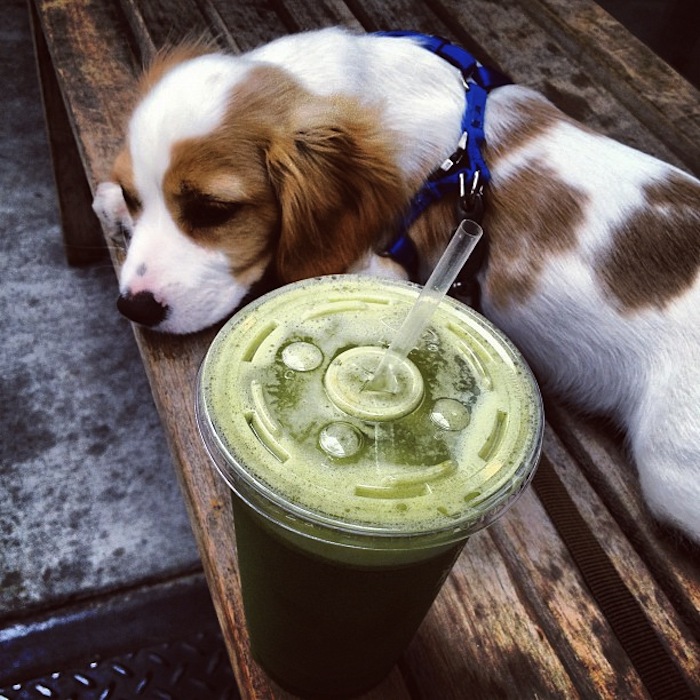 // DRINK
Mr. Pina
I love fresh juice, but it's insane how expensive it can get in New York! So, cue my obsession with Mr. Pina. It's a little grocery store on the south side of Williamsburg, but I love it because a) a large juice is $4, b) you can have as many fruits and vegetables as you want and c) they always make too much and then tell you to drink it really quickly and then they fill it up! Also, the girls are super sweet and they each have their own tip jar–one is studying fashion design and asks for connections. The best kind of neighborhood bodega, and the juices are amazing and cheap. Win-win!
Extra Fancy
A born-and-bred New Yorker told me that Extra Fancy was his favorite cocktail place in the city–and I've yet to be disappointed. The food isn't anything to write home about, but this is one of my favorite places to grab a nightcap.
Midway
The sort of dive bar that hipsters love: the beer is cheap, and it comes with a free shot of whiskey or tequila. There's a pool table and a juke box, and you will likely feel out of place if you don't have a beard or tattoos: welcome to Williamsburg!
St Mazie
One of my favorite moments in Brooklyn was showing up at St Mazie late on a Saturday night and listening to a live jazz performance of the most soulful song about New York. There's a lovely cellar bar as well that's a bit quieter and moodier. The drinks are so-so, but the atmosphere is wonderful. One thing that continues to bug me as a Catholic high school graduate: there is no real Saint Mazie.
Toby's Estate
Big windows, communal tables, good coffee: that's what a lovely Sunday afternoon is made of at Toby's Estate.
Berry Park
It's not exactly the most stellar view, but the second-floor rooftop at Berry Park has excellent fresh air and a peek of the Manhattan skyline from across the river. Super fun scene on summer weekends. It's where I had my birthday party this year!
 Note: There aren't many bank ATMs in the heart of Williamsburg (just sketchy private ones that charge a fee) and a lot of these places (i.e. Smorgasburg) only take cash: so get some out before you head to Brooklyn!