Do, Eat, Drink: Manhattan
 I'm not a "New Yorker" by any means, but I've lived in the city long enough to host quite a few visitors, plan several days of fun and start to find my favorite local haunts. Here are my favorite things to do, eat and drink in Manhattan: I'll update it whenever I find something new and noteworthy!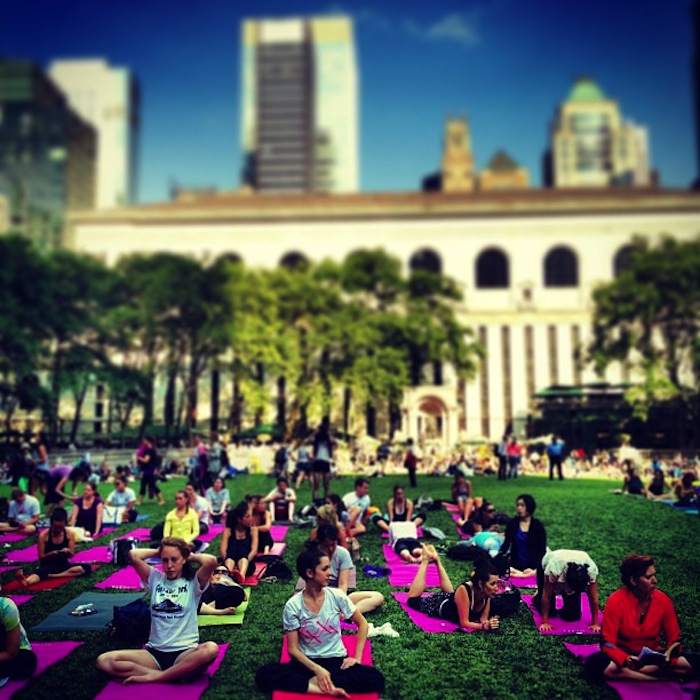 // DO
The best place to forget you're in New York City. 1.317 square miles of trees, ponds and the closest thing to fresh air that you'll find.
Downward dog in Bryant Park
During the summer months, Bryant Park hosts an outdoor yoga class twice a week. It's free, it's a fantastic workout and it's such a brilliant, energetic community. Reserve a mat online or bring your own.
New York Public Library
One of my favorite buildings in the city. I like to read on the steps in the sunshine in the summer, and steal inside to warm up and check out the rotating exhibits in the winter. It also has a wonderful little gift shop for the book lovers in your life.
Sunset from the Empire State Building
While I'm sure the Empire State Building is worth a visit at any time of day for sweeping views of New York and beyond, I think it's the best place in the city to catch an epic sunset.
Cruise around the island
One of my most highly-recommended "touristy" things to do: take the Circle Line cruise around Manhattan to see the skyscrapers from a completely different perspective.
It's completely huge and overwhelming, but the Met is one of the best places to while away an afternoon. When the weather is bad, stick to the art; when the sun comes out, head to the roof for happy hour on the weekends.
The Museum of Modern Art
I'm a member at MoMA, so I always like popping for a new exhibition or just to wander around the permanent collection. Added bonus is the fantastic cafe and the sunny courtyard. My best tip: get there early, especially on the weekends!
The Frick Collection
Easily one of the most beautiful spaces in New York City. A former private residence that now houses one of the world's best private art collections, the Frick Collection perfect to steal into after a walk in Central Park.
The High Line
This former historic freight railroad line has been converted into a public, elevated green space: the High Line is without a doubt the best place to stroll in city.
// EAT

Aria Wine Bar
The cutest sidewalk with fairy lights, and  the truffle mac and cheese is to die for. Aria Wine Bar is the perfect Saturday night date spot, whether you're with your beau or a group of girlfriends.
Caracas Arepa Bar
Where I take out-of-towners, where I catch up with girlfriends and where I grab takeout after a long day. While the arepas are definitely the reason to go to Caracas, I'm also a huge fan of the homemade chips and guacamole with a cold beer.
Nom Wah Dumpling Parlor
It's a mix of traditional dim sum meets old-school diner, but somehow, it works. I first discovered Nom Wah Dumpling Parlor on the Ahoy Chinatown and Little Italy food tour.
Chelsea Markets
Grab a beer in a mason jar from The Filling Station and a green curry chicken pie from Tuck Shop after wandering through Anthropologie and the bevy of food shops. Enjoy on the High Line or in the chairs scattered in the sunny streets of the Meatpacking District.
Picnic in Central Park
Stop by the Whole Foods at Columbus Circle to pick up some cold beers, crusty bread, gourmet cheese and berries and then set up shop at Sheeps Meadow with the rest of the sun seekers.
Extra Virgin
Another adorable spot in the West Village: brunch on Extra Virgin's sunny sidewalk is a must on a nice day.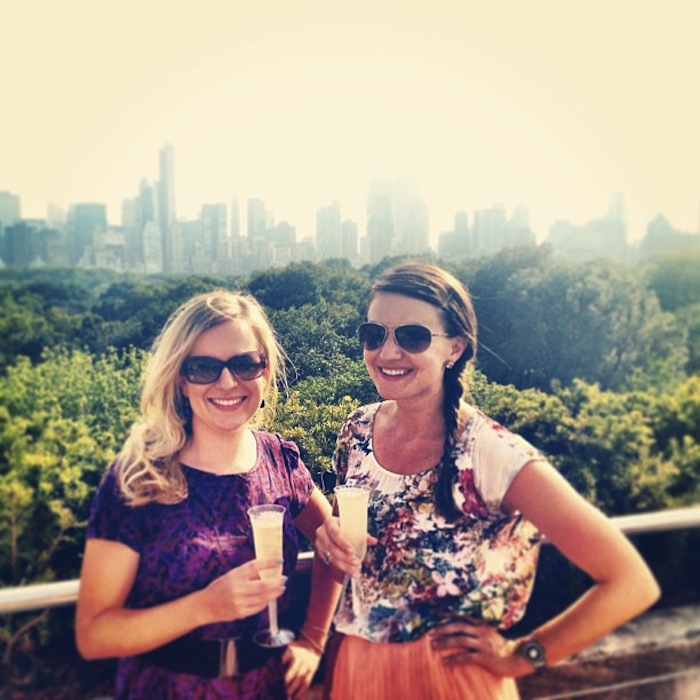 // DRINK
Housing Works Bookstore Cafe
While it looks like just another hip secondhand bookstore in SoHo, Housing Works is actually a nonprofit dedicated to serving individuals with AIDS that's staffed (almost) completely with volunteers. So when you're drinking your PBR or latte: you're actually doing a good deed! Bonus: if you come on a Tuesday night, I'll serve you a beer or make your coffee–I volunteer here once a week.
Ground Support
The coffee is delicious, but the floor-length front window and sidewalk bench at Ground Support make for perfect people watching–no matter what the weather.
The Met Rooftop
It's only open on weekends in the summer and drinks are expensive (as expected), but the Met Rooftop Garden Cafe is a lovely place to kick off the weekend.
Fat Cat
One of my favorite date night spots: this basement bar in the West Village has live jazz, ping pong, pool, chess, checkers and Scrabble!
What are your favorite things to do, eat and drink in Manhattan?