Do, Eat, Drink: Lower East Side
I'm not a "New Yorker" by any means, but I've lived in the city long enough to host quite a few visitors, plan several days of fun and start to find my favorite local haunts. Here are my favorite things to do, eat and drink on the Lower East Side (where I currently live): I'll update it whenever I find something new and noteworthy! 

// DO
East River Park
My go-to spot for a magazine reading sesh in the sunshine: there's a grassy knoll where you can see the Williamsburg, Manhattan and Brooklyn Bridges and watch the bikers, riders, party boats and jet-skis go past.
Union Market
This is where I do the majority of my grocery shopping, because it's super close to my apartment and because they give away cheese samples on the weekends. Union Market is a lovely place to pick up some organic, all-natural picnic staples.
Flower Girl
If you need a hostess gift while you're in the city, pop by Flower Girl: the shop is adorable and they can whip up a custom mason jar bouquet for $25. The flower shop of choice for big names like Chanel and Teen Vogue, I like to stop by after Monday night grocery shopping to grab a fresh bunch of flowers for my nightstand.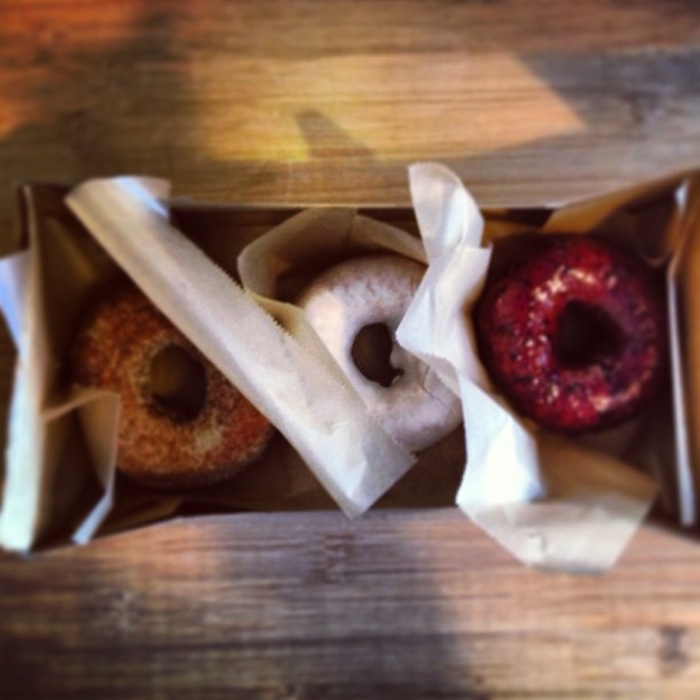 // EAT
Katz's Delicatessen
The home of "I'll have what she's having," Katz's is definitely a touristy spot but for good reason: the pastrami sandwich is as good as it gets.
The Meatball Shop
There's a surprisingly large range of options for the meatball, but the real winner at The Meatball Shop is the ice cream sandwiches: save room for dessert!
Bareburger
It's not exactly In N Out and technically it's in the East Village, but whenever I'm feeling homesick, I (Seamless) order a Western Burger from Bareburger and instantly feel happier about being in New York City.
Doughnut Plant
Tres leches doughnut. That is all I have to say about Doughnut Plant. Well, also, wild blueberry and cinnamon sugar and coconut lime.
Souvlaki GR
The Greek salad is standard, but the real charm of Souvlaki GR is the decor: white-washed walls, ocean blue tables and chairs, fuchsia bougainvillea spilling over the flower pots, outdoor lights strung up. It's like you've magically been transported to Santorini!
Freemans
Tucked away from the street, this unassuming alley courtyard leads to Freemans: a cozy restaurant with a horseshoe bar. A delightful pick, no matter what time of day.
// DRINK
Berkli Parc
Berkli Parc is my local coffee shop because a) it's around the corner from my apartment, b) the owner is from Sacramento and the WiFi password was once "beatStanford" and c) they make a damned good latte. The baristas are also the sweetest things in the world: once, I came in on a super cold winter day and the barista gave me a cup of steaming hot water to warm up my hands and face. Good food, sunny windows, free WiFi, communal table: love, love, love, LOVE!
Spitzer's Corner
And Spitzer's Corner is my local bar because a) it's on the same block as my apartment, b) they have tons of craft beers on tap and c) they have windows that open in the summer to make it practically open-air. The vibe is friendly and laid-back, exactly how you want your local to be. Win!
Schiller's Liquor Bar
Schiller's has an old-school diner feel, with white tile walls and cozy wooden booths–head to the horseshoe bar for a crisp beer. Just trendy enough.
The Back Room
Hidden behind a toy store, The Back Room is a speakeasy is super swanky with a fireplace and velvet couches. But my favorite part is the globe that opens up to hold your glasses and ice if you have bottle service!
Arlene's Grocery
From the front, the red-and-yellow facade just looks like another bodega: inside, Arlene's Grocery is a live music venue witha decidedly dive bar feel. Good for some loud music any night of the week.