The guide to hipster Reykjavik
I'm never sure if I love or hate the term "hipster." Living in the Lower East Side, I'm just a river away from the ultimate hipster enclave of Williamsburg: I love the incredible cafe and bar scene, the funky fashion and the quirky ways that people have found to make a living out of their passion (like the girl who sells prints from vintage children's books or the guy who makes clocks out of books–both sell at Artists & Fleas, and I actually own one of each).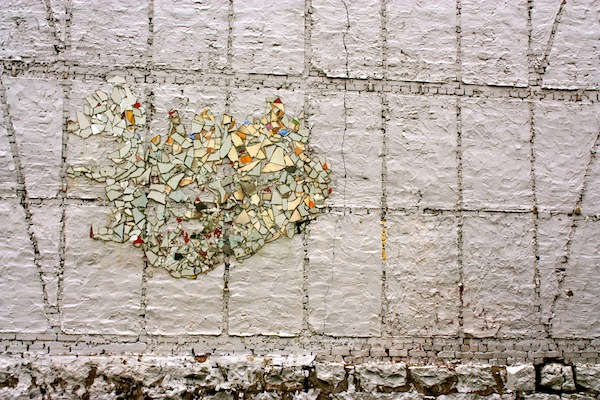 Other times, I find it a bit ridiculous (the 39 most Brooklyn things ever is a hilarious read if you don't know what I'm talking about). But luckily, I found that Reykjavik is pretty much the coolest kind of hipster scene: the people are young, pretty, fashionable and friendly. There's good coffee and better beer. And the streets are covered in graffiti. I mean, as much as I don't want to call myself a hipster–it's pretty clear that I love all of those things. Here were my favorite "hipster-y" things in Reykjavik: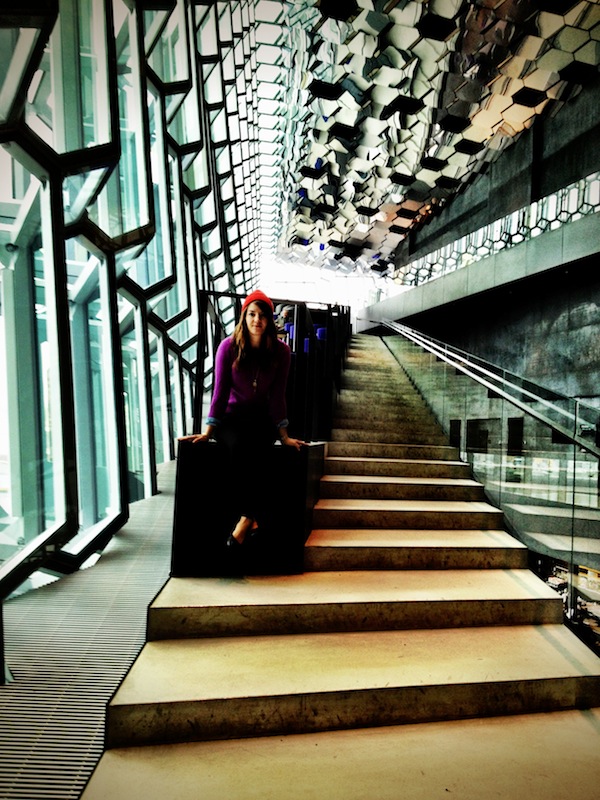 Instagram your heart out in HARPA
Iceland's modern new concert hall is all angles, glass and perspective: it's a dream to photograph. Plus, it's free to enter and it has an awesome little record shop: the perfect escape when wandering the city on a rainy afternoon.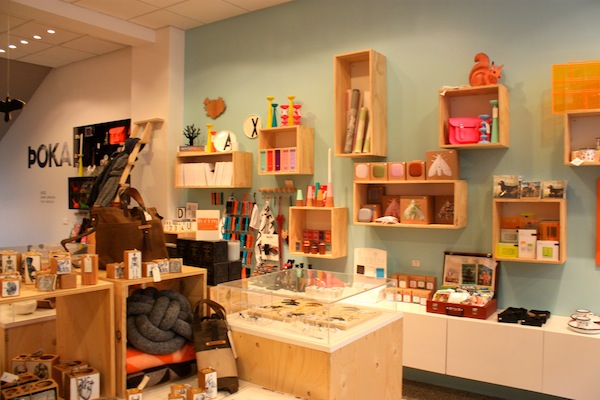 Stock up on Scandinavian design
These bright and airy shops are scattered throughout downtown Reykjavik, selling items as varied as high-quality condoms (complete with fantastic typography and illustrations of a volcano erupting) to hand-painted cards to beautifully-knit scarves and blankets. If you're looking for unique gifts to take home, pop into one of these stores–and just make sure you have room in your suitcase. (Note: I worked at a Scandinavian furniture and homeware shop in Australia, so I have a special spot in my heart for Scandinavian design.)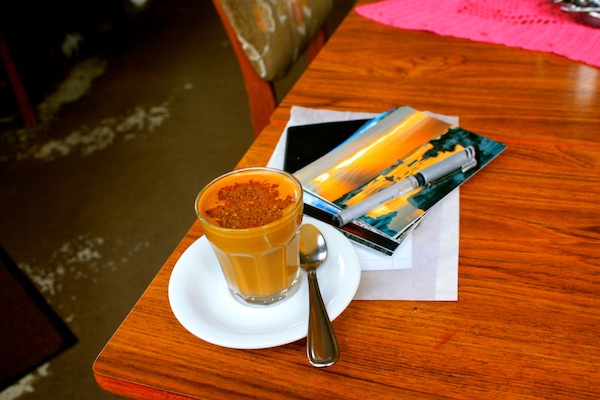 Get a fancy caffeine fix
In an unassuming and rather industrial corner building sits Kaffismiðja Íslands. From the outside, it doesn't look like anything special; on the inside, however, Reykjavik's top-rated coffee shop is cozy and chic. The chalkboard menu, the cushions thrown haphazardly on the window seat, the antique sewing table: it has all the right touches. But the real win is the expertly-executed espresso drinks and the homemade treats.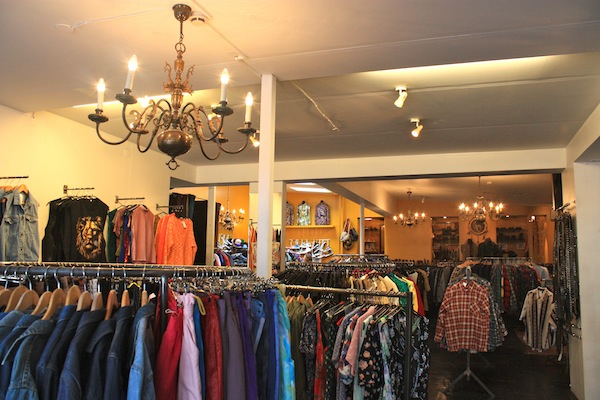 Score some sequins
Located next to the Reykjavik Backpackers, Sputnik Vintage won me over with a rack dedicated to nothing but sequins. There's also a fantastic selection of denim jackets, vests and cutoffs and gorgeous vintage dresses–and a surprisingly large  collection of secondhand Converse All-Stars. It's a bit pricey, but worth a browse–if only for the early 90's hip-hop playlist.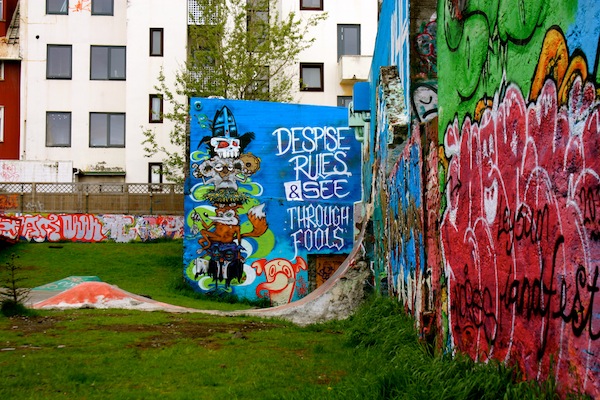 Seek out the street art
For a small city that seems relatively tame, Reykjavik has a thriving street art scene. Plenty of it appears to be sanctioned, with a definite "public art" slant–like the gorgeous mirrored Iceland in this post's first photo. But there's a fair bit of subversive graffiti art, a combination of colorful tags and beautifully-painted murals.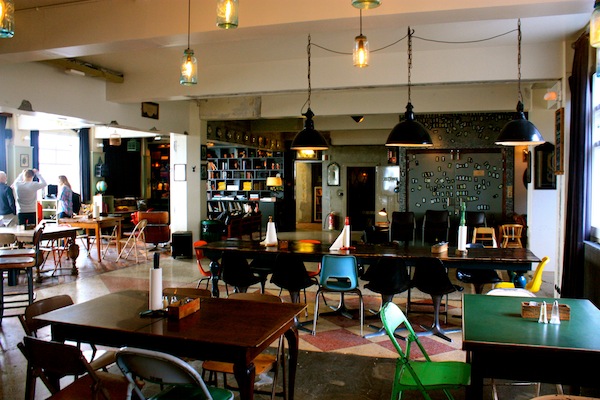 Spend all day (and night) at KEX Hostel
The first hostel I've ever stayed at that was just as popular with locals as it was with travelers! Located in an old biscuit factory on the waterfront, KEX Hostel is known for its bar and live music just as much as its affordable accommodation. As the Grapevine (Reykjavik's English-language weekly) states: "KEX isn't just a good bar because it's one of relatively few choices in a relatively tiny city; it would be a good bar in any city, but it has a dreamy view of the sea that is truly Reykjavik." A local told us to try Mikkeller, and it's now on my short list of favorite pints.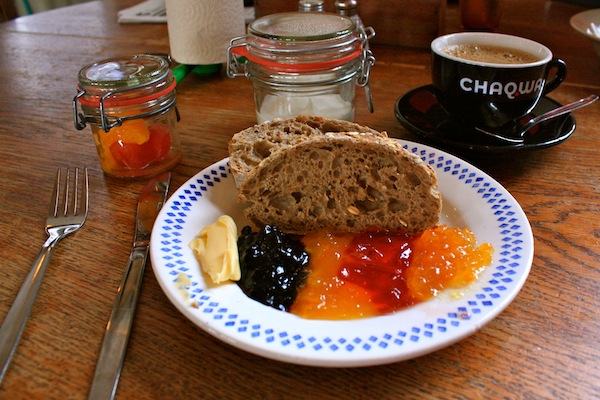 The best part of staying at KEX, however, instead of merely drinking there: the breakfast. Hostel breakfasts are usually pretty sparse and rarely delicious, but the KEX spread featured a variety of jams, traditional Icelandic yogurt, freshly-sliced fruit and the best bread. Swoon-worthy.
Other highlights: the carnival-inspired signs that announced the room numbers, the vintage knick-knacks sprinkled throughout the bar, the globes and maps as standard decor, and the super-friendly staff (who are more than happy to walk you through their perfect Reykjavik itinerary). I can see why Reykjavik-dwellers make it their local: it's just plain cool.
Note: KEX Hostel kindly offered me complimentary accommodation, but all opinions are my own.