How to pack stylishly for Jordan
My first thought when my trip to Jordan was confirmed: what to wear? As it was my first trip to the Middle East, I knew that it would be not only much warmer in temperature but much more conservative in style. I wanted to be as respectful as possible while still being comfortable and on trend–and be carry-on only!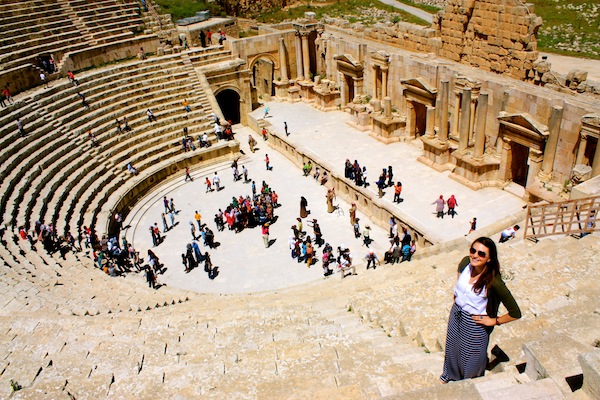 Turns out I worried far too much about erring on the conservative side: while most Jordanian women are covered from head to toe, it's not expected of Western women. While it's best to cover your chest, shoulders and legs in cities like Amman, the rules are bit looser when you're surrounded by other Westerners at the tourist sites.
However, I'm glad that I chose to cover my shoulders and legs most days: I felt much more at ease among locals. When we were only among our tour group, I usually ditched the sweater in an attempt to come home with a little bit of color.
Here are the key pieces that made Middle East mixing and matching a breeze (and let me get away with just a small duffel for 10 days):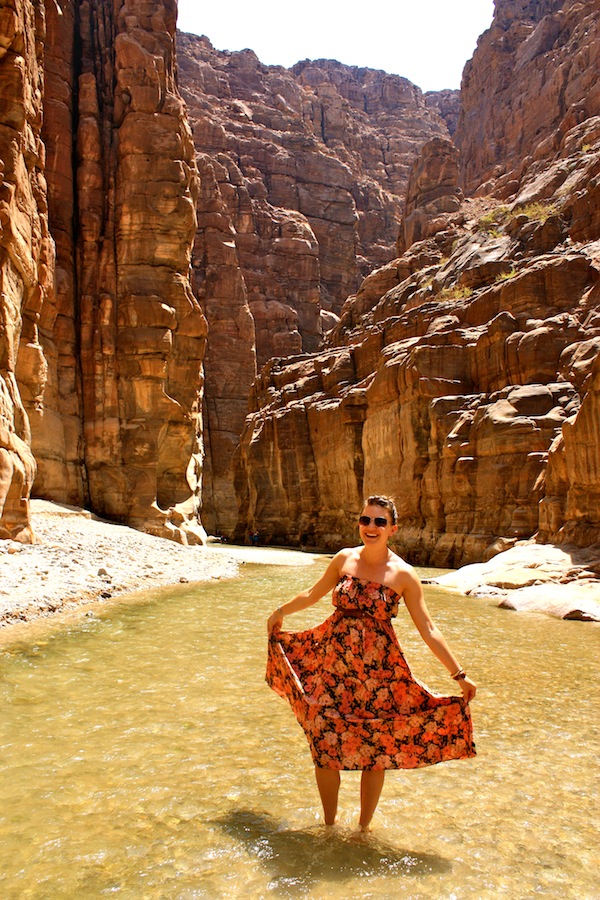 Maxi skirt that doubles as a dress
A floral maxi skirt is an easy way to be chic but conservative: this has actually become one of my favorite work looks in New York City! The woven belt is key to this look: being able to cinch in the waist is what allows it to work as a dress. (Note: this was the day we were heading to a five-star resort on the Dead Sea, so my shoulders were only really exposed for a bit of a photo shoot. Usually I had a sweater on top.)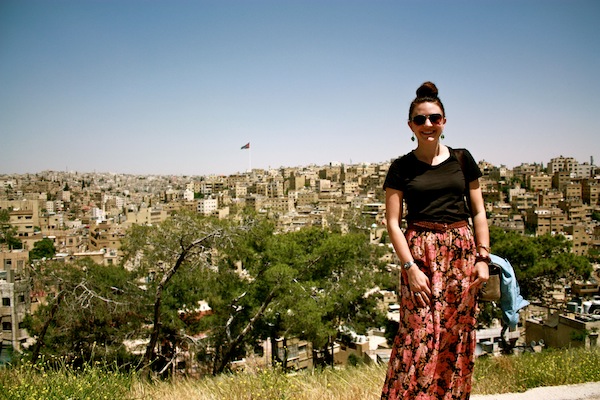 Basic solid tees
I've recently discovered Everlane, and I'm obsessed. The prices are very affordable ($15 for a tee!) for such high quality, and it's free shipping and returns. The solid-color crewneck tees were perfect to pair with a maxi skirt: they covered my shoulders and my chest without being matronly. Bonus: they just released a bunch of spring colors that would be perfect in the warmer climate!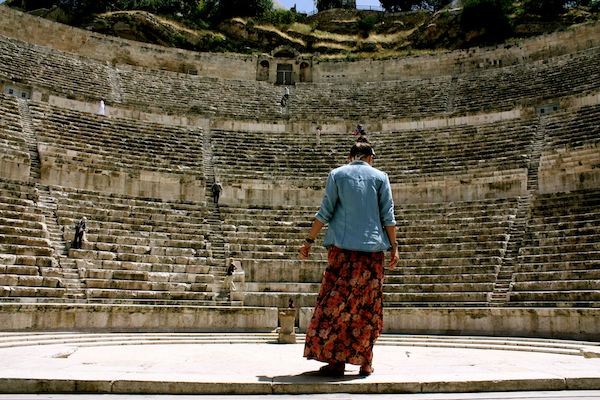 Something to cover up
I recently bought this super-soft chambray, and it's without a doubt the best spring staple possible! It was perfect for Jordan since it wasn't too heavy in the heat, but still covered my arms when we were in more conservative areas.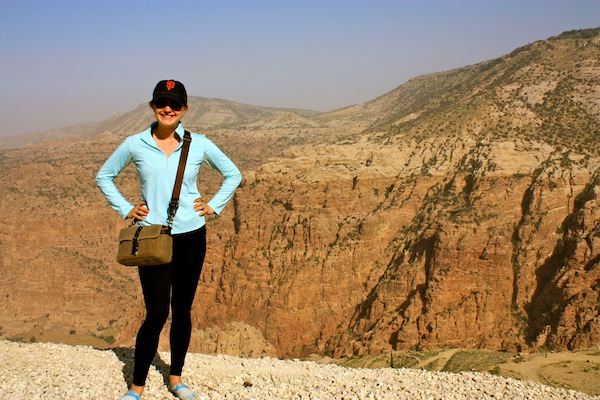 An "active" outfit
When I saw hiking on the Jordan itinerary, I groaned: it's one thing to mix and match for city days and nights, but active clothes throw a whole different curve into the mix. And again, I wanted to err on the conservative side: I didn't pack the short running shorts or sports bra tank that I would have generally worn. My parents (who are avid golfers) kindly sent this Swing Cool Elements shirt: UV protection, cooling, moisture-absorbing and fast-dry! Unlike the rest of the group who wore T-shirts and shorts, I actually stayed fairly cool and hydrated through the hike–and I didn't have to worry about sunburn! Definitely worth investing in if you're going to be doing a lot of outdoor activities in the Middle East. (Note: one thing I do wish I had packed was more active outfits: the adventure activities in Jordan like hiking, riding in the back of a 4×4 in a desert, riding a camel and canyoning all would be best in comfortable outfits that you don't mind getting a little dirty.)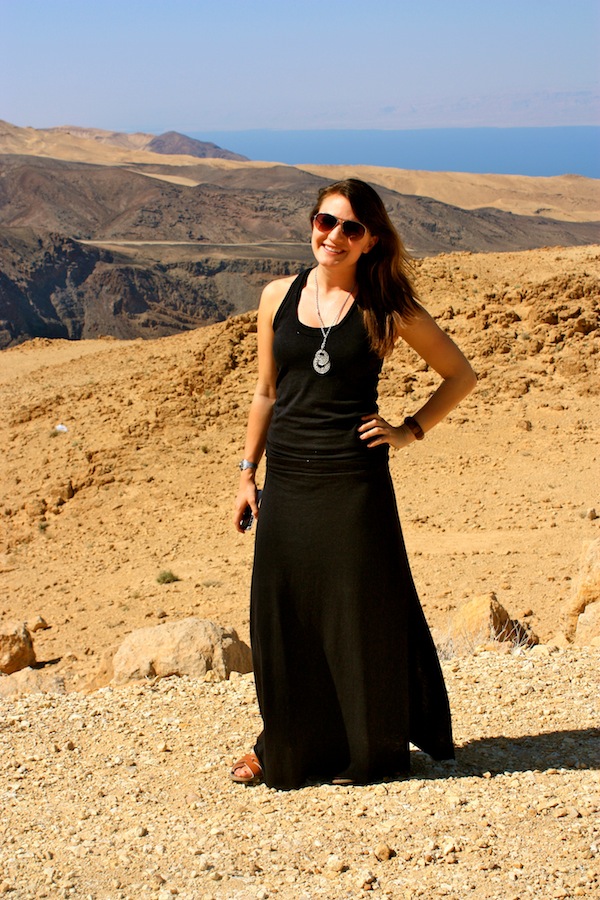 The MBD
When I wrote how to not look like a backpacker while living out of a backpack, one of the things I recommended was a multi-functional little black dress. For Jordan, a maxi black dress was the ultimate perfect-for-everything outfit. It was super comfy–even on long bus rides–and could be dressed up with a funky necklace or dressed down with a chambray on top. I usually kept my shoulders covered with a checkered scarf worn as a shawl or a wore the same scarf around my neck to cover up my chest.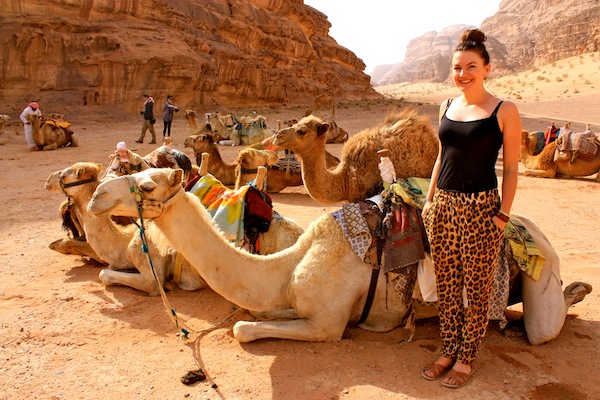 A pair of patterned pants
So, obviously, these are the fiercest pants possible. But what I love about them is that they're super lightweight and loose: even though they cover my legs, they're not hot and heavy like a pair of jeans. They also roll up nice and small without wrinkling: key when you're camping!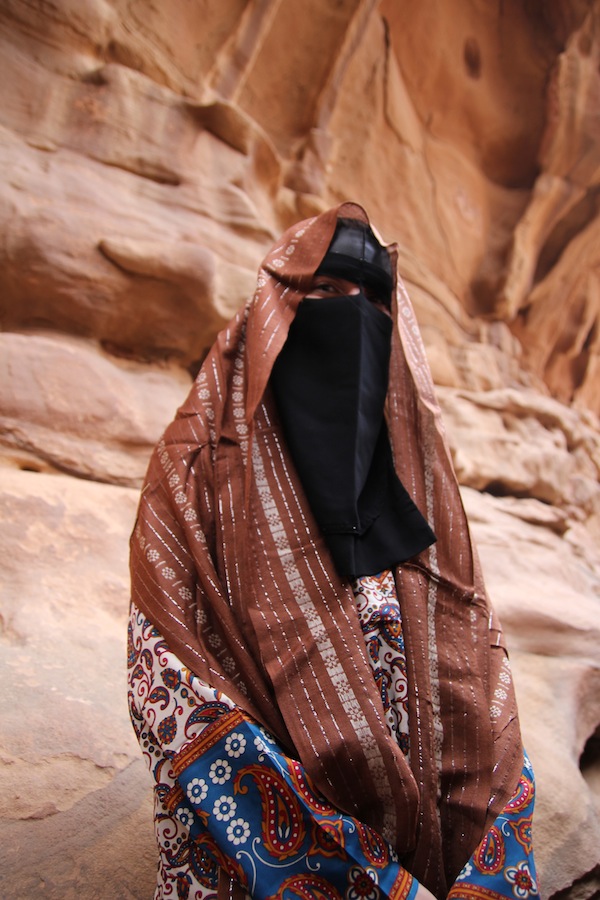 Not this.
Honestly, I saw about the same amount of women wearing a full burka in Jordan as I do in my day-to-day life in New York City. They're definitely a few, but it's not every woman. You will be required to fully cover if going inside a mosque, but other than that, Jordan is very liberal by most Middle East standards. Most Jordanian women had a scarf pinned over their hair, and wore stylish clothes that covered their chest, arms and legs. You'll honestly feel comfortable in anything in Jordan–and no one is going to give you a hard time if you choose to flash a little calf or forearm–but I definitely think it's important to be respectful of the more conservative culture. And hey–I learned that a maxi skirt and a chambray looks just as chic in New York City as it does in Amman.
Have you ever traveled to the Middle East? What do you recommend packing?
Note: I was a guest of the Jordan Tourism Board, but all opinions are my own.