Six reasons to stay at the Surfcomber
I'm usually pretty low-key when it comes to accommodation while traveling: all I need is a bed to crash on, a place to keep my things and a location that's convenient to touristy sites and public transportation. I tend to save on where I stay and spend it on what I eat or what I do.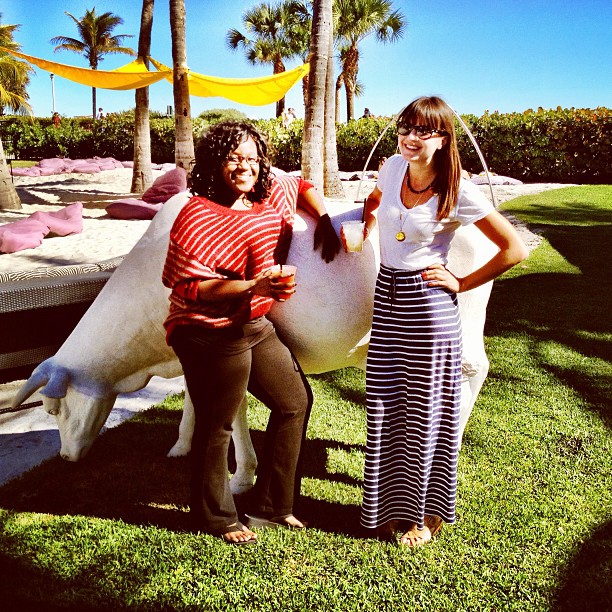 But my grand plan for Miami consisted of getting as tan as possible in a few short days and Miamah's grand plan consisted of salsa dancing until dawn. So when it came to accommodation, our main priorities were a pool and proximity to nightlife–and heck, this was our first vacation together EVER. We were ready to splurge.
The Surfcomber was pretty much exactly what we were looking for, and so much more. Miamah is a sworn Kimpton Hotels convert now, and I can't say I disagree: the boutique hotel was just brimming with character, convenience and the right amount of luxury. It had all the social perks of a smaller property with the upscale feel of a high-end hotel: perfect for the twenty-something professional, the couple or the family.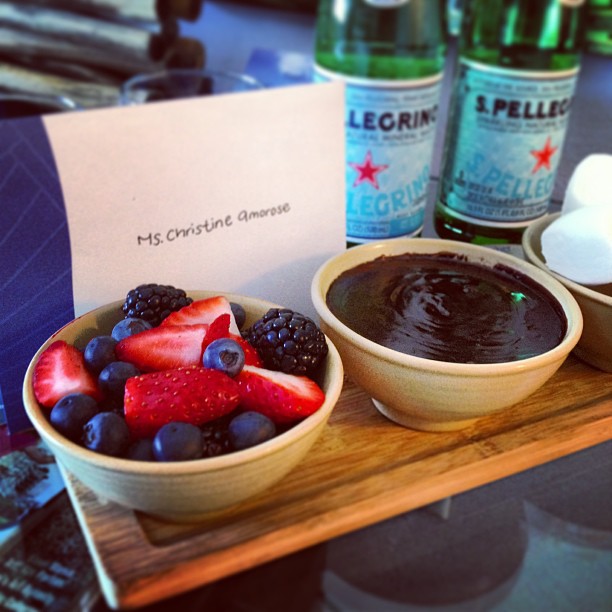 The little extras
We weren't able to check in early, so we dropped off our things and headed straight for the pool. When we were finally able to go to our room, two bottles of sparkling water and bowls of fresh berries, marshmellows and dipping chocolate were waiting for us. It was such a little thing, but it was such a sweet gesture that really made us feel special.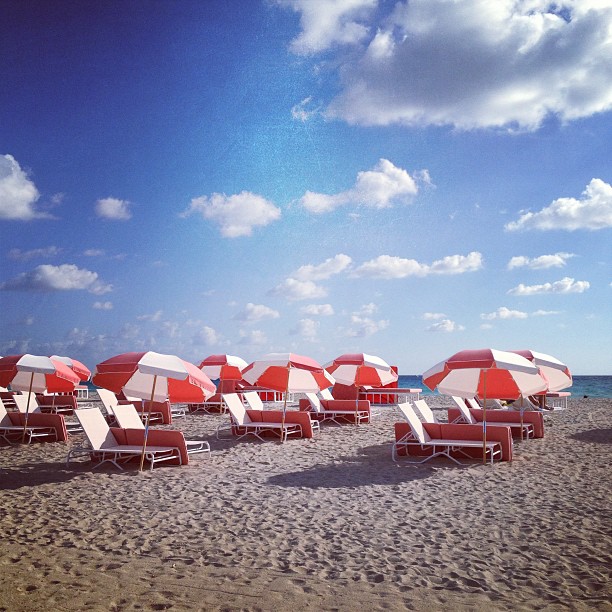 The location
The back of the hotel property faces South Beach: walk past the pool, and you're on the beach. It's an easy 15-minute walk to the strip of hotels and clubs that make up the brash South Beach nightlife, whether along the main boulevard or along the running path that borders the sand.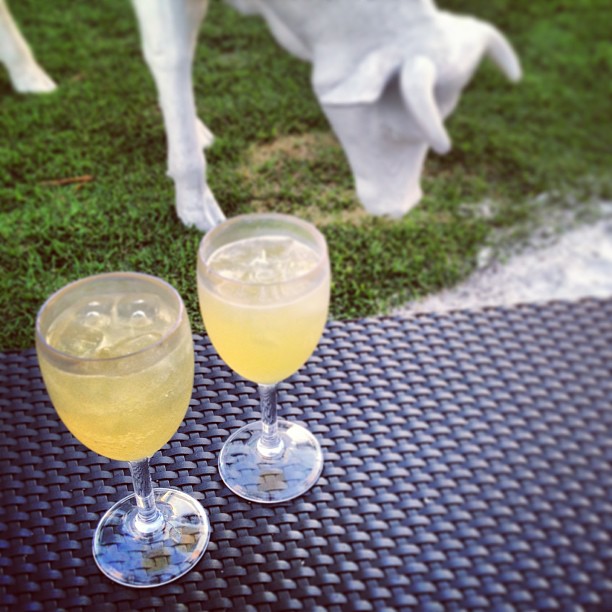 A truly happy hour
From 5 to 6 p.m. every evening, the Surfcomber holds a wine social by the pool. It's usually a red or white selection–and sparkling cider for the kids–but there was also a truly delicious vodka cider when we visited. It's a great way to wind down after the day or have a cheeky one on the house before getting ready to go out. It's also a brilliant way to meet other guests: the whole layout of the outdoor bar area is designed to be social. Oh, and that cow in the background? That's just one of the Surfcomber's brilliant quirks: farm animals that each have a name and a personality and who pop up in the most unlikely of places. This isn't a place that takes itself too seriously.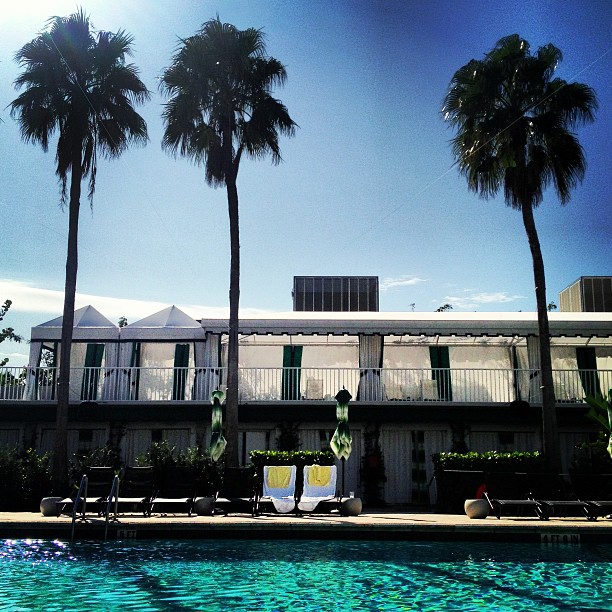 The pool
One of the main reasons I was willing to splurge on a hotel in Miami is because I knew I'd be spending a substantial amount of time by the pool–and the Surfcomber did not disappoint. The pool attendants were incredibly helpful and friendly: finding an open chair, putting up umbrellas, topping up your ice water. The chaise lounges were comfortable and the pool was refreshing without being too chilly. I couldn't have asked for a better place to work on my tan! They say the pool at the Surfcomber is one of the hottest party spots during the summer, and I can certainly see why.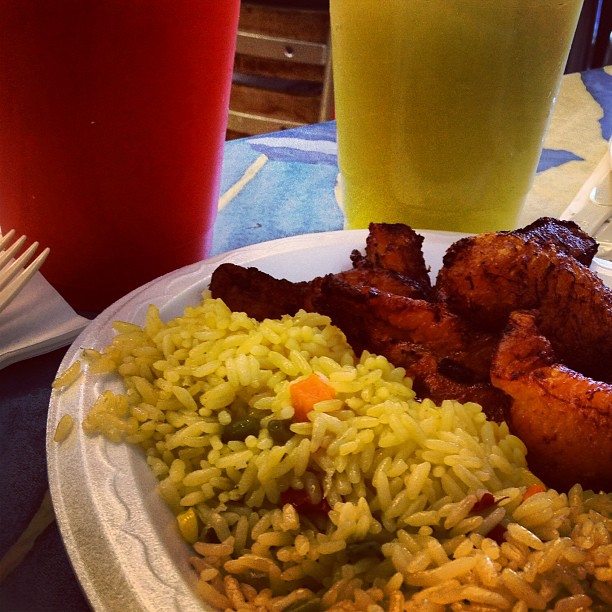 The recommendations
I have never experienced such enthusiastic front desk clerks: in terms of being the face of Kimpton and Miami, they absolutely excelled. We chatted with a few different ones, and all were keen to share their favorite local recommendations with us. We never would have discovered Las Olas Cafe if it wasn't for one of them who raved about the watermelon and sugar cane juice. It's on a quiet side street a few minutes away from the beach and the main drag, and we honestly had to enlist the help of a bilingual regular to order: all of the staff spoke only Spanish! Make friends with a local, try whatever they recommend and don't miss the watermelon juice or the Cuban coffee: absolutely delicious.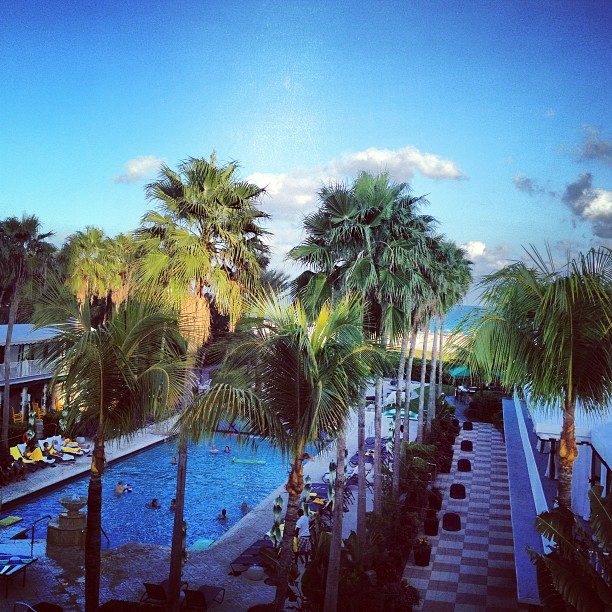 The view
We definitely scored with an ocean view: because of the layout of the Art Deco hotel, not every room has such a killer view. If you can swing it, it's worth splurging: waking up to sunrise over the ocean was absolutely incredible.
Note: the Surfcomber generously offered us a discount on our stay, but all opinions are my own.