The little things I love about New York City
Honestly, I never pictured myself as much of a big city girl. I grew up in the suburbs of
a cow town capital
, and I've always been more comfortable in smaller cities with a prominent beachfront. I've based my happiness on how easy it is for me to escape to a swim in the sea.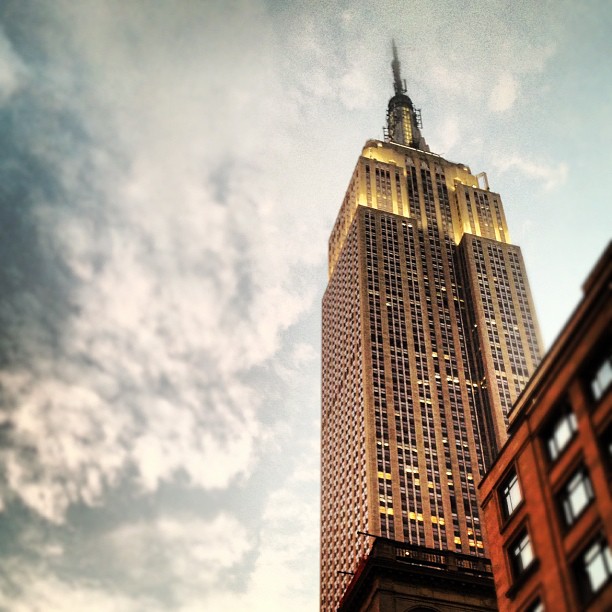 That factor has gone out the window in the Big Apple, but I don't think that any other city can really compare after you live in New York City. Every time I come "home" after a weekend or vacation away, I'm hit by just how lucky I am to live here.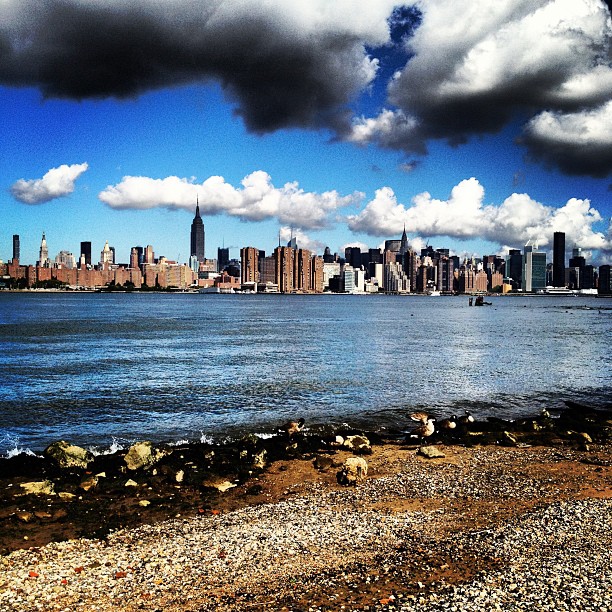 The skyline: 
The best part of living in Brooklyn has to be the unobstructed Manhattan skyline views. But really, the iconic New York skyline looks gorgeous from any angle. Whether your view is from 
up the Hudson in Yonkers
, across the East River 
in Queens
 or sneaking in through the trees from the 
secret corners of Central Park
, Manhattan is breathtaking.
Revolving doors: we just don't have these on the West Coast!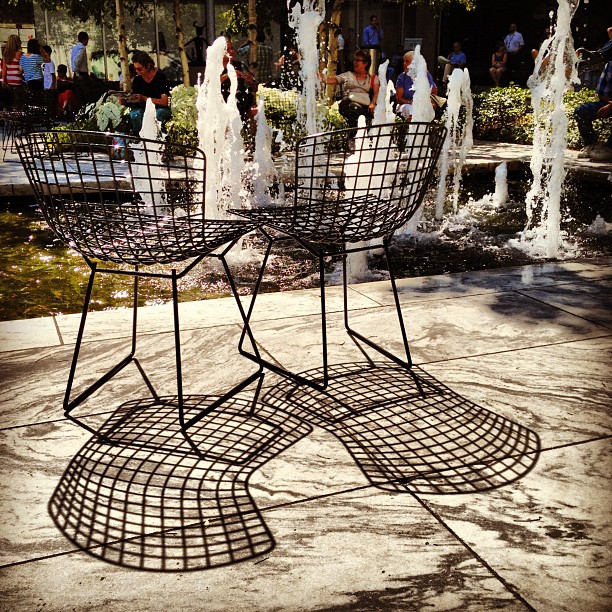 Being a member of the MoMA: One of my big city fantasies was being able to pop over to museums on my lunch break and check out the latest exhibit–to me, that was just the height of cosmopolitan savvy. I love that I can spend an hour or a day in the museum, and that I can bring friends for just $5!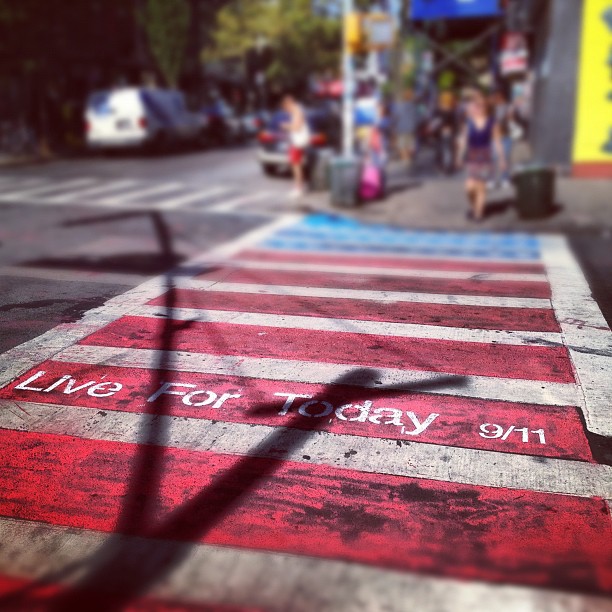 The community of New Yorkers: One thing I forgot while traveling was just how friendly Americans are. They are exceedingly polite and they will go out of their way to help you–and that goes for New York City as well as the small towns.
Anything can be delivered, and fast: You can get your Thai green curry, dry-cleaning, bottles of wine, organic groceries, new furniture, pillows and pretty much anything else your heart desires, delivered straight to your front door. It'll cost you, of course–but often, it's worth it (especially after you drag a case of wine home on the subway).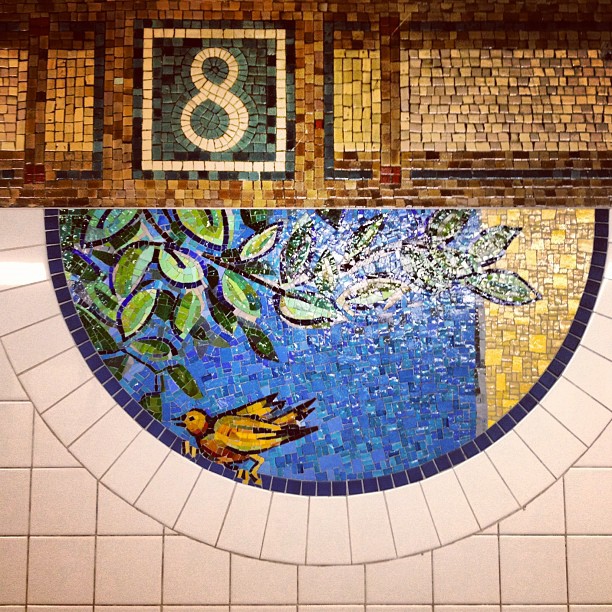 The subway: It runs 24 hours and trains come every few minutes. There are cool things to look at, whether it's beautiful tile mosaics in 8th Avenue station or whether it's just people-watching on the train. It's reasonably priced and it goes just about everywhere in the city. Taxis are cheap, but truth be told, I prefer reading a book and brushing up against the masses underground.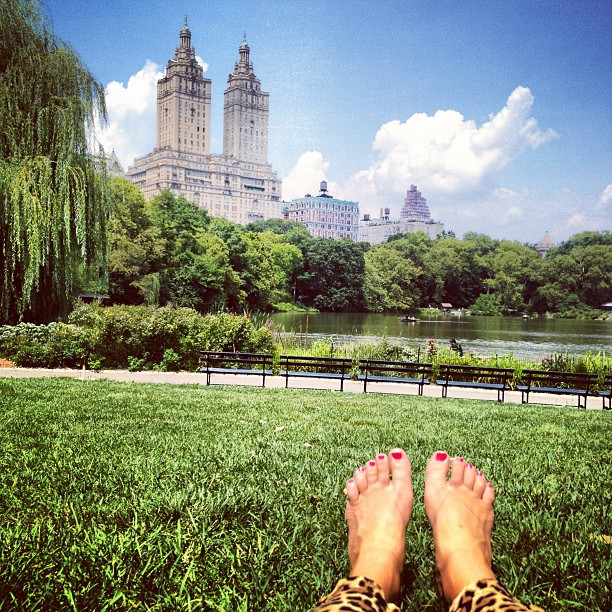 Central Park: OK, so this isn't exactly a little thing: it's actually pretty huge (1.317 square miles, to be exact). But I love this green urban oasis: it's the perfect place to wander, to picnic, to soak up the sunshine or watch the leaves change color.
Blue skies.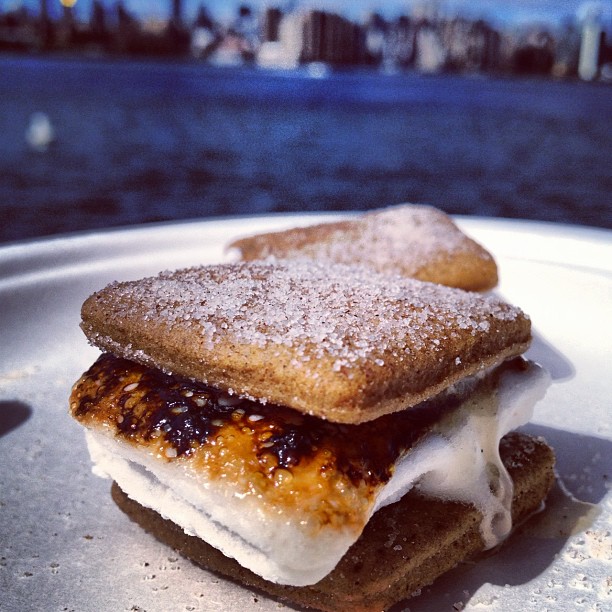 Smorgasburg: This is probably my absolute favorite part of living in Williamsburg: it's a "food flea market" that happens right on the waterfront every Saturday. Combine incredible skyline views, a very hipster crowd and creative, artisan twists on classics like smores, grilled cheese and jam, and you've got Smorgasburg. Come hungry and bring cash.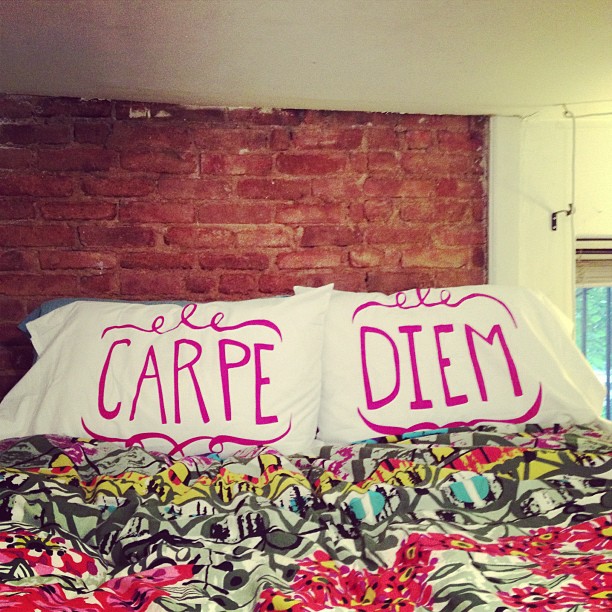 Getting to indulge my fixed life envy: Even though I don't know how permanent a move this is, I'm expecting far more dinner parties and house guests than I ever had in Nice or Melbourne (everyone said people will visit as soon as you move to New York City, and it's true). I've really enjoyed carving out a space for myself: decorating my loft, joining a yoga studio, going grocery shopping. It's a lovely change of pace.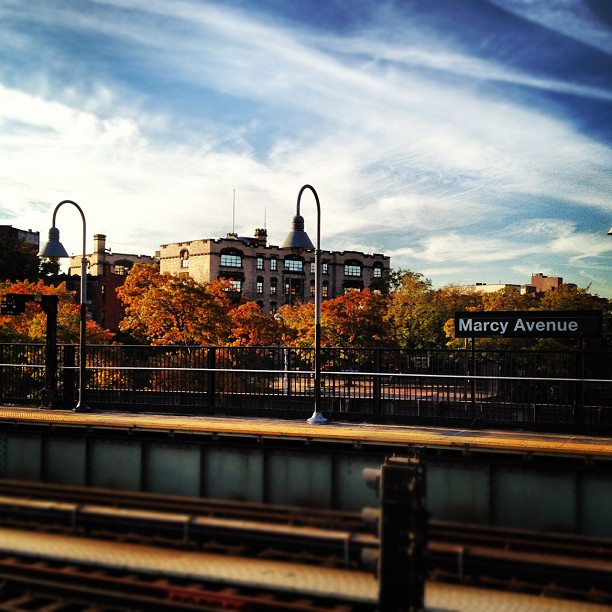 The leaves changing: I've been happy staying in summer mode for multiple seasons, but the best part of gearing up for an actual winter means getting to experience an actual fall.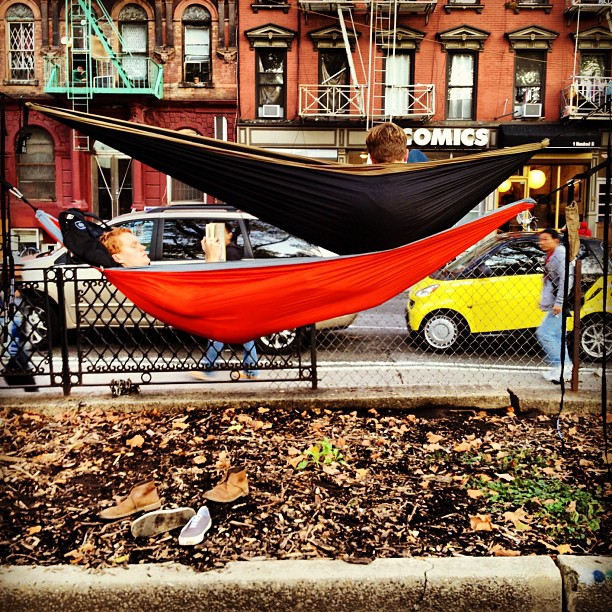 The characters: I swear, there is no better place to people watch than New York City.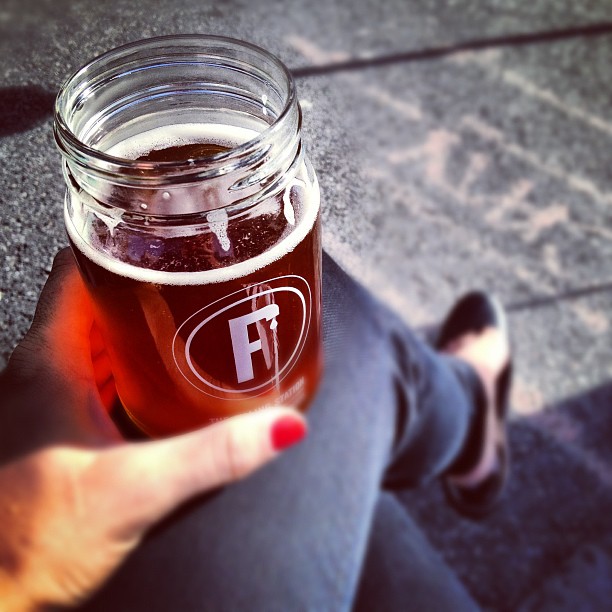 Good beer: The microbrewery scene in America is amazing, and I love the growler tradition in New York City. Where else can you grab a craft IPA "to go" in a Mason jar and sip it in the sunshine on a busy intersection?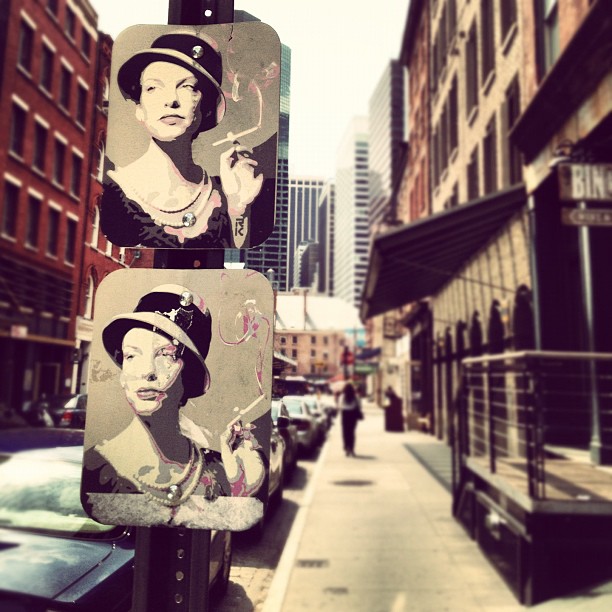 The street art: I won't lie: it's not as good as Melbourne. But New York City still has some interesting details and in-your-face murals if you pay attention.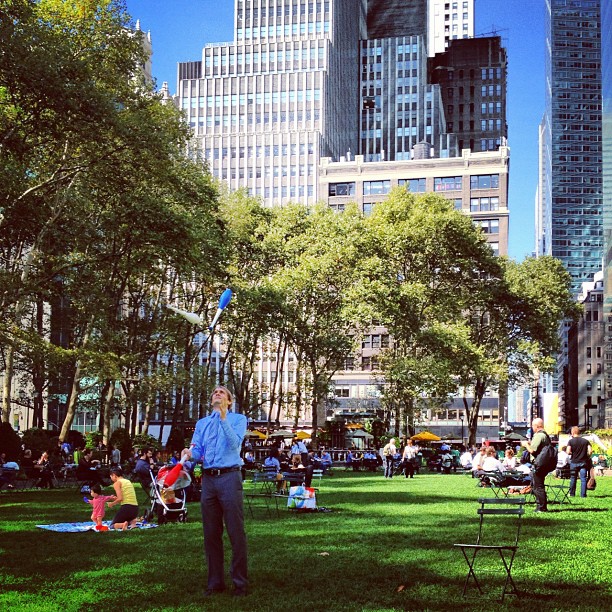 Lunchtime in Bryant Park: I work just a few blocks away from the New York Public Library and Bryant Park, and I make a point to take a lunchtime stroll through the trees. In the summer, there were juggling classes and a professional piano player to entertain the lunchtime masses; in the winter, the city's only free ice skating rink is open. Plus, there's the outdoor "Reading Room": a collection of the day's newspapers, as well as plenty of classics. It's my favorite place to get caught up on the day's headlines!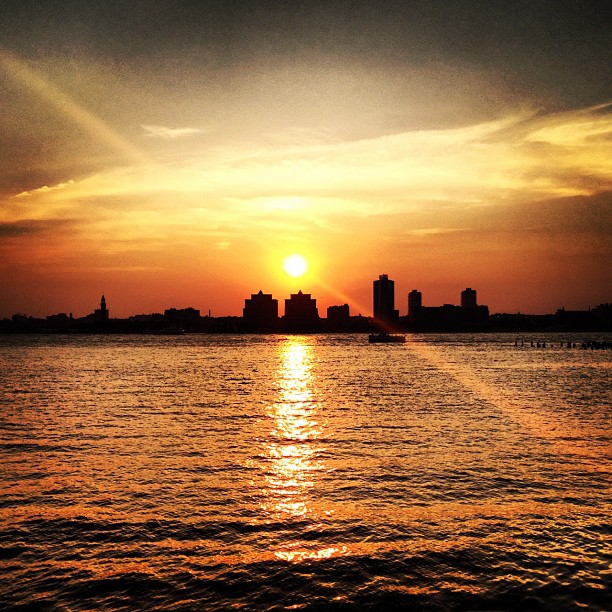 City sunsets: You're not always able to fully enjoy a city sunset, as the buildings tend to block out all the good sky. But that just makes it all the more special when you do catch one over the water.
What's your favorite little joy of New York City?