Seven awesome reasons to go to Austin
Texas was my first "new" state on this trip, and Austin was the city I was most excited to visit.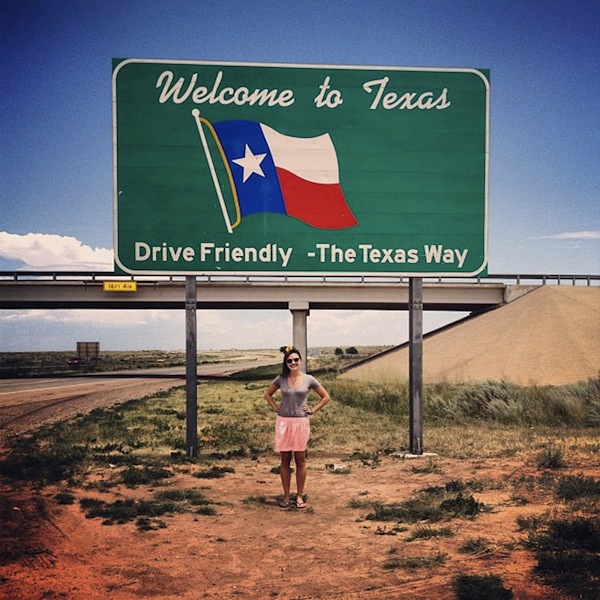 It didn't disappoint; in fact, it exceeded all of my expectations. If New York City doesn't work out, don't be too surprised if I decide to give Austin a try…here's why: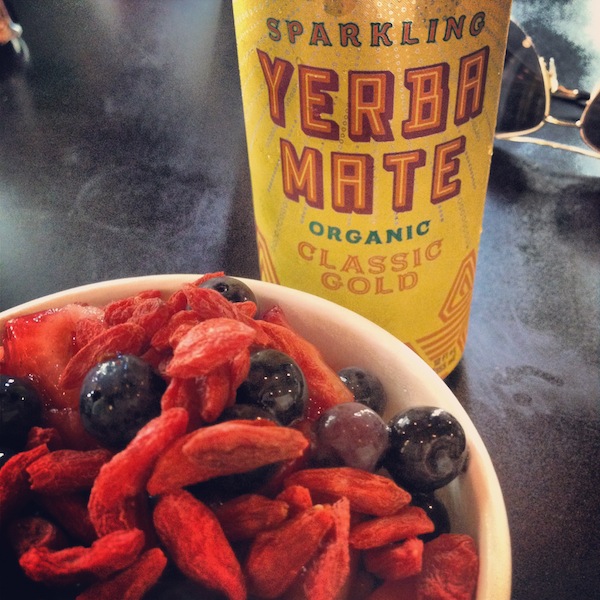 Eat breakfast at Blenders & Bowls
Full disclaimer: Blenders & Bowls is owned by one of my friends from college. But even if I wasn't friends with Erin—who is one of the uber friendly girls behind the counter chopping up fruit and tossing in granola—I'd still come here ALL THE TIME. First of all, it's probably the healthiest thing we ate all trip: antioxidant overload! Secondly, it was absolutely delicious. And third, the space is awesome: they started out as a food truck, but now they share a permanent space with a yoga studio. You can't help but get good vibes from this place.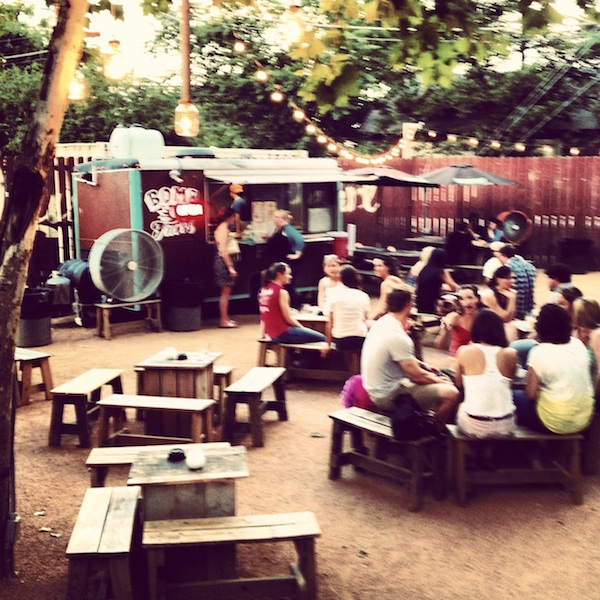 Hang out at a backyard bar
 When Erin mentioned heading to a backyard bar, Renee and I were both a bit uncertain as to what that meant but keen to check it out. Holy moley, are we glad we did!
Lustre Pearl was the single coolest bar we went to on this road trip:
essentially, it's an old house that's been converted into a bar with backyard seating and a taco truck. There are also hula hoops–and I used my incredible hula hooping talent to score a free drink or two. It's a super laid-back vibe that's a nice change from brash, loud, in-your-face Sixth Street (the popular live music and nightlife strip downtown). Can't recommend the Rainey Street neighborhood enough!
Take a bike ride along the river
So, Austin is one of those cities that looks really bike-friendly on a map and then you head outside and realize that a) there are lot of deceivingly steep and difficult hills and b) it's really sticky hot in July. We cycled all over the place: the city isn't extraordinarily bike-friendly, but it is the most efficient way to get around. If you just want something simple, stick to the gorgeous (and fairly flat) riverside Hike & Bike Trail. And if you want to get off ground and into the water for your work-out: Erin says it's a kick-ass place to stand-up paddle board!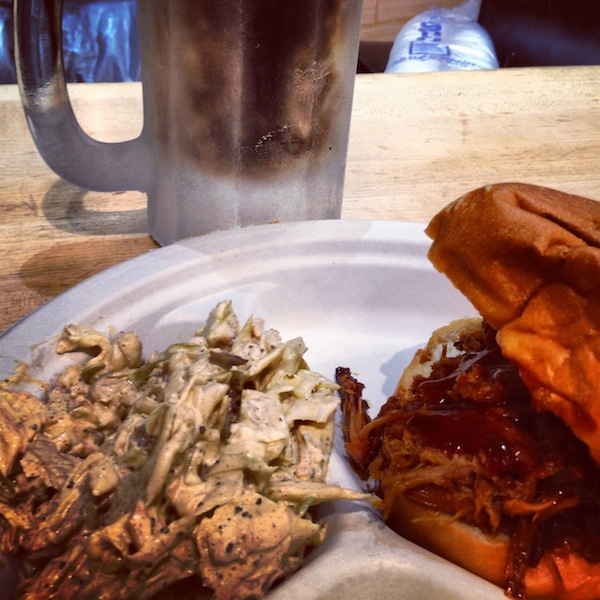 Eat healthfully at Whole Foods
The health food emporium was founded in Austin, and the flagship does not disappoint. It's absolutely enormous, stuffed full of foods free of high fructose corn syrup. You can load up on healthy road trip goodies (we went straight for the fresh fruit and Lara bars), pick up ready-made picnic fixings (we swooned over the cherry chicken salad) or eat in at the wide variety of counters. I opted for a pulled pork sandwich and spicy coleslaw with root beer fresh from the tap, while Renee had delicious crab cakes from the seafood counter. There is honestly something for whatever your heart desires, from a mile-long salad bar to cupcakes and gelato. Add in outdoor courtyard seating and an on-site cooking school—and what more could you ask for?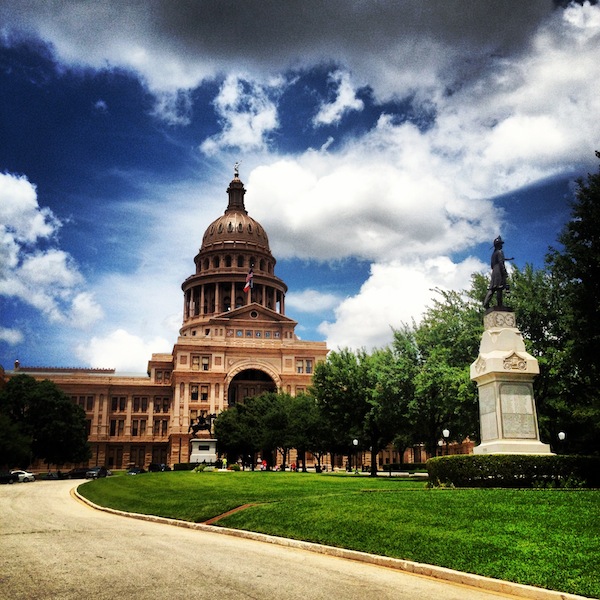 Even if you're not into politics or gorgeous architecture, just go and try to count all the Lone Stars. It'll keep you busy in a nice air-conditioned space.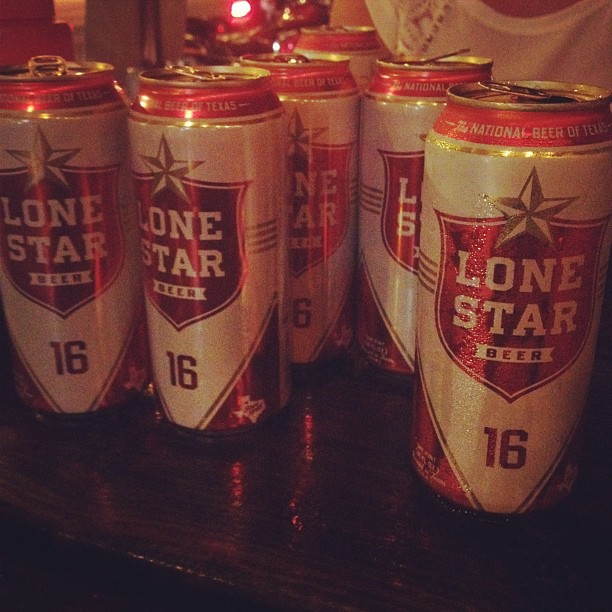 Drink cheap beers
We knew it was going to be a good night when Erica and Shaun of Over Yonderlust invited us for $1 beers and fried cheese curds. While it might not be its classiest beer, a cold can of "national" beer of Texas was just what we needed in the hot summer heat as we chatted travel with these Austin natives. They also had us try fried cheese curds and fried dill pickles at Black Sheep Lodge. Verdict: fried cheese curds taste like grilled cheese without the bread (yum!) and fried dill pickles taste like…fried dill pickles. If you can't escape the deep-fried culture of Texas, might as well embrace it!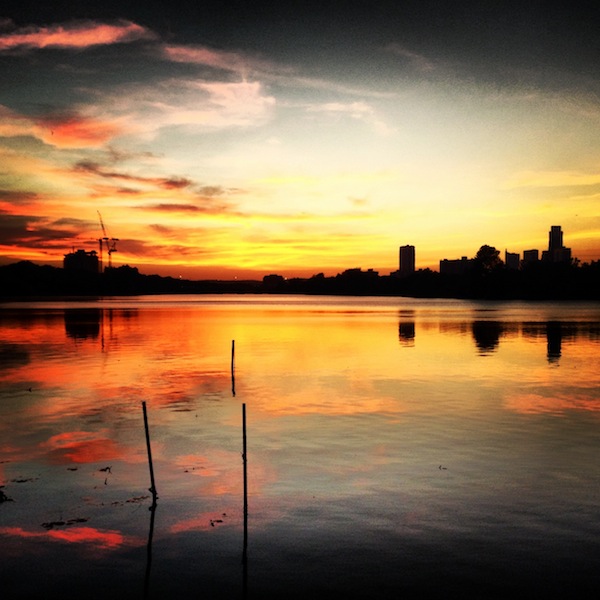 Catch a sunset from the HI
The Hostelling International Youth Hostel in Austin is located on the south shores of Lady Bird Lake: it's about a 10-minute drive to the center of the city (hence why we rented bikes almost immediately). While it might not be the most convenient location-wise, the serene natural setting makes up for it. We snapped this photo from right behind the hostel: you can't beat those skyline views! The hostel is really similar to what you'd find in Europe or Australia: a mix of dorms and private rooms with sheets and towels provided, a big kitchen, free Wifi and lots of lounging space, inside and out.
Note: HI Austin kindly offered us complimentary accommodation, but all opinions are my own.