A day on a motorbike in Phu Quoc
One of my favorite travel days that I've never written about: the day I spent on the back of a motorbike in Phu Quoc. It was the perfect combination of adventure and relaxation: the thrills of off-road motorbiking tempered with sea breezes and hammock swings.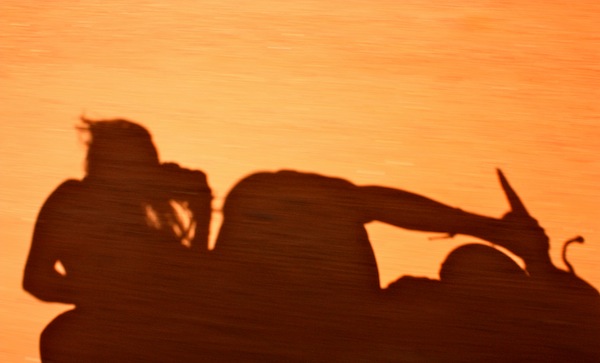 I spent a few days lazing by the beach in Phu Quoc with a couple of guy friends from home. We were all keen to rent motorbikes–and even though Brian had never driven one before, I volunteered to hop on the back of his so that I could take photos. Thank goodness I did: I never would have been able to keep up with the daredevil pace of these boys, particularly over gravel roads and with a flimsy, too-big helmut that did more good tied to the back of the bike than on my head.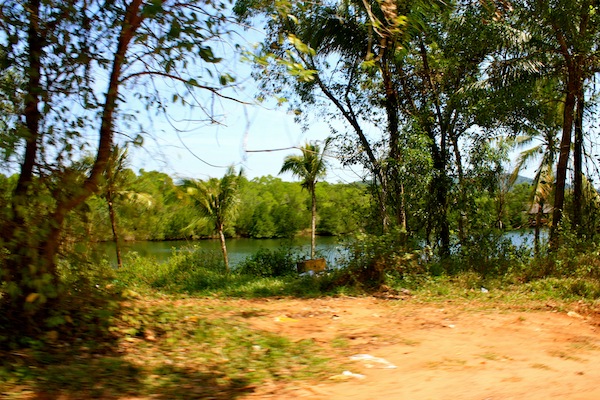 The swinging palms, red dirt roads and crystal clear waters: I was stoked that I got to simply enjoy the incredible views instead of actually driving a motorbike.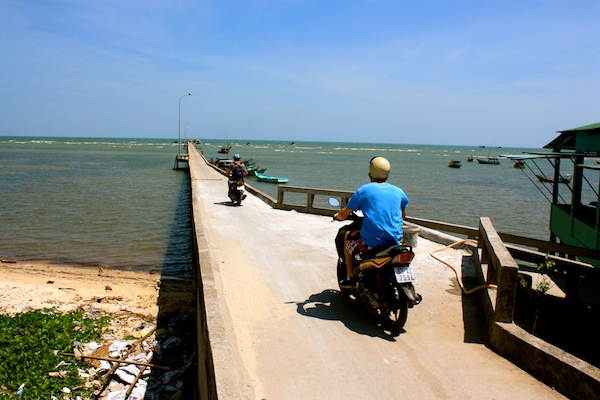 When the boys decided they must ride all the way to the end of the pier, I hopped off and explored the tiny fishing village on the other side of the island.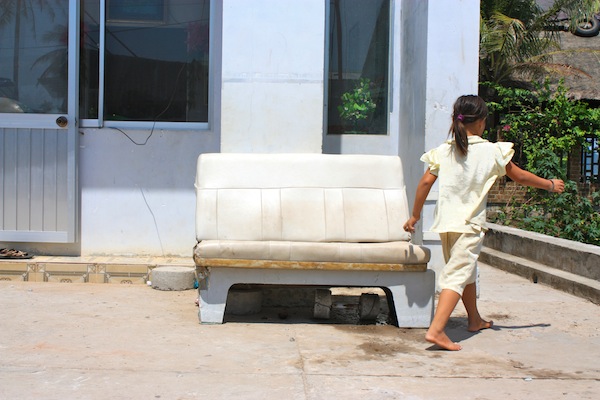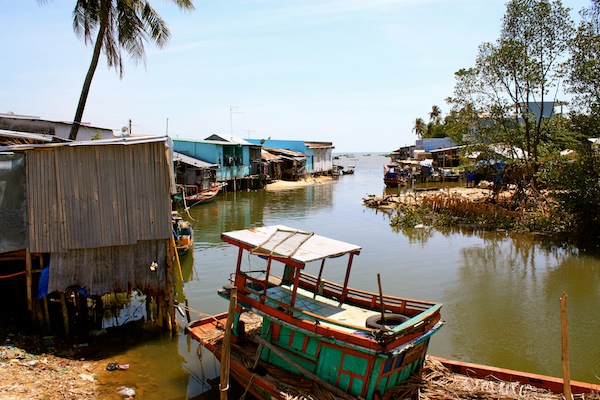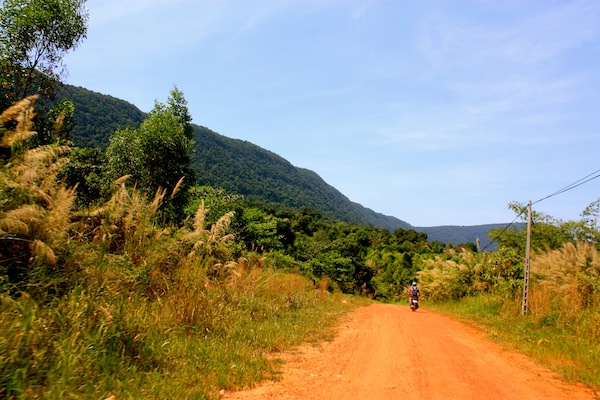 After leaving the fishing village, we were in Phu Quoc National Park territory. Riding on red dirt roads with dense green forest to one side and palm-tree lined ocean to the other: this felt like Vietnam.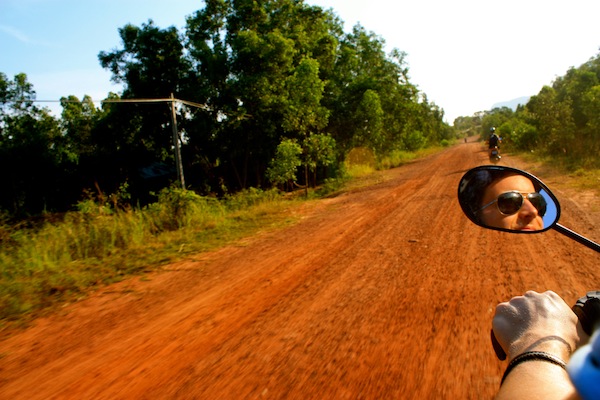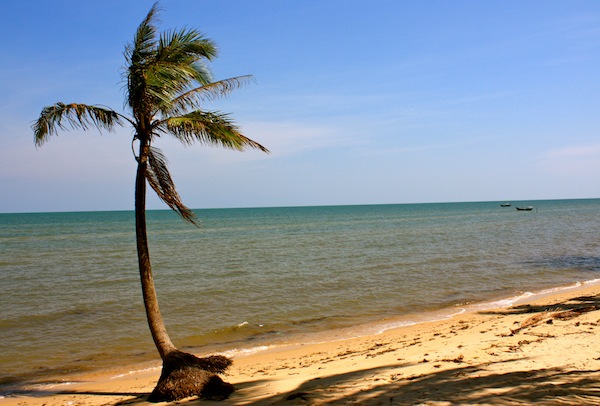 We stopped at Coco Beach for lunch. The simple, family-run restaurant and bungalow was absolutely incredible: you can't beat this view.
The lunchtime entertainment was even better than our simple noodle soup: the adolescent son scampered up palm trees, secured with a rudimentary rope system and clutching a machete. The mother brought the coconuts to our table, giving them to us first to drink, and then breaking them apart to eat as dessert.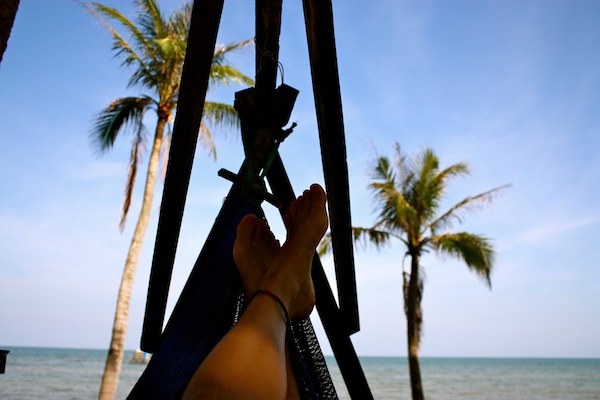 Believe me, the boys had a hard time convincing me to get out of the hammock and head back to our side of the island (where, granted, a lounge chair and a pina colada were waiting for me).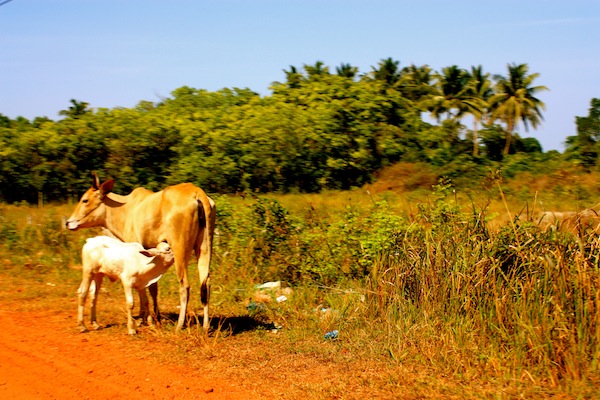 One of my favorite photos of all of Vietnam: I loved the cows that paraded down the side of the road, right next to the motorbikes.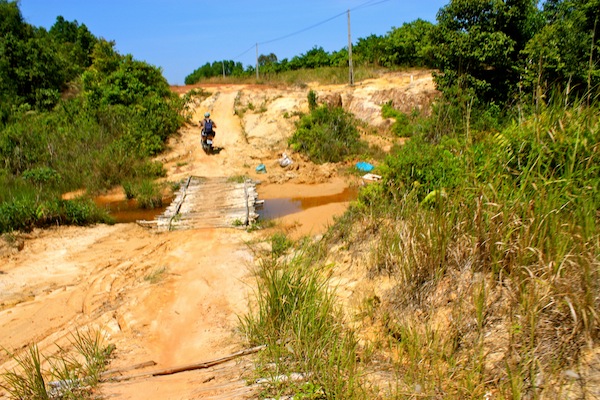 This series of bridges were so awful and rickety–I honestly didn't think we would make it over any of them! After we crossed about five, we realized that the scenery wasn't going to change too much and we wouldn't have time to make it all the way around the island. So…we turned around and went right back over them. The boys loved it, I was terrified.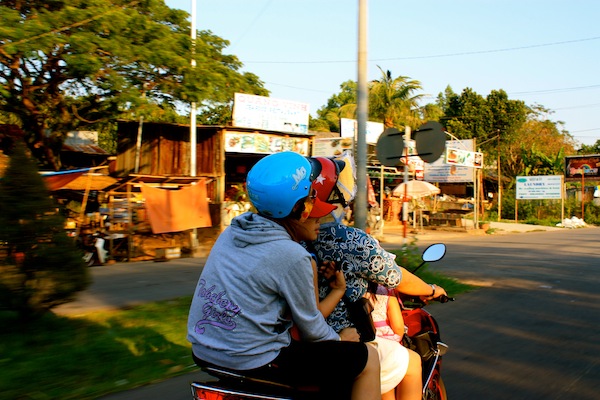 And this is how you fit an entire family on a motorbike: who needs an SUV?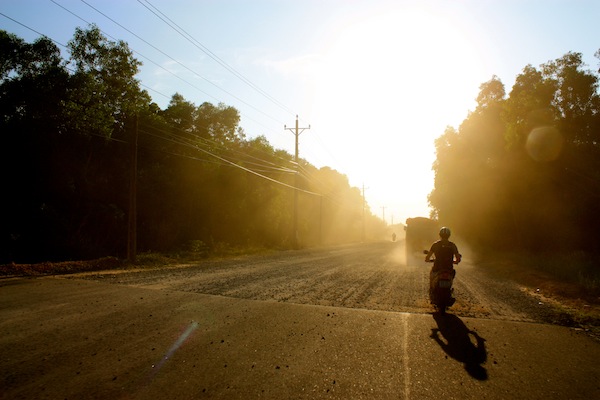 Riding back into town at dusk.
Honestly, there's a lot that I miss about Southeast Asia: one of them is the  freedom on hopping on a motorbike and exploring a place that is completely different to the world I grew up in. Another is being able to indulge in those simple pleasures of life: sipping coconut water from a just-off-the-tree coconut, an afternoon nap in a hammock, dipping my toes in salt water. It's in sharp juxtaposition to the life that I've currently chosen for myself, which makes these travel memories even sweeter.
What's one of your favorite travel memories?