The coolest places to stay in Croatia
In Croatia, I spent most of my nights on a boat. The few that I spent on land, however, impressed me.

I spent time in Zagreb, Split and Dubrovnik: the main tourist destinations in Croatia. The hostels and guesthouse I stayed in were clean, modern, reasonably priced and offered free, fast Wifi: highly recommend all of them as you make your way through this beautiful country.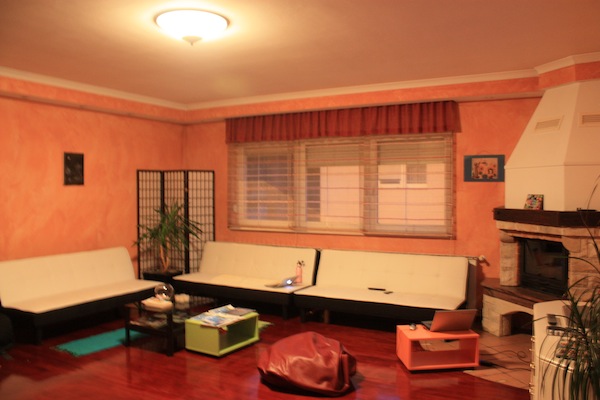 It really feels like you're crashing at a friend's house, not a hostel. The owners are young and super friendly, always keen for a chat over a beer or to help you sort out your travel plans. They're super passionate about Croatia and can definitely recommend
The free breakfast is quite good (particularly by European hostel standards): apricots off the neighbor's tree, toast, yogurt, granola, cornflakes, juice, coffee and tea.
There's a lovely backyard and patio area that's perfect to soak up a bit of Zagreb sunshine.
The location is super convenient: it's an easy walk to the bus station (where the $4 bus from the airport arrives), a quick walk to the nearest tram stop, about a 25-minute stroll to the train station and either a quick tram ride or a 30-minute walk into the center of Zagreb.
Tchaikovsky has simply the BEST bunk set-up I've ever seen: each bunk has its own large locker, deep shelves behind the pillow, outlet and a curtain for a bit of privacy. Bonus: no squeaking!
The cozy lounge area has a small kitchen space and provides free coffee, tea and espresso all day long.
There are a few balconies scattered about: perfect for some fresh air, and also key for plenty of fresh air and natural sunlight in the dorm rooms.
Located right outside of the old city walls, it's a quick walk to the shopping district and port. The neighborhood itself is quite cute, with plenty of shops, cafes and an outdoor market.

The setup is like your own little apartment: we had a room with a queen bed, TV, vanity, two nightstands, armoir–and plenty of room to spread out our stuff that connected to a kitchen with a refrigerator, sink, stovetop and a bathroom with a washing machine. There was also a cute little patio area with a laundry line and tables.
Honestly, I was obsessed with the shower. After 7 days of using a shared boat shower on the Busabout Sailing Croatia, it was just so nice to be in a proper shower. But this one also had a detachable shower head, rain-like showerhead and massaging shower heads all down the side. Probably the most luxurious shower I've ever seen!
Located about a 20-minute walk outside of the Old Town and up about a million stairs, it feels ages away from the streets overrun with tourists disgorged from cruise ships. We loved feeling like we were staying in a real neighborhood, complete with little bars filled with old Croatian men drinking beer and watching soccer and bakeries that simply smelled divine.
Anica, the owner, is super sweet and accommodating. She gave us cold juice as soon as we arrived, helped me sort out the washing machine (so that I could do my laundry free of charge!) and arranged for her brother to take us to the airport at the ungodly hour of 6 a.m.
Do you have any recommendations for accommodation in Croatia? 
Note: The House Hostel and Tchaikovsky Hostel graciously offered me complimentary accommodation, but all opinions are my own.