The best beaches in Nice
Confession: I spent a week in Nice and didn't do one cultural activity, unless you count drinking rosé and eating pissaladiere. Instead, I went to the beach. Instead, I went to the beach. You can find an quite a few accommodations in Nice that are close to the numerous beaches that are available. I went to beaches with pebbles, beaches with sand, beaches with diving boards, beaches with ritzy restaurants. I worked on my tan and relished in the glory of French culture that doesn't bat an eye if you take off your bikini top.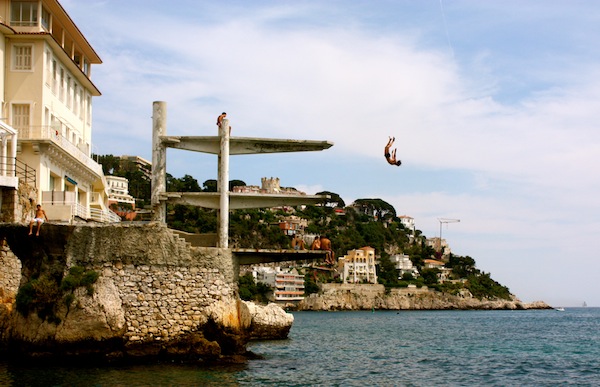 The weather cooperated with brilliantly sunny skies, and I left on the TGV to Paris feeling incredibly more relaxed and looking much browner. The beach scene in Nice can be a bit complicated–it's a mess of public and private, stones and sand, crashing waves and calm inlets. Here's my guide to the best of Nice beaches: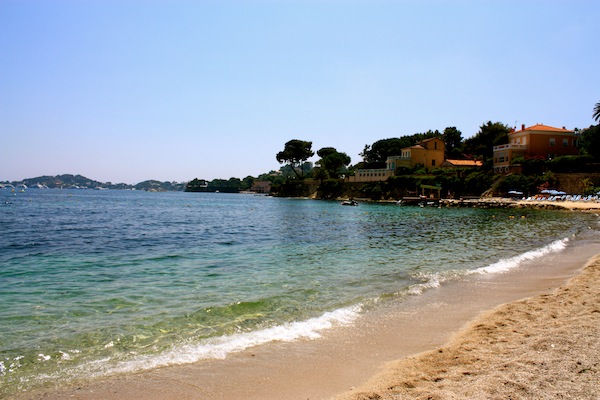 Beaulieu-Sur-Mer
It's about a 25-minute bus ride from the center of Nice (take the 81), and the bus drops off right across the street. The beach is teeny-tiny pebbles, almost bordering on sand. There are two private beaches, but there's also a large stretch of public beach. It's a bit quieter and a ritzier crowd than the main Nice beaches, and the protected cove means there are barely any waves. The perfect afternoon stop after a classy lunch at Villa Ephrussi de Rothschild.

Villefranche
The most popular option for a "sandy" beach outside of Nice: it's only 20 minutes on the bus, or a super quick motorbike ride. It's not actually sand, but rather very small pebbles: the best of both worlds, it's more comfortable to lie on than pebbles but it doesn't get into everything you own. There are a few restaurants right across from the beach to pick up a sandwich or ice cream. It's about a 15-minute walk down plenty of stairs and through the Old Town from the bus stop (Bus 81 or 100, stop is Octroi), but the train drops off right above the beach. One of my favorites if I only have a few hours to spare.

La Reserve
This was by far my favorite beach discovery while in Nice for a few reasons: it's within walking distance, there's a ladder so that you don't have to slip over the pebbles while getting in the water and it's super local. Right past the port, it also features an awesome (although technically off-limits) diving board–shown in the first photo in this post. Watching the reckless teenage boys shimmy up to the top and then jump off is afternoon entertainment in itself. There aren't a ton of eating options right around here, so pick something up before you go. The only downside is that it IS typical Nice pebbles, which aren't the most comfortable to lie on. To get there, just keep following the sea past the port and keep an eye out for the diving board.

Cap d'Ail
Featuring two of the ritzier private beaches (Eden Plage and Plage de la Mala), Cap d'Ail is the last stop before Monaco. It takes about 45 minutes to get here by bus, but can be a bit quicker on the train. If you take the bus, there are A LOT of stairs to climb down to reach the beach–and it's even more painful on the walk back up after a day full of swim and sun. However, it's absolutely gorgeous and one of my favorite beaches to swim in. It's the same not-quite-sand, not-quite-stone mix of Villefranche. The private beaches have delicious but expensive restaurants: much easier to pick up something from the bakery and grocery store in the center of town before descending.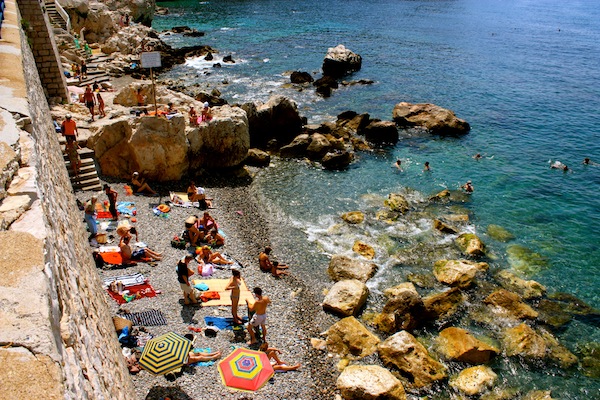 Coco Beach
Right past La Reserve, Coco Beach is just as rocky and pebbly without the conveniences of the ladder and diving board. It's still gorgeous and the water is crystal clear–depending on the day, it can be uber crowded or completely deserted. Good if you can snag one of the large rocks to sun yourself on. To get there, just keep walking past the port.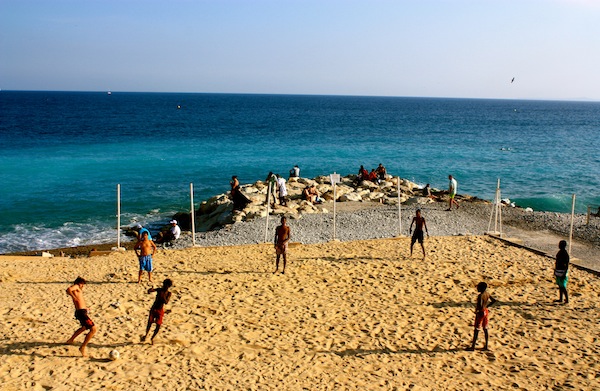 Nice
My tip for Nice beaches: splurge on a private beach. The roughly 20 Euros you'll spend on a chaise lounge will be well worth it for the comfort from the pebbles and the added security for your bags when you're in the sea. There are toilets and changing rooms, as well as restaurants and waiters who will bring chilled drinks to your chair. If you're on a budget for food, leave your towel on your chair and sneak out to grab a sandwich from a nearby bakery. My favorite is Le Sporting, but I've also heard excellent things about the food at HI.
What's your favorite beach in Nice or surrounds? 
For bus information, check out Lignes d'azur; for train information, head to SNCF.