Sailing Croatia with Busabout
Kelsey and I first discussed a trip to Croatia right after finishing college: I'm not sure why we were so obsessed with it, but it definitely stuck. We finally decided to make it happen in 2012, committing on a Christmas catch-up phone call. However, this was Kelsey's first trip to Europe, and we were both a little overwhelmed by all of the possibilities of exploring the thousands of Croatian islands independently.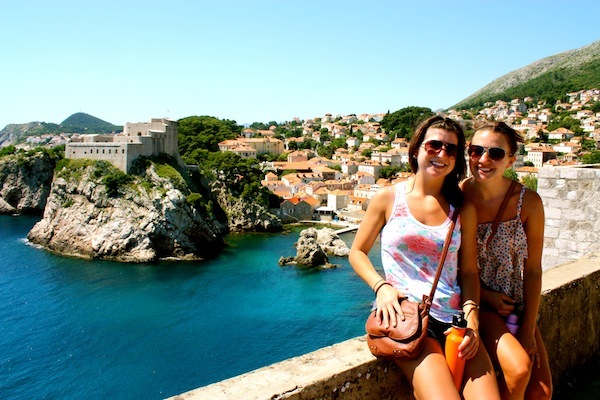 Enter Busabout. I knew plenty of Australians who used Busabout to explore Europe, and it seemed the perfect combination of flexibility and convenience. They had a Croatia Sailing trip, and it seemed like an easy and affordable way to organize accommodation, transport and itinerary planning–so we booked in for the one-way Split to Dubrovnik cruise, which includes seven nights accommodation on the boat, seven breakfasts, seven dinner, an English-speaking guide and an awesome itinerary.
What I loved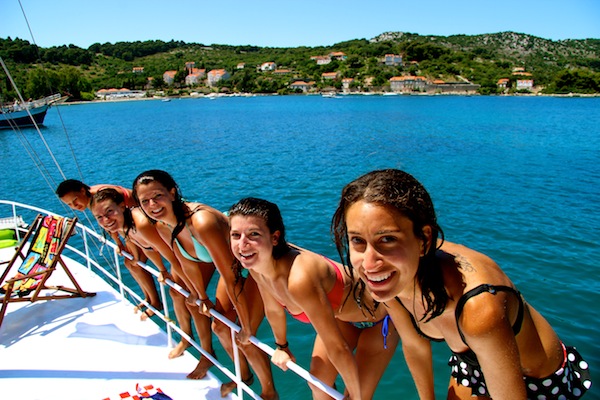 The people: I can't even express just how cool the people on my boat were—it's so rare to throw 14 strangers together and have them click, but we did. Three Americans, one Kiwi and—unsurprisingly—the rest were Australian: we instantly bonded over The Beards, bruschetta and Zadar. I'd travel with any of them again in a heartbeat.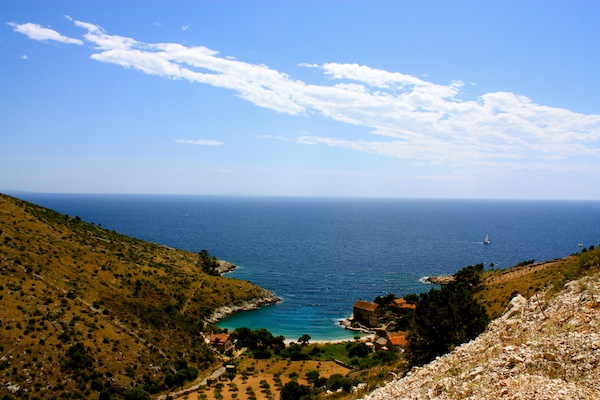 The places: Everywhere we went seemed to be more beautiful than the last: honestly, Croatia is stunning. So much of it is still unspoiled by mass tourism, and our itinerary was a brilliant mix of tiny island towns, national parks and popular tourist stops like Hvar Town and Dubrovnik. I don't think we would have made it to some of the best stops if we had planned our trip independently. [Be prepared to get a closer look at many of these places in upcoming posts and postcards!]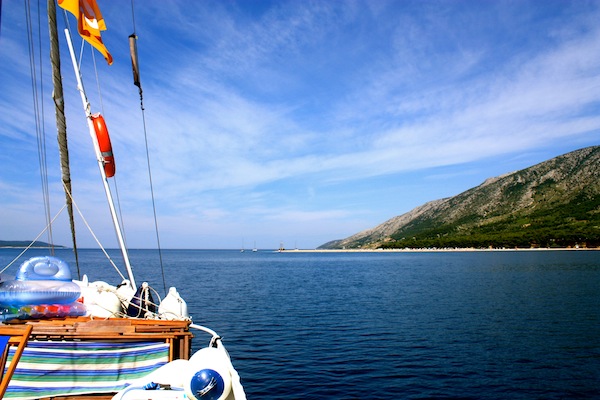 The cruise-y lifestyle: I'd wake up when the sun started peeking through my porthole, immediately throw on my bikini, smear on some sunscreen and grab my towel to head up to the top deck. By late morning, the entire boat would surface to listen to music, flip through magazines and laugh over last night's shenanigans until hopping in the water at the first swim stop. Head in to eat lunch, and then either tan and swim again, or get out to explore where we docked for the night. A wander—often on a hunt for Wifi—and then we'd all get ready to head out for dinner and drinks. We partied on the boat, cheered Croatia in the Euro Cup, danced until dawn in a cave or in the ancient walls of Dubrovnik.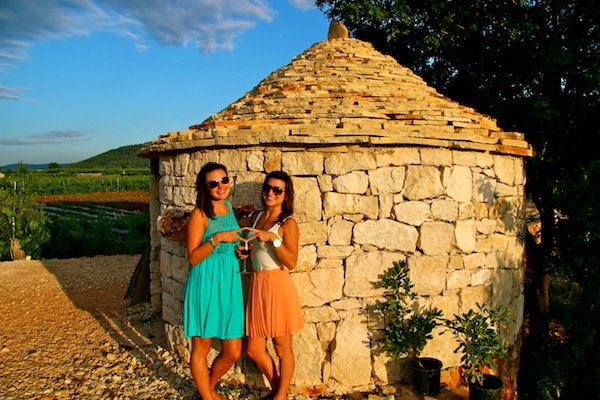 The on-ground activities: As much as I loved lazing around all day on the boat, two of my favorite memories from the trip used my land legs. One was Busabout-organized: the wine tasting in Stari Grad was absolutely incredible. The value for money is astounding (110 Kuna/$18USD for four full glasses of wine plus a few nibbles) and the scenery is stunning. We also had a spare day on Hvar Island, so a group of us rented motorbikes to explore: we had a casual lunch in Vrbroska, went for a swim in a nude beach and were awestruck by the views as we wound along the cliffs to Hvar Town.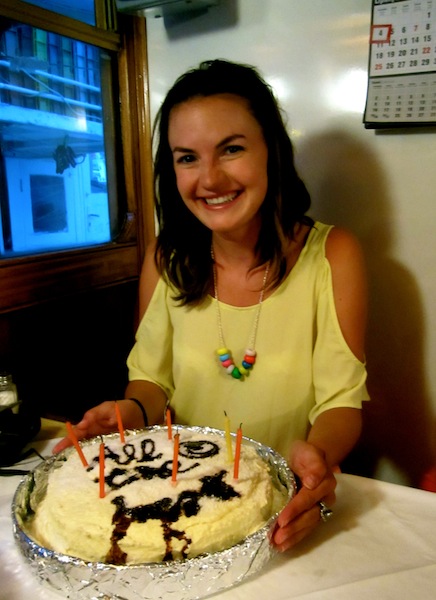 They made me a birthday cake: It was my 24th birthday on the day we set sail, and I was happy enough just to finally check Croatia and traveling with a friend from home off my 2012 resolutions. Then the crew surprised me with a cake and candles and the whole boat sang Happy Birthday: I honestly can't remember the last time any of that has happened, so it was absolutely brilliant. Cheers to everyone on the boat for making it the best birthday yet!
What I didn't love
Pressure to stick with the group: One of the reasons I booked Busabout was the flexibility: I assumed that breakfast and lunch were taken care of on the boat, and we'd be free to explore on our own each evening. However, there are group walking tours, dinners and drinks every night: it's fabulous if you're not comfortable exploring a new country on your own, but I found it a bit stifling. Also: splitting a tab among 14 for dinner is incredibly annoying. It really comes down to peer pressure (and my assumption is that the guides get some sort of kickback from the restaurants and bars), so don't be afraid to do your own thing if you want to.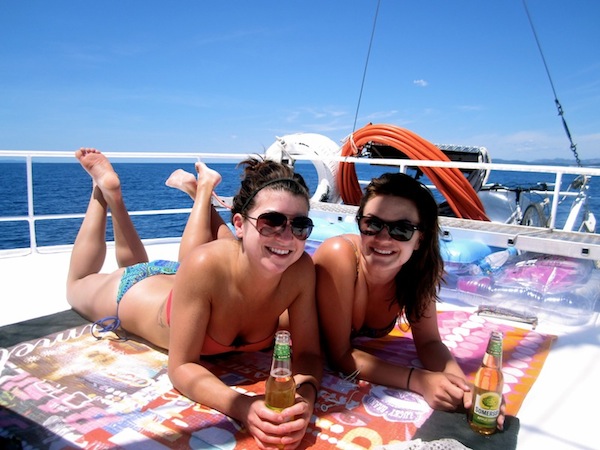 Cost of the drinks on board: A bottle of cider costs three times more on the boat than in the grocery store, and you're paying for pure convenience with the 20 Euro water supplement for 1.5 liters of water a day. Other boats had delicious and strong cocktails, but we definitely did not have a trained bartender: i.e. our non-bottled drinks were awful. This is less Busabout, and more the boat company they outsource to, but still: it's frustrating, especially when they don't allow you to bring your own drinks on board.
You get what you pay for: We opted for below-deck cabins with shared bathrooms, and we ended up on a fairly cramped boat: everyone on our boat had gone for the budget option. We sailed next to the "above-deck boat" and were astounded by how much more room they had. You spend most of your time on the top deck, but if you err on the claustrophobic side: opt for the en-suite.
To sum up
I honestly had one of the best weeks of my life on board–perhaps because I was forced to stay offline and actually relax–and would absolutely recommend the Sailing Croatia trips with Busabout to anyone. The scenery was absolutely gorgeous, and it was wonderful to leave the trip planning (and stressing) to someone else. I couldn't have asked for a better start to 24!
Note: Busabout graciously offered me a discount, but all opinions are my own.