Rock Long, Rock Hard: cruising Halong Bay
Eating a steaming plate of noodles while perched on a plastic chair built for a 5-year-old, I faced a dilemma. I had four days in Hanoi, a city that was a grey and chilly as Saigon was colorful and warm—in weather, in buildings, in people. Hanoi's proximity to the UNESCO-recognized Halong Bay makes it the main gateway for cruises of the famed limestone cliffs.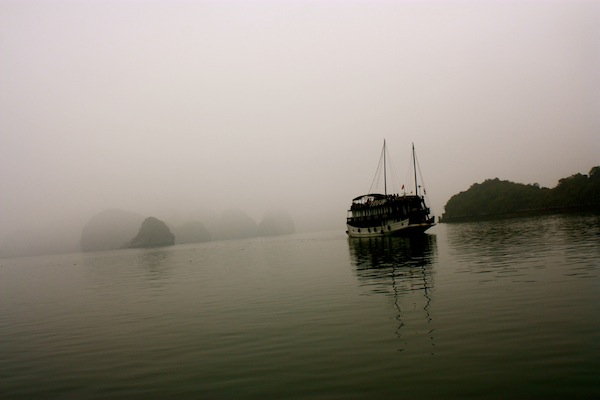 I couldn't come all this way and not see Halong Bay, even if I was visiting in the very, very cold season. However, the plethora of cruise options had me overwhelmed. Should I go cheap, local and risk bad service, bad food, a bad time? Should I splurge on a luxury cruise and risk being surrounded by retired couples? Or should I finally stop being so anti-social and go on the Rock Long, Rock Hard cruise, one that was a bit more expensive and known to be a non-stop party?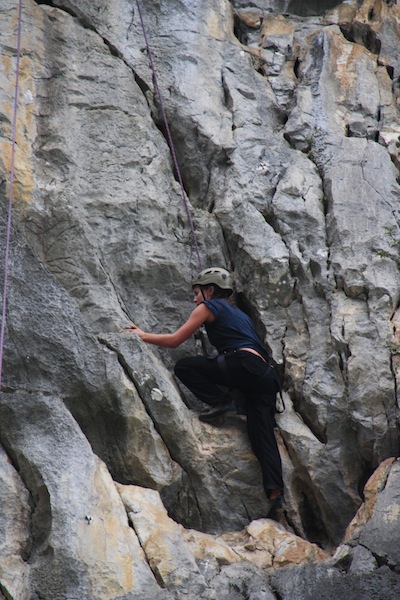 I was staying at the Hanoi Backpackers Hostel, the same outfit that runs Rock Long, Rock Hard, and was impressed with the professionalism, cleanliness, organization and value for money (it didn't hurt that my 12-girl dorm was only half full). And then someone mentioned rock climbing on a private island as part of the three-day Rock Long, Rock Hard. After falling in love with rock climbing in Railay, I knew I couldn't pass up the chance to climb more gorgeous limestone cliffs in Asia.
So I hesitantly signed up for the party cruise, worried about being surrounded by uber-loud Australian guys and vodka-swilling Scandinavian backpackers. It turns out my worries were well-founded: the crowd was definitely young, carefree and ready to party. And, of course, there was that one weird guy with toe shoes (in my attempt to get in with the in crowd, I refrained from spouting off about the benefits of barefoot-esque running). But I quickly made friends with three Canadian twenty-something girls who invited me to dorm with them: a lifesaver, really, because I probably would have ended up stuck in a room with the weird guy (one huge downside to traveling alone).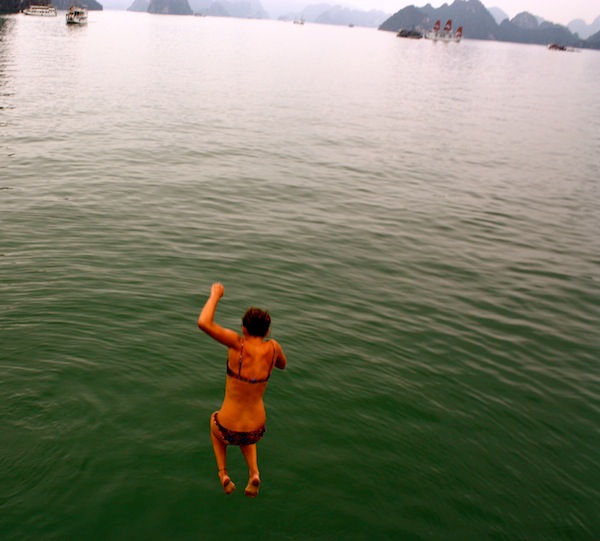 After a three-hour bus ride and a 20-minute small boat ride, we boarded the Jolly Roger, went over the rules and threw our things in our room. After cannonballing into the freezing cold water, we snuggled into sweatshirts and piled into kayaks and leisurely rowed our way through the caves. The first night was pure shenanigans: mass drinking games until the cards were cleared away for a makeshift dance floor, music throbbing until 3 a.m.
Castaway Island, however, was what made the trip for me. The gray skies and trademark cliffs a stunning backdrop for my first wakeboarding experience: I stood up on the first try, stayed up for about a minute and a half and nailed a surface 180 without trying (I mean, not to brag or anything :). I then tackled the cliffs, scrambling up both routes twice, leaving my forearms aching. That night, we went for a midnight swim with phosphorant algae: the waves blinking neon, our feet swirling up a dazzling light show.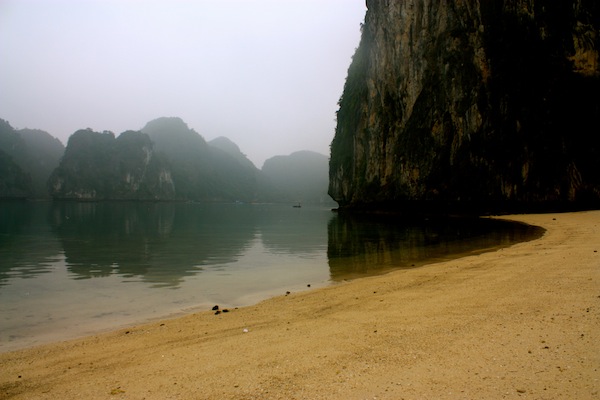 I will admit that I got very lucky: most of the partiers only stayed on for the first night (Castaway Island is an option add-on), so the group for the second night was super low-key. Our guide was incredibly fun, but he wasn't pushy about the partying (we met another guide who seemed absolutely insane–so we were all very grateful for ours!). We were all happy to hang out and drink beers the second night, but it wasn't as insane as the first night–and considering we had a 6 a.m. wake-up call, we were totally OK with that.
I had a brilliant time–but it's one of those trips that totally depends on who you're with and what you want out of it. If you want to party hard, you absolutely can. If you want something a bit more low-key, that's also possible. But overall, the cruise is incredibly well-organized, the food is delicious, the guides (both Vietnamese and English-speaking) are friendly and helpful. And Castaway Island–honestly, I don't think I'll ever forget how lucky I felt as when I was there. It was just incredible.
If I could do anything differently, I wouldn't bring my whole bag–take advantage of being able to securely lock up your main bag at Hanoi Backpackers Hostel and only take some extra layers and a toothbrush. I wouldn't go in March: it was freezing, and it would have been SO much more fun to lay out on the top deck and go swimming at Castaway Bay. I would have taken more cash to buy drinks on board, and I wouldn't have been so worried about the partying. And note, there is no wifi on-board or on Castaway Island: so prepare to disconnect, and enjoy every second of it.