The worst time to get sick? On a motorcycle in the heart of Vietnam
I woke up before my alarm went off and rushed to the toilet. It was clear I'd been hit with my first bout of food poisoning/stomach flu/Bali belly–whatever you want to call it, it's an awful mix of stomach cramps, diarrhea and nausea that makes you want to curl up on the couch with a mug of hot tea.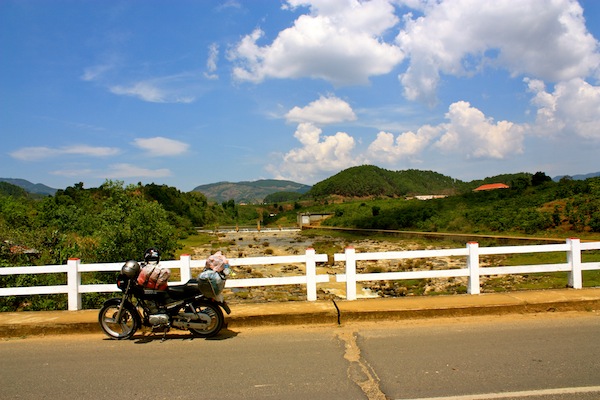 Instead, I was about to embark on three days on the back of a motorcycle through the Central Highlands of Vietnam: I was due to be packed up and in the hotel lobby in 45 minutes. My guide had been organized and my deposit had been paid: there was no backing out now.
I'll spare you the gory details, but let me just remind you that Vietnam is a country that believes in squat toilets and no toilet paper. Our accommodation the first night was in a "traditional ethnic minority village." Sounds quaint, eh? It was an elevated room with a row of mattresses and mosquito nets, and a community squat toilet that was a five-minute walk in the pitch black night. Exactly what you're looking for after a day on the back of a motorcycle, in which you spent an entire eight hours pondering whether you'd be able to tell your guide in time if you needed to vomit or if you'd be able to just throw up into the downwind.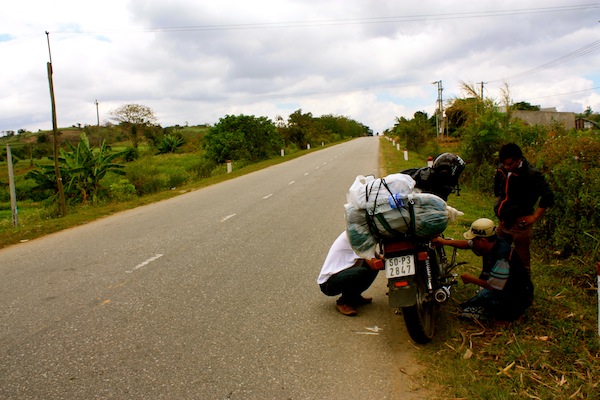 It's also a country that prides itself on its good food and hospitality: I refused anything but Coca-Cola, green tea and white rice the entire first day to the mortification of my guide. The second night, spurred by the comfort of a hot shower in my own hotel room, I agreed to eat dinner with the group: roll-your-own-spring-rolls in a storefront with too-bright florescent lights and shiny silver chairs. I spent the next morning in the toilet, and asked my guide to forego any unnecessary stops: he saw the green of my face and agreed to rush toward my final destination. In true Murphy's Law style, our motorcycle broke down and we watched the members of our group who had stopped at a coffee plantation, a rubber tree forest, a cocoa tree orchard speed by. Finally, someone stopped, and I watched as my guide and a friend pushed the bike–with ALL of my worldly belongings packed onto it–over my hill and out of my sight (ostensibly for gas or a part, but my guide's English didn't extend to mechanical terms I could understand).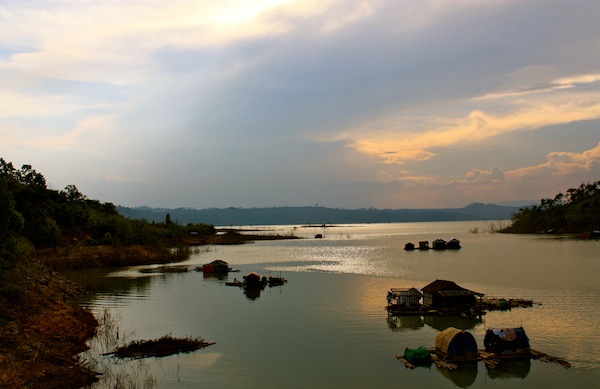 "The thing about Africa is that you cannot give up and take the easier way out because there is no easier way or other way," said my ultimate travel writing inspiration Martha Gellhorn about traveling in Africa. I think the same thing goes from Southeast Asia. Once I got on the road, there was no turning back. Even when I was breaking out in a cold sweat, I was taken aback by the untainted beauty and simplicity of life that surrounded me. The stretch between Saigon and Hanoi can seem unbearably long, a "flyover" region to many pressed for time. But it's where you can get witness Vietnamese life at the source: the farms where the coffee is grown, the entire villages that float, the simple fact that you can drive for three days and only encounter five stoplights.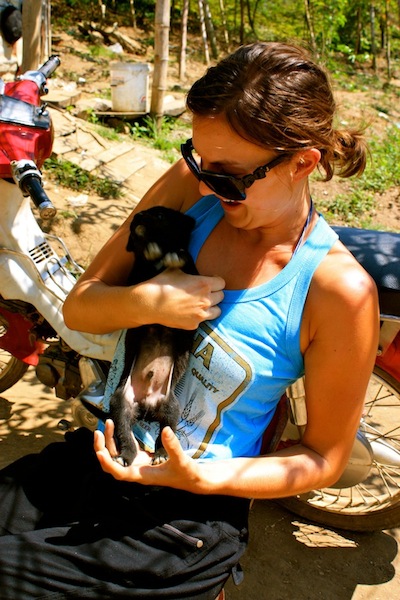 Most of the time, however, I was a bit awful: longing for that cup of hot tea and an air-conditioned room to curl up in. That's not to say there weren't moments where I felt OK, or even better. I ate passionfruit after passionfruit straight off the tree, after my guide promised that it would help settle my stomach. I played with an adorable puppy. I went for a swim in a deserted spring after getting a "waterfall massage", and then stretched out in the sunshine on the rocks.
This trip taught me the value of always traveling with a pocket pack of tissues (if not a whole roll of toilet paper), and of being willing to take a risk. Three days on the back of a motorcycle with a guy you just met, and watching him ride away with everything you own (passport, laptop, money–I mean everything) will teach you to trust in the good of people and hope for the best. And pray to never get food poisoning again.
Note: my guide was the nephew of the owner of the Viet Thanh Hotel and I was accosted pretty much as soon as I was shown my room. However, he had a logbook of glowing recommendations and a photo album, set a fair price and spoke good English. I was very happy with the quality of the tour, and would recommend anyone looking to get from Dalat to Nha Trang to stay at Viet Thanh (bonus: SUPER cheap for single rooms) and chat with the owner about what you're looking for.