Saigon After Dark: seeing HCMC nightlife on the back of a Vespa
The two things I loved most about Saigon: crossing the street and eating. The traffic is just as full-on as the countless food opportunities: both are adventures that require a heady dose of bravery and a willingness to throw caution to the wind.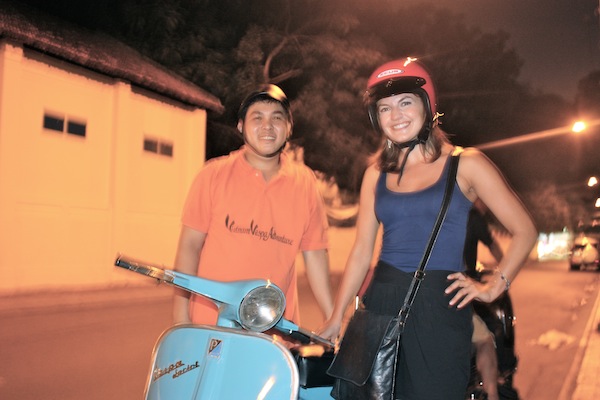 The Saigon After Dark tour with Vietnam Vespa Adventures was an incredible way to explore the city's food-focused nightlife in a truly local way: on the back of a motorbike. As Steve, an American expat who has lived in Saigon for more than 10 years and who owns Vietnam Vespa Adventures, explained: Saigon nightlife involves a lot of "cruising" from spot to spot: it's essentially a tapas culture where you have a drink and a bite at each stop along the way, visiting several bars or restaurants on each night out.
Saigon After Dark was easily my favorite experience in Ho Chi Minh City: not only did I eat incredibly well, sample a few local beers and meet some awesome people, I also saw more of the city than I ever would have seen on my own. Even if you are part of a tour, you're still the only non-locals eating in these restaurants: I only wish I would have had more time in the city to go back on my own!
The tour takes you to three different restaurants, two bars and one cafe: I won't divulge the locations, but I can promise that I would not have found ANY of them on my own and each stop seemed to be better than the last. My tour was led by Josh, an American expat who has learned how to navigate Saigon on his own motorbike, and Thuy, a beautiful Vietnamese woman who manages to get all of your food on the table and still chat effortlessly with you about life in Saigon. Both were brilliant: friendly, knowledgeable and efficient.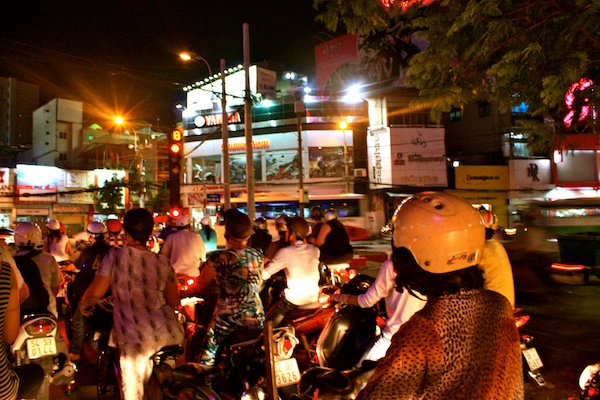 As we swerved through Saturday night crowds, I was glad to be on the back of a bike with a Vietnamese driver who was used to Saigon traffic.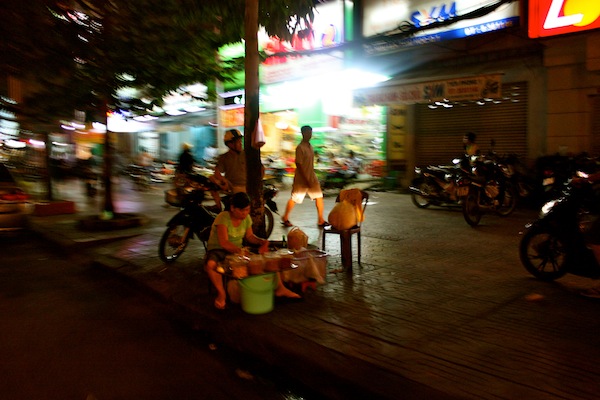 On the side of the roads, vendors sell everything imaginable, from fresh coconuts to hundreds of varieties of rice.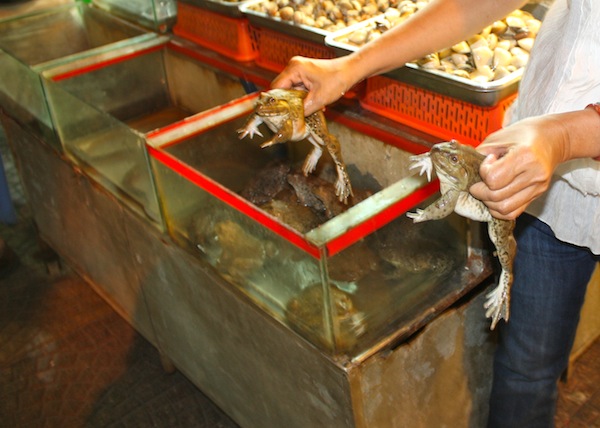 In America, you pick your lobster out of the tank at a classy restaurant. In Vietnam, you pick your frog.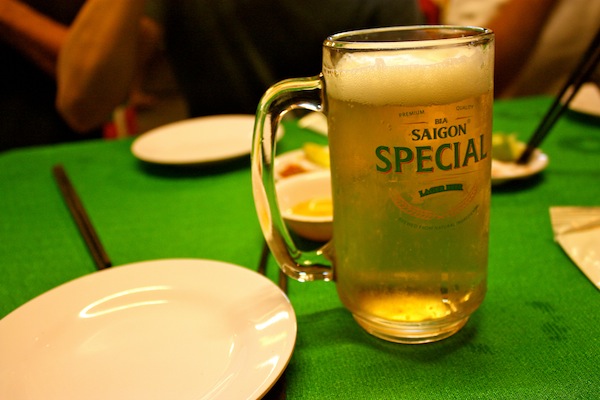 The "fresh beer" at the restaurant was a light, refreshing local brew: the perfect accompaniment for spicy, fried seafood.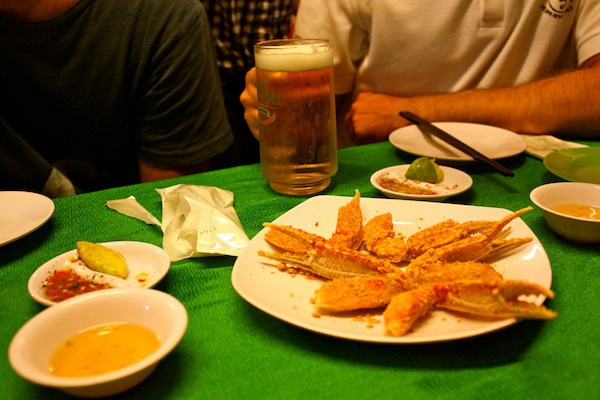 The chili-rubbed crab was the perfect starter: it got our hands dirty and prepared us for a spicy, delicious meal.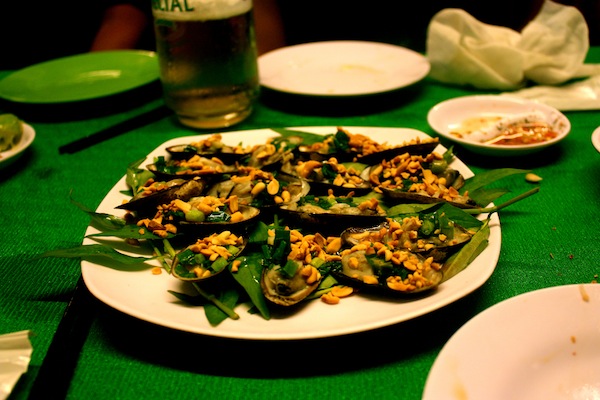 The shellfish was incredible: barbecued mussels with peanuts and spring onion was possibly my favorite way I've ever eaten mussels, while I ate clams for the very first time–and loved them with ginger, lemongrass and chili.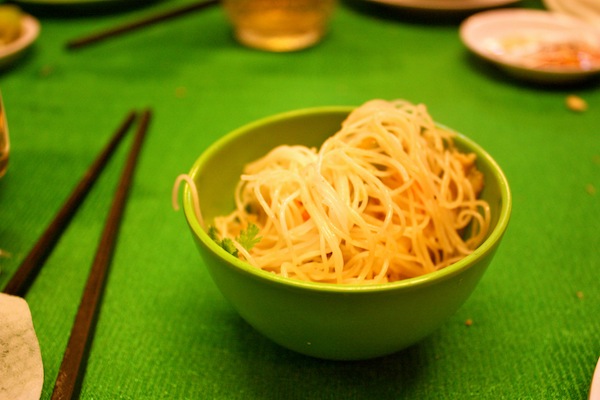 These Singapore noodles might look a little boring, but they were the perfect texture and a nice carb-heavy dish to complement the seafood and beer.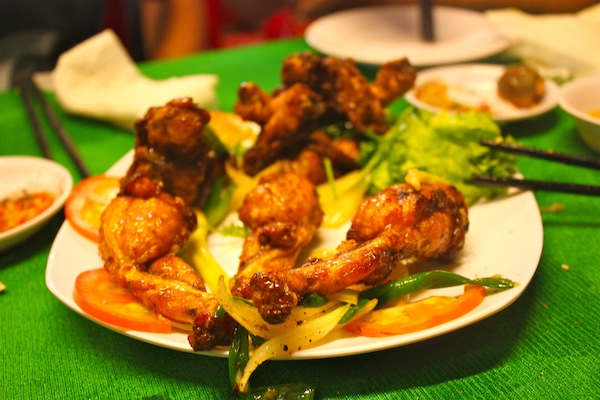 Fried frog legs: we decided they tasted like chicken with the texture of fish. Almost as good as the snails in tamarind sauce. I've eaten both frog legs and snails in France, but preferred the Vietnamese spice combinations.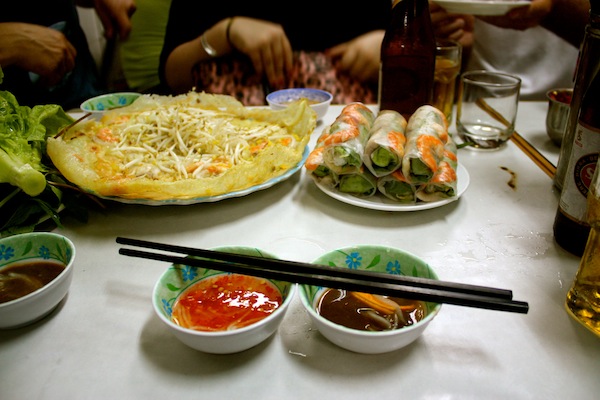 This crispy pancake ruined me for all other crispy pancakes, and the fresh spring rolls were incredibly plump and flavorful.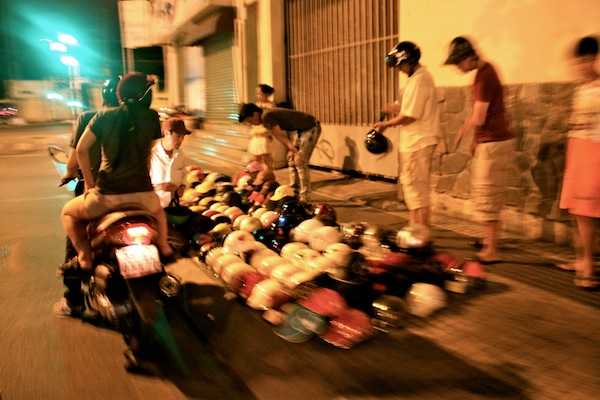 It's never too late to buy a new helmet.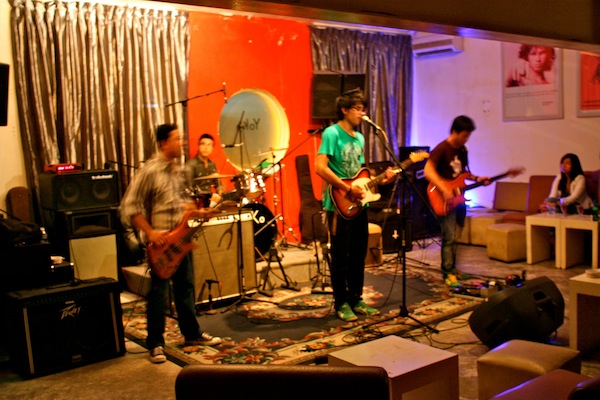 After a stop at a romantic piano bar filled with teenage Vietnamese couples and silky iced coffee, we headed to an awesome bar with a live rock band to end out the night.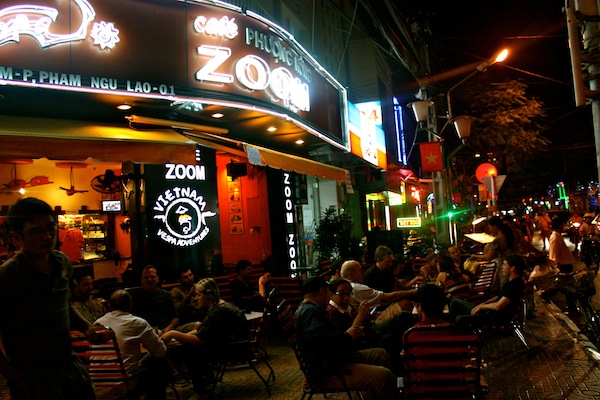 The tour started and ended at Cafe Zoom (also owned by Steve): located in the heart of Saigon's touristy neighborhood, it's on the corner of a busy intersection. Perfect for watching the traffic go by!
Note: Vietnam Vespa Adventures graciously offered me a free tour, but all opinions are my own. Super grateful to Edna Zhou for recommending this tour!