Finding comfort in cathedrals in Asia
A sense of calm overcomes me as I dip my fingers into the basin, and make the sign of the cross before kneeling in front of the altar and reciting the Lord's Prayer.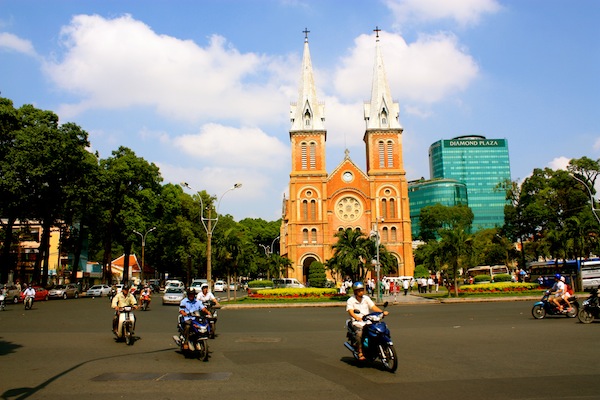 I'm not Catholic, and I'm not particularly religious. But I do believe that people turn to religion to make sense out of the world, to provide a steady source of comfort in a life of unpredictability.
The physical presence of a church and a lifelong familiarity with Catholic customs—one side of my family is Catholic and I went to a Catholic high school, albeit more for the academics than the religious aspect—have become my steady source of comfort around the world.
Cathedrals were my secret escape in France. They were my favorite place to escape the heat or warm up from the cold, to rest my aching feet after traipsing around a new city all day, to clear my frustrations and remember my blessings when feeling especially far from home. I admired the beauty of grand cathedrals in Paris, Marseille and Chartres, but also tucked into simpler, lesser-known spaces in Nice, Provence and Lyon when my feet or mind were weary.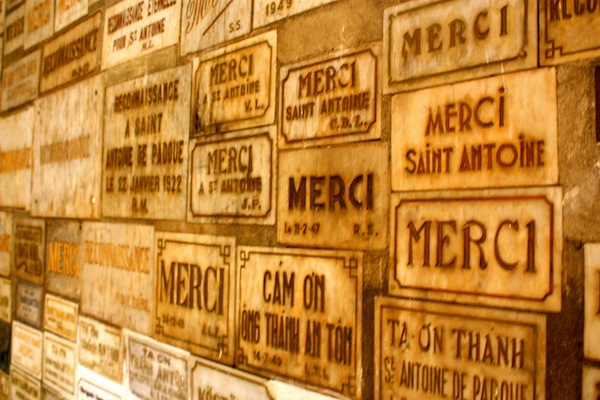 In Germany, I found special comfort in Lutheran churches. I went to a Lutheran elementary school for a couple of years and was confirmed in the Lutheran faith when I was 13, although I haven't been to a service in years. Still, it's the prayer book I'm familiar with, the unpretentious design I'm comfortable with.
I haven't been able to find the same source of release and rejuvenation in Asia. While I've marveled at the wats in Bangkok and Chiang Mai, I'm constantly anxious about accidentally offending: is it OK for my ankles to be showing? Am I sitting correctly? I know I can't touch them, but is it OK if I look at the monks? Is it rude to be thinking about how these giant golden Buddhas are definitely what would have pissed off missionaries and their abhorrence for idols?
As the brick spires and iron crosses came into view—albeit being surrounded by buzzing motorbikes, conical hats, street carts selling pho—I instantly felt like this was something I knew. As I tucked inside and saw a woman selling rosary beads and sniffed the faint scent of incense, I felt more comfortable than I've been in Asia. This is something I know.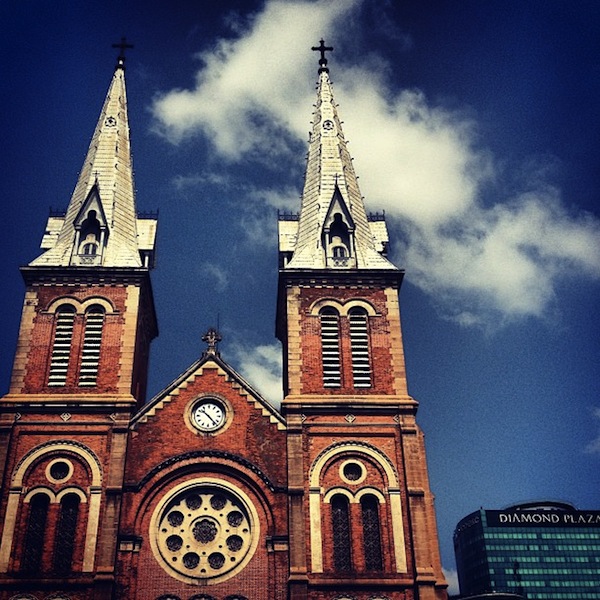 As I sat in the wooden pew in Saigon, I thanked the universe for all it's given me—the same way that I've done in churches across the world, from France to Australia—recited the Lord's Prayer, and then, simply sat. Marveled at the architectural excellence that only religious fervor can produce, soaked up the silence (a much-appreciated respite from the intensely busy streets of Saigon), thought about how far I was from home and how far I've come since cathedral-hopping during a hot Roman summer when I was 18.
Travel is constant sensory overload: something is always novel and thus exciting. But sometimes we need a reprieve, a moment to catch our breath in a familiar space before heading back out into a world that seems so different than our own.