Learning how to cook Thai: in the classroom and on the street
This is the story of two Thai cooking classes: one planned for and paid for and expertly executed, and other, an organic connection that sprung up on the street in Chiang Mai.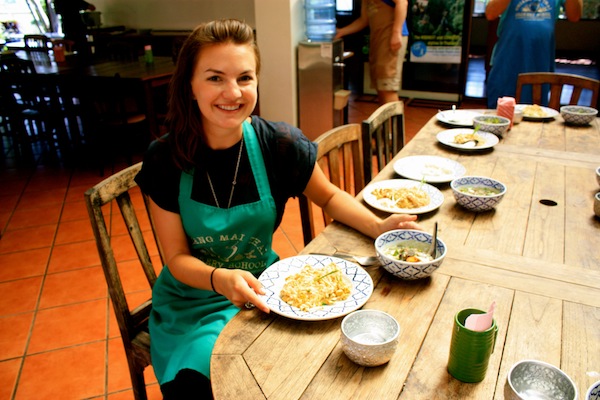 At Chiang Mai Thai Cookery School, we learned about the idiosycrancies of common Thai ingredients in a serene suburban kitchen. After watching a demonstration by a knowledgeable and fun Thai chef, we set off to replicate the dish with pre-cut veggies and pre-portioned sauces at our own mini cooking station. We cooked and enjoyed hot and sour prawn soup, green curry with chicken, fish cakes, pad thai fried noodles, minced chicken salad and water chestnuts with sugar syrup and coconut milk.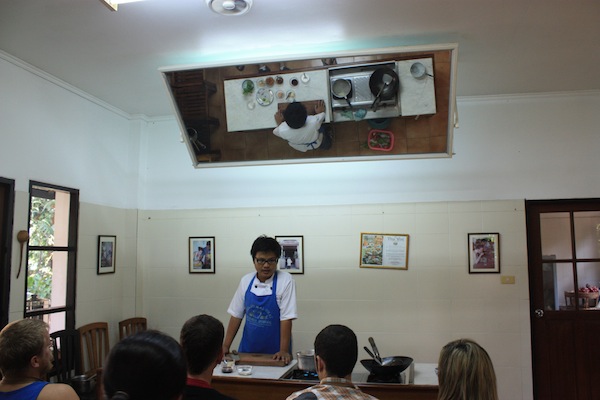 Thai cooking is a lot simpler than I realized: with the right ingredients, proper preparation and healthy dose of spice, it only takes minutes to throw it all in a pot and cook it up. The cooking class at Chiang Mai Thai Cookery School sent me home with a new confidence to dare Asian cooking, and a recipe book full of the details I need to know.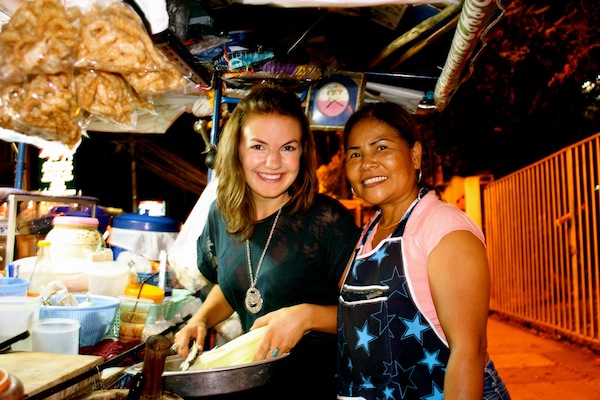 But I really learned about the nature of Thai cooking that night. Two nights before, I had plopped down at a street cart around the corner with my guesthouse and simply smiled and made "I'm hungry" motions. Sitting on her motorbike seat, the lady asked me "spicy or no spicy" and then started throwing together the ingredients for papaya salad. Perfect, I thought–made with shredded green papaya, it's one of my fresh and fiery Thai favorites. As I ate my salad, the cook sat down with me and we had a conversation the only way you can when you don't speak a common language: a lot of smiles, gestures and genuine appreciation for each other's company. "Next time, you make," she told me as I left–and I decided to take her up on that, even after a full day of Thai cooking and eating.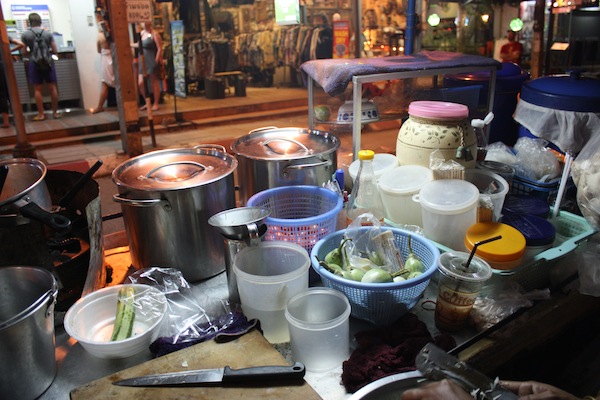 Her face lit up as I walked to the cart–isn't it a wonderful feeling to be recognized? She immediately got off her motorbike, gave me a hug and then waved me onto the seat. So I made myself comfortable and looked in awe at the makeshift kitchen: everything she needed was within reach and strapped onto the side of her motorbike, the ultimate example of efficiency. We laughed as I slowly grated the green papaya, smashed the garlic and tomatoes with her mortar and pestle and mixed in some chili. Locals and foreigners alike stared as they passed: what was the farung doing making her own dinner?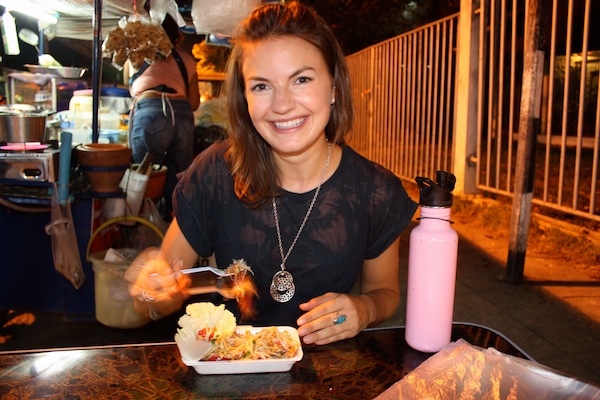 I couldn't stop smiling (and sweating–perhaps I had been a bit too generous with the chili) as I ate my papaya salad out of a styrofoam dish on a plastic chair. The formal class that morning had been informative, and the food was delicious–but there's something more intimately rewarding about building a bond and learning from a friend.
What's your best learning-from-a-local story? 
If you're staying at Gatwick Hotels or  Bristol Airport Hotels before heading over to Thailand, save up for appetite for once you get here!