Where to stay in Bali: accommodation options
Bali has no shortage of accommodation options: you can splash out at an incredibly luxurious hotel, settle into a fabulous life at a villa, make your pennies stretch in bungalows or soak up a traditional family atmosphere in a homestay in a Balinese compound.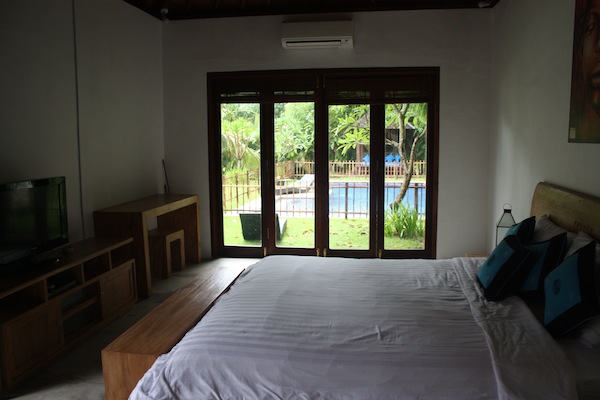 During my month in Bali, I checked out a few styles of accommodation.
Villas: My first 10 days in Bali just happened to coincide with the last 10 days of my boss's family's Christmas vacation in Seminyak. Luckily, I left the company on good terms and I pretty much adore their family–so they invited me to stay with them.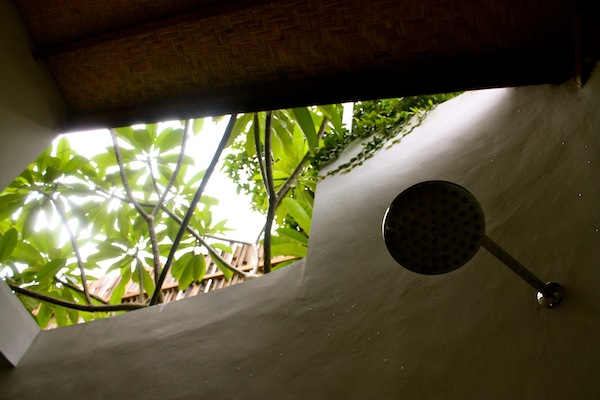 It was a refreshing bit of luxury: my room had ridiculously good air-conditioning, cable TV and a swell outdoor bathroom where the rain came down right next to the showerhead. The real perk was the staff who worked there: I'd leave my dirty clothes in a pile in my room, and come back to them washed, ironed and folded on my bed! They would cut up my fruit and make my coffee before I had barely wiped the sleep out of my eyes in the morning. And in the afternoons, my boss would ask the gardener to cut us down a few coconuts–so the nice Balinese man would shimmy up a tree, cut down a coconut, chop off the top and promptly stick a straw in it.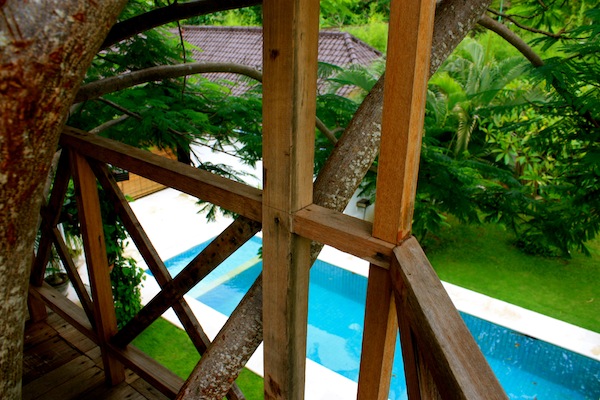 And then they had the right connections to score me a "villa-sitting" job for one of their friends who was going out of the country. I had a guesthouse, a TREEHOUSE and a pool all to myself. It was pretty awesome, and as usual–it's all about who you know.
If you have the coin to spare, it will go a long way in scoring luxurious digs in Bali.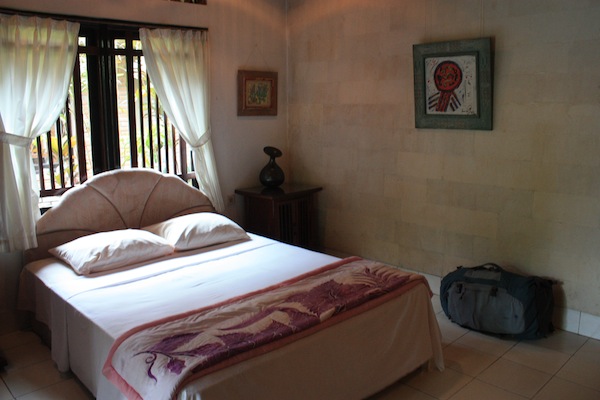 Bungalows: For the same price of what I paid in Australia for an 8-bed hostel dorm in Australia with a shared bathroom, shared kitchen and no real amenities, in Bali I got: a room with a double bed and ceiling fan, a private bathroom with a hot and cold shower, free Wifi and a made-to-order breakfast (banana pancake AND fresh fruit all neatly cut up AND coffee). Seriously. That is what $22 gets you in Bali.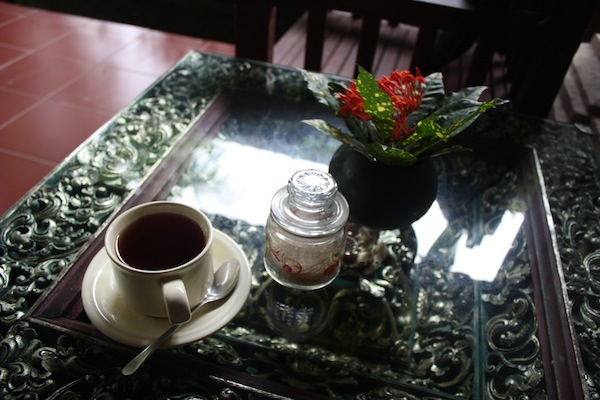 I stayed at Dewangga Bungalows, and had a wonderful time. There were little luxurious perks, like someone coming into make my bed and a hot water thermos and teabags always waiting on my tiny porch.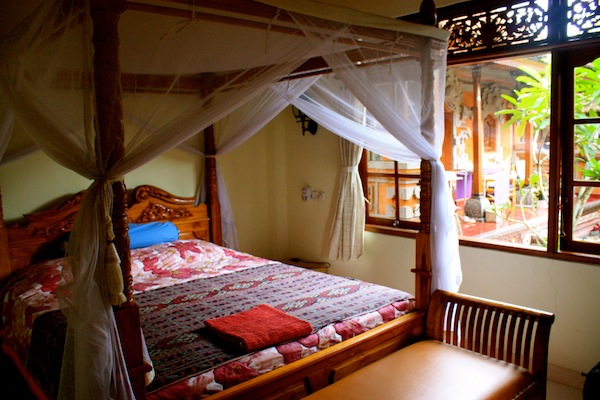 Homestays: Staying in a traditional family compound was actually my favorite accommodation option in Bali. (I mean, I suppose if I was FORCED to villa-sit every day, I could get used to it.)
For about $15 a night, I had my own double bed and en-suite bathroom with hot or cold water (note the "or": you either got scalding hot or freezing cold, and nothing in between) and freshly-prepared breakfast in the morning. The room was beautiful, but the real benefit comes from getting to witness Balinese life up-close. My hosts were absolutely lovely, from taking me on a motorbike tour around the countryside to always being up for a chat over a cup of tea.
Contact Nyoman at bankpock_nah@yahoo.co.id if you're interested in a homestay.
What's your favorite place to stay in Bali?