The five essentials for the AFL experience
I moved to Melbourne at the beginning of Australian Football League season, and instantly fell in love with "the footy." Melbourne is AFL-mad, with more than half of the league's 18 teams based in Victoria. Originally established as the Victorian Football League 1897, it's only been known as the Australian Football League since 1989.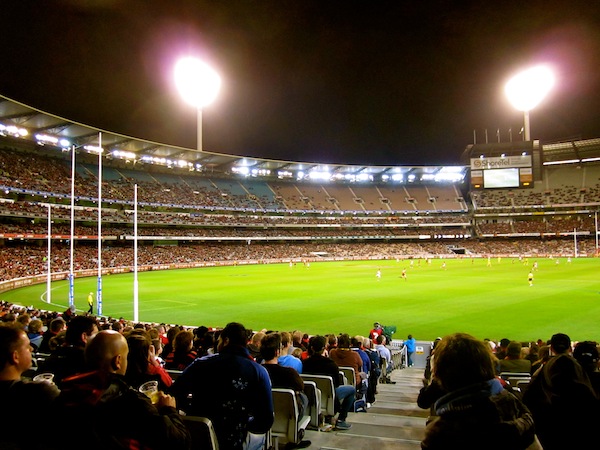 The 2011 season wrapped up with the Grand Final between the Geelong Cats and the Collingwood Magpies this past weekend. On the same level as American Superbowl, it's a day meant to cheer on your team (or whichever team you hate less) and drink beers, packed into a pub with plenty of friends.
The game is fast-paced and action-packed, and you just have to Google image "AFL players" to see the very visual appeal. I swear, they must be the most attractive athletes in the best possible shape I've ever seen…those arms. Swoon. It seems like a mix of rugby and American football, but without the pads and the annoying stoppage time. I'm just sad I won't be in Melbourne for another season…and am a little disappointed that the major sporting event is now cricket. Can you even call it a sport if it has tea breaks?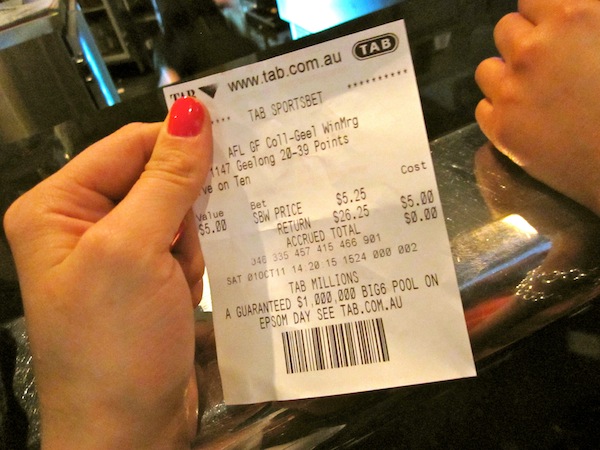 Make a bet: Sports betting is legal in Australia, and it's easy to place a bet in a sports betting outlet or in a sports pub before the game. For just $5 or so, you can have a vested interest in the game–the side that scores first, the score at different points of the game, or the ending score. I won my first bet on the Grand Final, and it was quite thrilling! Even more exciting was that it covered my shout on a round of beers.
Pick a place: The ultimate spot to see a game of footy is the Melbourne Cricket Ground. The MCG was originally built in 1853 and seats more than 100,000 people. The crowd is electrifying at big games, and it's an awesome sport to see live. One thing that I found really interesting about the big Melbourne fan base is that many games at the MCG will be packed about evenly with fans from either side: no home team advantage like in big stadiums at home. Most sports bars in Melbourne will also be showing the games, although it might be a bit trickier to find an AFL-friendly pub in the rest of Australia.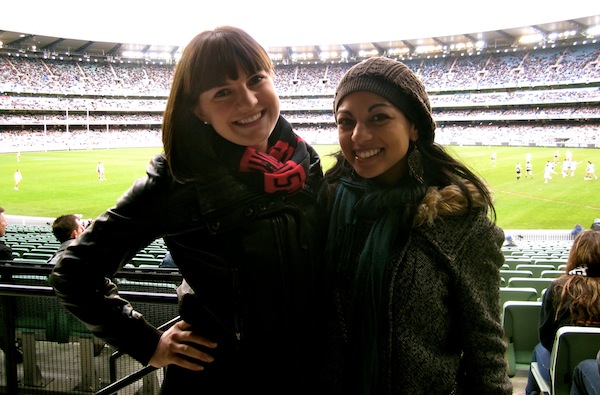 Make a friend: AFL can seem overwhelming at first: a lot of action, a strangely shaped ball, a huge field. I wouldn't have gotten into AFL nearly as much if I didn't have my flatmate talking me through the game at the pub, or taking me along to my first game at the MCG. Many Melburnians are fanatics about the game, and are happy to share their passion for the game with a newcomer to the sport.
Choose a team: Like any other sport, it gets much more exciting once you choose a team to "barrack for." (Note: rooting means something very different in Australian slang.) Sporting a team's jersey or scarf (one of the most popular ways to show your team spirit in the chilly Melbourne winter!) is also a great way to connect with locals: I've had some great banter while sporting my Essendon scarf out and about on game days.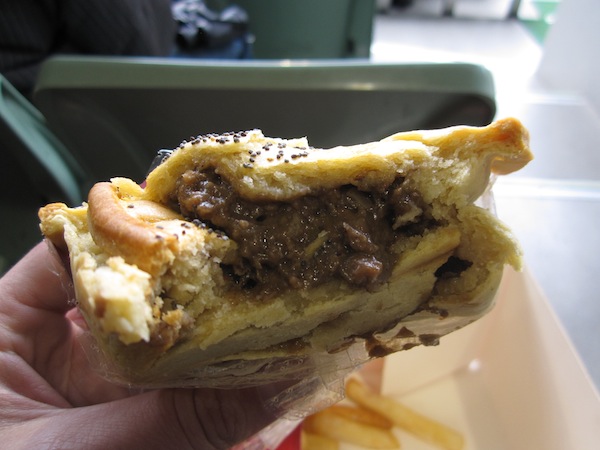 Drink a beer and eat a pie: The Four-and-Twenty Pie is an Aussie institution, and the perfect companion to a cold beer. There's nothing like a pot of Pure Blonde or a jug of Carlton Draught on game day!
Have you ever been to an AFL game? What did you think?