Postcard from Royal Tasmanian Botanical Gardens
This is my perfect spring afternoon: sun shining, flowers blooming, an endless park of green lawns and ponds with ducks to feed and countless varieties of flowers and trees and ferns. My camera in hand, fully-charged iPod earbuds tucked in, good book in bag.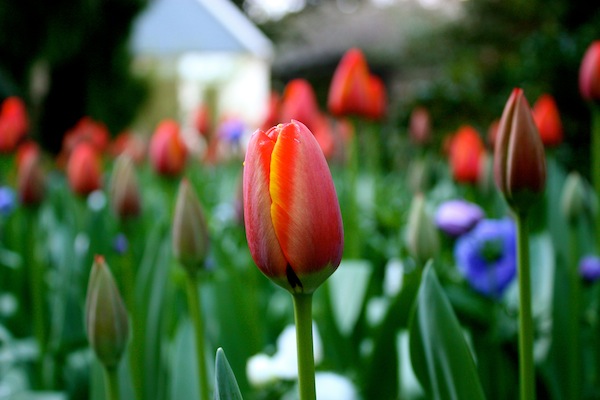 Flowers are the one thing that I never tire of photographing, enough that I can spend an afternoon and fill a memory card without even noticing the time passing. Because of this quirk, I headed to the Royal Tasmanian Botanical Gardens as soon as I spotted it on my Hobart city map.
There was a veggie patch, a Japanese garden, a pond dotted with ducklings and broken up by a little white bridge. The engagement photos and wedding reception taking place against a backdrop of grass green and daffodil yellow and rose pink were more than enough to remind just how romantic gardens in spring can be. But mostly, there were tulips bursting into bloom, my favorite flower in every vivid hue.
The joy of fresh flowers simply can't be matched. There's the promise of something new in every blossom, the sneaking reality of impending death, the truth that beauty comes first from the earth. I reckon a day in a garden in full bloom does more to uplift your soul than any spa treatment or therapy session: it certainly rejuvenated me.