Where to stay on the Great Ocean Road: Surfside Backpackers
Some people will claim you can do the Great Ocean Road in a day. Sure, you can: but why would you want to? The best part of a road trip is the luxury of seeing things at your own pace.  Spend at least a night along the way.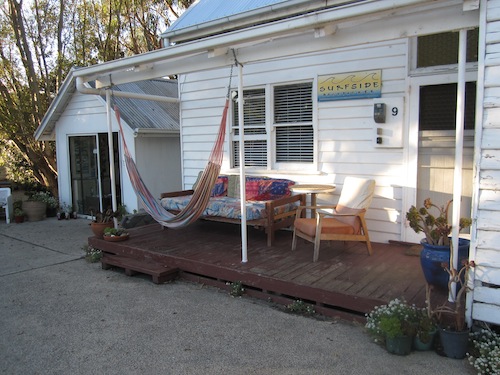 The best place to stop is debatable: there are so many quaint seaside towns dotting the Great Ocean Road. Lorne seems to be a popular choice among backpackers and retirees alike. Even when you think you're curving through the most remote sections possible, there are signs for B&Bs.
We chose the LP-recommended Surfside Backpackers in Apollo Bay. On a map, the town of Apollo Bay seemed to be a good halfway point between Melbourne and the Twelve Apostles. Plus, as a LaSallian high school graduate, I was sold when I read that one of the buildings was once used by the Christian Brothers.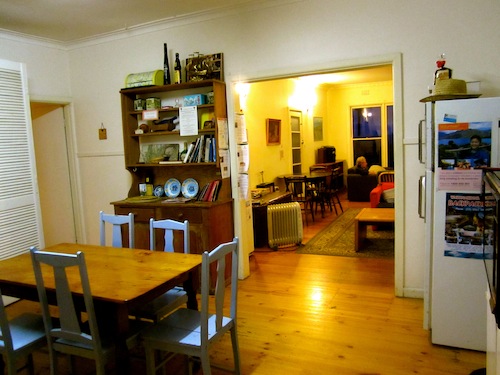 Down-home feel: The Surfside Backpackers is a small place compared to the mega-modern hostels I stayed at in Mebourne and Sydney. The open-plan kitchen and lounge had a very homey feel—it felt more like staying over in a great-aunt's house than a hostel. The giant window with a beautiful view of the ocean didn't hurt either. It was a bit chilly when we were there, but I can only imagine how amazing the hammock and patio furniture would be in summer.
Helpful staff: The Texan-turned-Australian who checked us in was awesome about answering our questions and giving recommendations. We never would have discovered Mait's Rainforest or Gibb's Steps without him.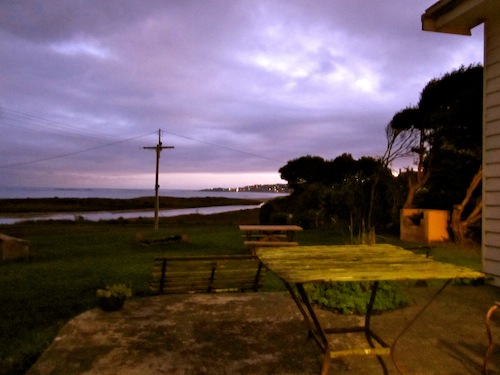 Gorgeous views: Granted, our room key literally said "view"—so I'm pretty sure we lucked out. We woke up to sunlight streaming through the window and the sight of waves crashing on the surf. Even though we were right behind the Great Ocean Road, there wasn't much traffic at night: the only noise we heard was the crashing of waves, which was shockingly loud but strangely soothing.
Easy to find: It looked easy enough to find on the map: just one turn off the Great Ocean Road right past the town of Apollo Bay. In case you forget to write the street name down, there's a handy sign pointing you to Surfside Backpackers from the Great Ocean Road. However, if  you're arriving in the dark it might be a bit trickier: the road signs aren't very well lit.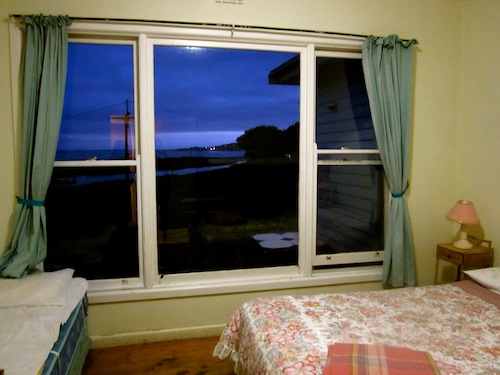 Warm and toasty: The beds had ELECTRIC BLANKETS! Hot-blooded Renee wasn't fazed by this perk, but I have awful circulation and thus my feet and hands are always freezing. After a long day in the car, I was stoked to curl up in a warm, cozy bed. Again, kind of feels like you're staying at your great-aunt's, but in the best possible way.
There was only one thing that I didn't love about the Surfside Backpackers. If I were traveling by myself, I wouldn't have been too keen on the location: it's about a five-minute walk from the strip of town where you find restaurants, pubs (all two of them) and grocery stores. The walk is easy enough, but it's not very well-lit. The town seemed extremely safe, and I wasn't worried at all with Renee—but if I were by myself, I might have been a bit more wary to wander along the very dark road.
Note: Surfside Backpackers graciously offered me a free night of accommodation, but all opinions are my own.