Food and wine envy: Paris edition
As I read through the responses to my query as to people's favorite places in Paris, I wondered how I would answer the question myself. The Marais is my preferred neighborhood and the Jardin du Luxembourg is my go-to spot on a sunny day; I have amazing memories under the Eiffel Tower and I'd rather get lost in the City of Light than do anything else. But really, my favorite places, my favorite Parisian memories are inextricably linked with food and drink.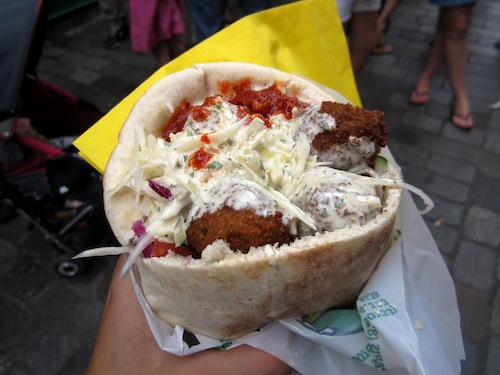 My first stop in Paris is usually L'As du Falafel on Rue des Rosiers. It's right down the street from where my parents rent an apartment in the Marais when I'm lucky enough to travel with them–but  it's also my ultimate budget meal when I'm on my own. Absolutely delicious, super filling and a bit of spice–for just 5 Euros! On a sunny day, I wander over and eat it on a bench in a square tucked away on Rue des Blancs-Manteaux and Rue Vieille du Temple.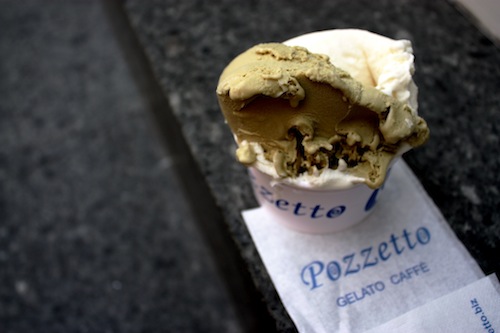 I reckon Pozzetto is the best gelato in Paris. At the very least, it's my favorite. And I take my ice cream very, very seriously. Pozzetto is remarkably creamy and delightfully fresh, with ever-changing seasonal flavors but not too many to overwhelm you. I usually take a seat on the stoop, eat my gelato ridiculously slowly with an enormous smile on my face and people watch to my heart's content. It's the perfect after-falafel treat to sustain me through an afternoon of shopping and wandering through the Marais.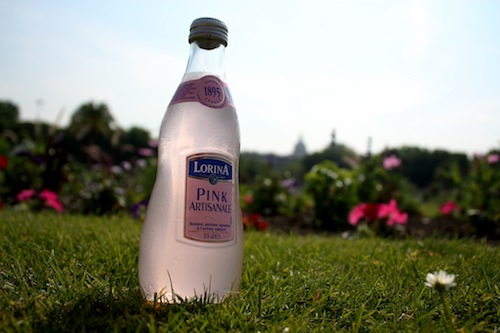 On  that rare sunny day in Paris, there is no place I'd rather be than sprawled out on an iconic green chair in the Jardin du Luxembourg. A fancy-schmancy cold drink from Monoprix and a few French gossip magazines, and you've got my perfect afternoon.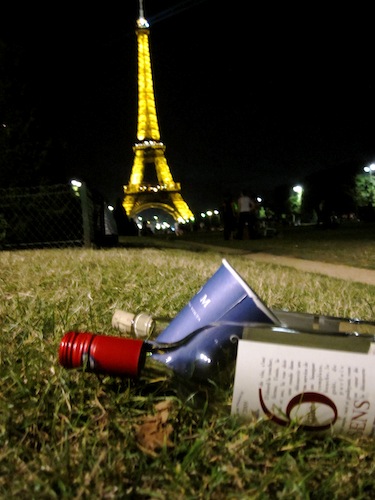 You just can't get more romantic than a bottle of wine under a sparkling Eiffel Tower. The details may be a bit hazy–merci, cheap Monoprix wine–but easily one of my best nights in Paris. Or ever, really.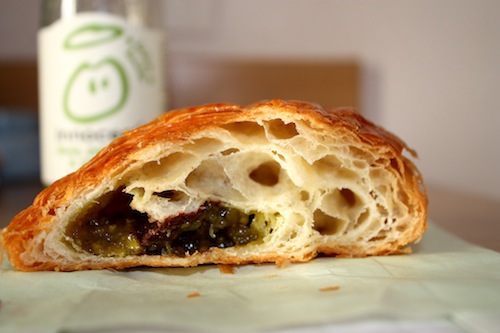 It is no secret that the pain au chocolat is one of the reasons I fell in love with France as a naive and picky 11-year-old. It's a love affair that's lasted: through the temperamental teenage summer I spent in Provence at 16, the first-bite-of-independence summer in Paris at 19, the annual shopping trips during my university years, my six-month stint in Nice. But it took on a whole new level with my first bite of Ladurée pain au chocolat au pistache in Paris last June: the perfectly flaky crust, the infusion of pistachio mixed with rich dark chocolate, the remarkable airiness. All alone in a courtyard across the street from the Opera, the result of just wandering in an open door– it was an early-morning moment that I wished I was sharing with someone.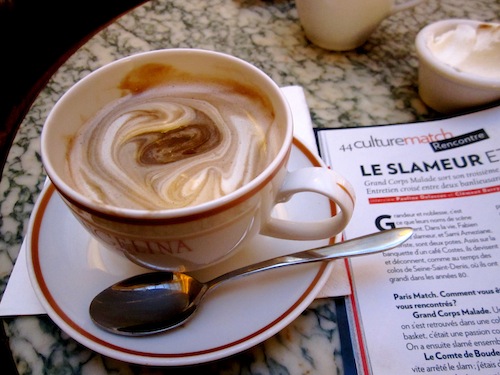 This hot chocolate pushed me over the edge. It was sweltering hot and I had already eaten too much deliciously rich food that day, yet I insisted on conjuring up Coco Chanel and perusing my magazine while sipping an iconic Angelina hot chocolate for the first time. I spent the rest of that sweaty June afternoon with an awful stomachache, reminded that the life of a foodie is not always glamourous.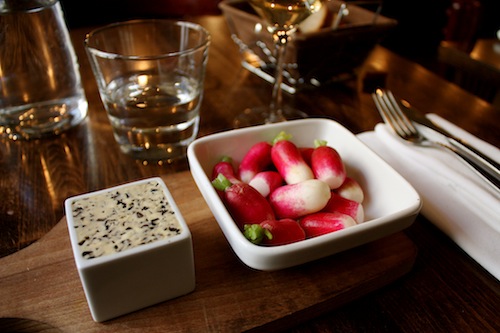 I like treating myself to lunch in Paris. It's not as pressured or couple-y as dinner, it's a bit cheaper and no one judges you for drinking wine by yourself. One of my favorite lunchtime memories was at La Ferrandaise in the Sixth. It's the new French cuisine that I absolutely love: organic, local and fresh, with an emphasis on straightforward quality. Those radishes to start were absolutely succulent: nothing other than a touch of herbed butter, and I was swooning. It was a rare meal by myself where I didn't distract myself with a magazine or a book: I simply focused on the food and wine. And that was more than enough.
What are your favorite Paris food and wine memories?
The winners of the Paris, Paris book giveaway all won me over with answers that gave me Paris envy. Congratulations to Dave Dean, Marisa Williams and Jodi Henderson!