Brewery tours: the best invention since beer
I've always been a beer girl. I'll never forget as I knocked back my after-work pint of lager while working in France: my British coworkers gave each other a look of appreciation: "Only a Yank could drink a beer like that." I spent high school and college drowning red cups of cheap keg beer and cans of Keystone Light: you knew it was a classy party when they had Bud Light.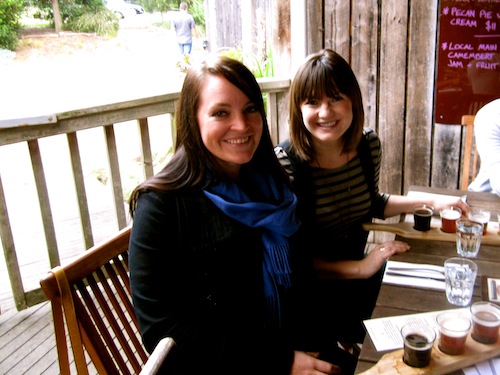 Eventually, my beer tasting palate became slightly more sophisticated. I splurged on Coronas with lime and Blue Moon with orange and learned the difference between pales and porters. So when  Good Beer Week rolled around in Melbourne, I was keen to embrace my inner beer snob when a friend invited me on the Mornington Peninsula Aussie Brewery Tour. Wine often steals the spotlight in Australia, with world-renowned wine growing regions in most states. I tasted the offerings in Yarra Valley a few weeks ago, but I'd take a pint over a pinot any day.
Aussie Brewery Tours is still quite new to the game: they won't even have their official launch until mid-June. But the recipe for success is certainly there. Scott, the owner and tour guide, has a real passion for craft beer and microbreweries, and his enthusiasm is infectious. On the road to the first brewery, he shares the basics of beer making, a hilarious overview of the history of beer and spot-on insight into Australians' relationship with beer–along with a bevy of beer trivia facts, like that a former Australian prime minister was once the beer drinking champion of the world. Seriously, only in Australia.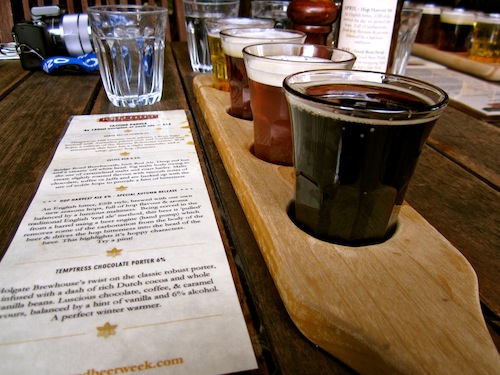 Red Hill Brewery: Nestled in the wooded hills, the rustic Red Hill Brewery feels ages away from the urban allure of Melbourne. Since it was Good Beer Week, Red Hill was doing a Good Beer Swap: the tasting paddle featured three beers from other wineries, as well as their latest hop harvest. While the Red Hill brew was delicious, it was the Holgate Temptress Porter that was the overwhelming favorite. With hints of caramel and vanilla, it was dessert in a glass–and so good that none of us could resist having it with our lunch. (I quickly decided that this was going to be a "steak and beer" sort of day, opting for a succulent steak sandwich.)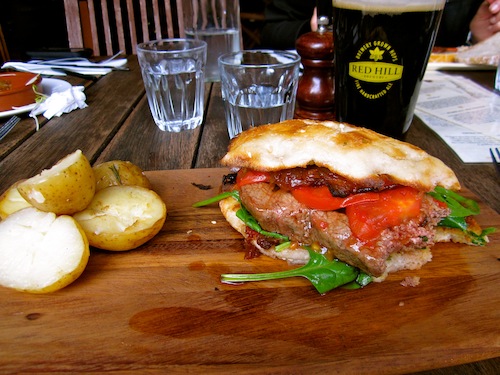 Mornington Peninsula Brewery: The Mornington Peninsula Brewery doesn't exactly warrant a second glance the first time you drive by. Plopped down in an industrial area, it looks more like a manufacturing facility or unassuming office building than a beer lover's destination. But at just eight months old, it's already got a great thing going: passionate owners, buzzy atmosphere and, most importantly, incredible beer.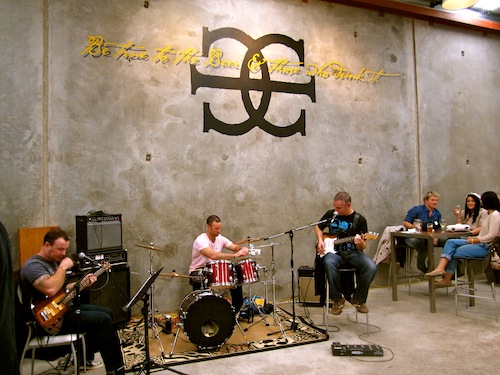 It has a sparse but ideal set-up for a Sunday session: live music, good beer, hot pizza. The décor is straightforward and open, with a wood-fired pizza oven and beer-making facilities taking center stage. The crowd ranged from young families (complete with babies on hips and toddlers creating mayhem) to older couples and groups of twenty-something professionals.
I absolutely loved the Mornington Peninsula Pale, an American-style pale ale with strong passionfruit aromas. The head brewer at Red Hill said that a good beer is one you should be able to drink at least two pints of–and I reckon I could easily gulp the MP Pale all afternoon.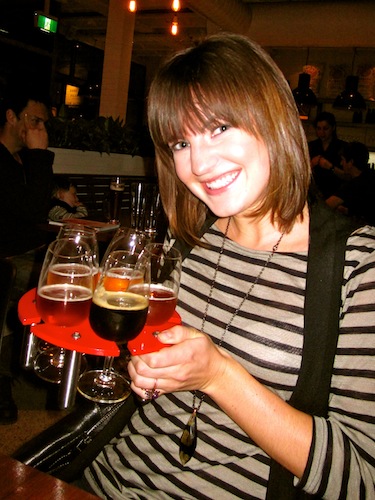 True South Brewery: One of the few breweries with a female head brewer, the beer on offer is refreshingly simple. The brews didn't seem as creative or arresting as the ones at the first two breweries, but they were good–and really, what more is there to ask for? Situated across from the water in scenic Black Rock, True South had more of a restaurant-with-a-brewery-in-the-background feel.
By the end of the day, I was delightfully beer drunk (isn't that the best kind?) but also felt like I had learned much more about the craft of beer-making and tasted some incredible brews. It may not be as classy as going wine tasting, but beer tasting is a heck of a lot more laid-back and fun–and isn't that the Australian way?
The $160 price tag includes two tasting paddles, three pints, lunch, one brewery tour and transportation to and from Mornington Peninsula from Melbourne. It's completely worth it for the chance to see the beautiful Mornington Peninsula and drink heaps of beer without worrying about having a sober driver.
Have you been on a brewery tour or a beer tasting excursion?