Share the St Kilda view
Every day that I look out my window, I feel a little surge of glee. From my bed, I can spot palm trees, a roller coaster and the Port Phillip Bay (although I prefer to just think of it as the ocean). It feels like all my childhood dreams come true–especially since the waves in the bay are peacefully small and unlikely to sweep me out to sea.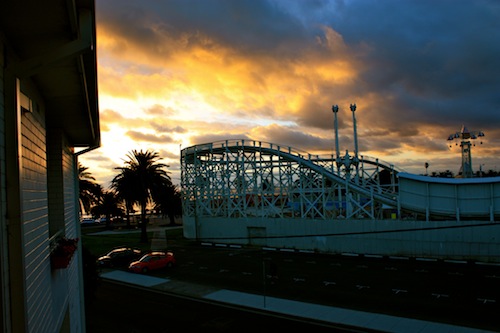 I'm really enjoying life in St Kilda–no doubt thanks to my excellent location. I'm just a few steps from the shops and cafes on Acland Street and the tram that quickly takes me into the city. Melbourne feels like this made-for-me combination of California cool and European style with an Aussie laid-back attitude. The foodie scene is ridiculous, and I read through my copy of Cheap Eats even while eating.
Melbourne feels like a good choice. And with waking up to that view every day, how can you blame me?
If you're interested in having a photo featured, please contact me.
I invite you to share a recent post that you loved: either your own's or someone else's, travel-related or not. I'll keep the love going by commenting, tweeting, facebookingand/or stumbling the post. I'm looking forward to building up some good blogging karma and hopefully discovering some gems that I wouldn't find on my own.