#10: Why I didn't lie out at Bondi Beach
As soon as I decided to go to Sydney, I started daydreaming about long, sun-drenched days at Bondi Beach–so much so that I included it in my Australia bucket list.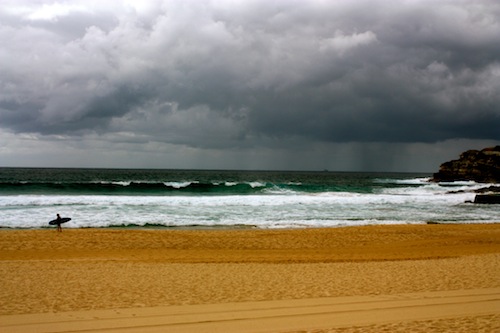 Bondi Beach is synonymous with Sydney beach culture: I didn't even realize that Sydney had other beaches! It seems like Bondi is the only beach you ever hear about. I was pleasantly surprised to find Bronte Beach while doing the Bondi to Coogee coastal walk, and to learn about Manly Beach from a local.
Maybe not at Bondi, but "lying out" has always been one of my favorite activities. Sunny weather, a good book, a bottle of sunscreen and a colorful bikini are all I need for a very satisfied day. The whole swimming thing is a bit secondary. I've never liked getting my face wet—well, more accurately, I haven't quite mastered not breathing in underwater. Or not opening my eyes with very-not-waterproof contacts in. The refreshing, azure water is there to splash on, cool off–swimming is best left to the fish!
And those are my issues in the controlled environment of a swimming pool. Growing up around lakes and rivers—and even then, I tend to stick to chlorine environments—I don't fare well in oceans. I'm terrified of getting the wind knocked out of me by a big wave (which happened plenty of times when I was learning to surf in Hawaii), or being swept out to sea (knock on wood, hasn't happened yet).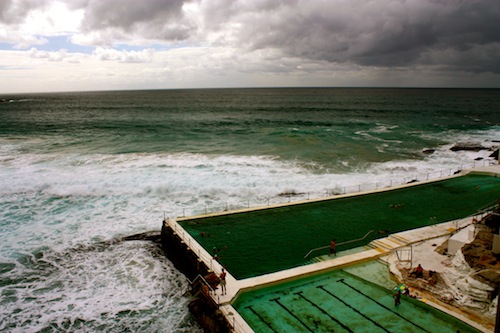 Especially after learning about the risks that awaited me in Australian waters. Rip currents. Sharks. Blue box jelly fish.  Did you know that if you're caught in a rip current, you're supposed to swim parallel to shore and stay calm? This is surely not what my first instinct would be if I was being swept out to sea. And that blue box jelly fish are the most lethal creature in the entire world?
And then, right when I was considering that odds of me actually dying in Australian waters were probably far less to me driving on Australian roads (you know, being reasonable and such), my roommate flipped on a show called Bondi Rescue. It's the real-life version of Baywatch, complete with hot lifeguards and people constantly drowning in the surf. I only needed to watch one episode to know that I did want to end up like the Korean guy vomiting up buckets full of water. On TV. Not only in front of the hot lifeguards, but in front of an audience of plenty of hot Australians. No, no, I didn't want to be that girl.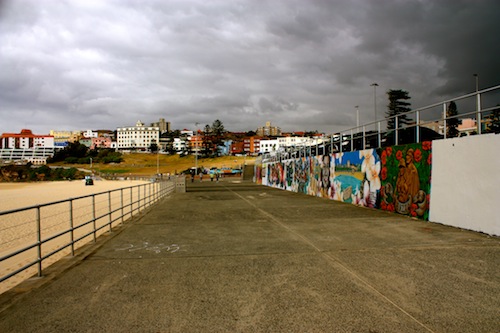 The risks of Bondi Beach aren't limited to the water. Since it's such a tourist hotspot, theft is common. Best not to leave your goods unattended on the beach while testing the waters–as I often do when I'm solo.
Basically, laying out—or, God forbid actually swimming— at Bondi Beach isn't all it's cracked up to be. Even though it was #10 on my Australia bucket list, I really have no qualms about missing it. I discovered the beaches that aren't quite as high on the tourist checklist, yet are still plenty popular with locals—for good reason.
And honestly? Since I didn't want the papers to be splashed with "Travel blogger dies violent ocean death," I pretty much stayed out of the water altogether. At the very least, I got a nice tan…