What to do in New Zealand
Today's guest post comes from Amanda Williams of A Dangerous Business.
New Zealand is deceiving.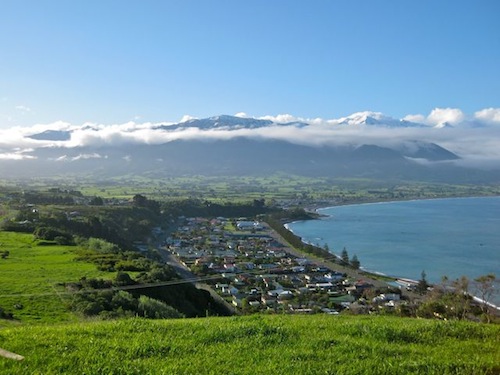 When you look at this South Pacific nation on a map, it looks small, especially compared to nearby Australia. It looks like an unassuming sort of country; the type that you could easily explore and enjoy in a week or two.But don't be fooled!
New Zealand has more to offer than you might think. Whether you want to try out some of New Zealand's adventure sports, tour some of the country's notable wineries, get a taste of the popular rugby culture, hike some of the most beautiful tracks in the world, or simply get lost in the area's "no worries" attitude, there's ample opportunity. And, with landscape that can change from beach to forest to volcanic desert to mountains within hours, New Zealand will always keep you on your toes.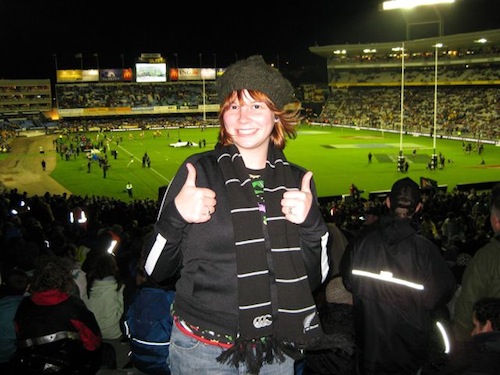 Attend an All Blacks rugby match
Rugby is not only New Zealand's national sport, but also a national pastime. And the kiwis are very supportive of their national team, the All Blacks. If you've never seen rugby played before, get oriented by seeing one of the world's best teams in action. If you can see them play against archrivals the Australian Wallabies, even better.
Check out rugby at Eden Park in Auckland, New Zealand's largest city. Often referred to as "the City of Sails" due to its large harbor and vast number of sailboats, Auckland is definitely worth exploring for an afternoon before catching the rugby match.
Experience a bit of Maori culture
Get acquainted with the native New Zealanders – the Maori. Their culture, history and traditions are interesting, and can be experienced all over the country. Visit a place like Tamaki Village or Te Puia in Rotorua for a Maori cultural celebration and traditional hangi (dinner that is smoked in an earthen oven). Make a stop at a Maori marae, or sacred meeting ground, where culture is taught and celebrated, often within beautiful meeting houses. Or visit the town of Waitangi, where the Treaty of Waitangi was signed in 1840, giving Maori the rights of British subjects in New Zealand.
The Maori culture is prevalent across New Zealand through artwork, jewelry, and even a traditional war dance that the All Blacks perform before every rugby match. So it's worth getting familiar with.
Hike the Tongariro Crossing
This 18.5-kilometer, day-long trek within Tongariro National Park on New Zealand's North Island is supposed to be the best one-day hike in New Zealand – and possibly one of the best in the world. The crossing spans the length of Mt. Tongariro, with views of the volcanoes Mt. Ruapehu and Mt. Ngauruhoe, along with spots with names like Red Crater and the Emerald Lakes. The trek takes between 7 and 9 hours, and is suitable for people of average fitness. Though, those daring enough can take a side trip to climb Mt. Ngauruhoe, which is most famous for doubling as "Mount Doom" in the "Lord of the Rings" films.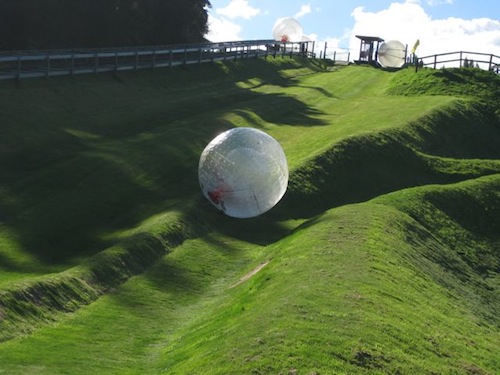 Go zorbing in Rotorua
Rotorua is best-known for being a geothermal hot spot, with plenty of spas and thermal parks on offer (I highly recommend touring Wai-O-Tapu if you have the time). But you can't leave this little lake town without going zorbing. Essentially, you dive into what looks like a plastic hamster ball and are then pushed down a hill. It sounds crazy, but I promise you won't be able to stop smiling afterward.
There are a few options for your zorb experience – "Zydro" will have you slipping around inside the orb with an extra person or two, while "Zorbit" has you strapped in so that you go tumbling head over heels.
Look out over Wellington from atop Mount Victoria
Wellington, situated right on the southern end of the North Island, often gets overlooked by travelers and backpackers. It's New Zealand's political capital, but the city has so much more to offer than government buildings and men in business suits. Wellington is also a lively coastal town with a vibrant and quirky cultural scene.
If you only have the chance to do one thing in Wellington, hop a bus (or take a day hike) to the Mount Victoria lookout. From this vantage point, Wellington and its harbor and hillside homes are sprawled out below you in a picture-perfect panorama.
Other suggestions for Wellington include spending an afternoon learning about New Zealand's history at Te Papa, the country's (free!) national museum; touring the country's Parliament buildings, one of which is nicknamed "The Beehive"; grabbing a bite to eat on the culturally-infused Cuba Street; taking the historical cable car up to the botanical gardens; and heading to Courtenay Place after dark for a lively nightlife scene.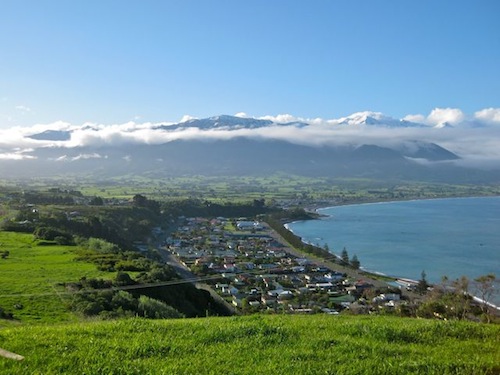 Go whale watching in Kaikoura
Kaikoura is nothing more than a tiny coastal town nestled at the base of the Kaikoura Range on New Zealand's South Island. … Now read through that sentence again. Ocean. Mountains. Quaint little New Zealand town… It makes for a perfect weekend getaway.
And it just so happens that Kaikoura boasts some of the best whale watching in the country, with sperm whales in the area year-round. Whale Watch Kaikoura will even give you your money back if you don't spot a whale on one of their tours.
You can also have other unique marine life encounters here, such as swimming with dolphins and fur seals.
Drive the Southern Scenic Route through the Catlins
Snaking along the bottom of New Zealand's South Island is the Southern Scenic Route – a two-lane roadway with breathtaking, wind-swept coastal scenes around every corner. Taking a road trip along this route is a must, especially the portion between the cities of Dunedin and Invercargill. South of Dunedin, you'll drive through an area known as the Catlins – an area characterized by its rugged coastline and temperate rainforest.
Stop off at places like Nugget Point, Cathedral Caves, Purakaunui Falls, and the petrified forest at Curio bay. And be sure to have your camera at the ready and a full charge on your battery for this drive.
Jump off a bridge in Queenstown
New Zealand is known for its adrenaline-inducing adventure activities, including bungy jumping. This crazy sport is said to have been invented in New Zealand, which is evidenced in the number of bungy sites all across the country. There are a number of places to fling yourself off bridges or cliffs, but for the original spot (the Kawarau Bridge) and some truly panic-inducing sites, head to Queenstown, where AJ Hackett operates some of the best bungy spots in the country – and possibly the world.
While you're in Queenstown, dubbed "New Zealand's adventure capital," take advantage of some of the other activities on offer, such as skiing, jetboating, river surfing, parasailing or canyoning. Or, take it slow with a trip up the Skyline Gondola, or a cruise on Lake Wakatipu. Sitting on one end of the lake and at the foot of the Remarkables mountain range, resort-like Queenstown is a stunning locale, no matter what you're aiming to do.
Cruise Milford Sound
Whether you visit this natural wonder on an uncharacteristically clear day or on a more typical wet one, Milford Sound is a must-see. Day trips to New Zealand's most popular attraction can be booked from Queenstown or Te Anau, and usually include coach transfer via the mountain-lined Milford Road and a cruise through Milford Sound.
Cruising on a clear day will take you past iconic Mitre Peak and a few waterfalls, with the blues and greens of the sky, sea and mountains popping as if enhanced in Photoshop. But, if you catch Milford Sound on a rainy day (which is common on New Zealand's West Coast), don't worry – the hundreds of waterfalls pouring down into dark water will still be a sight you won't soon forget.
Soar over the Southern Alps
If you happen to catch Milford Sound on a clear day, splurge on a helicopter or fixed-wing plane flight one-way between Milford and Queenstown. The flight will take you up over the majestic Southern Alps, where snow-capped peaks stretch on for miles and you can spot crystal-clear mountain lakes and the world's 10th-tallest waterfall – Browne Falls.
While it makes for an expensive afternoon, it's worth every penny (especially if you can find a good deal!). This ranks as one of my favorite travel experiences ever.
These suggestions, of course, are only the tip of the iceberg. New Zealand has so much to offer every type of traveler, and it's really up to you to come up with your own list of must-do activities!
Amanda is a 20-something college grad with a journalism degree under her belt, which she plans to use to rid the world of bad grammar and "there, their, they're" confusion. After studying abroad in New Zealand, Amanda has decided she'd love to move there one day so she can wear jandals, eat hokey pokey ice cream, and continue pretending she understands the rules of rugby. When not working or blogging, Amanda can usually be found dreaming of her next travel adventure, wherever that may be. Follow her at A Dangerous Business or on Twitter.