Welcome to Sydney: a review of Sydney Harbour YHA
The Sydney Harbour YHA is the perfect introduction to this sprawling city. I only stayed for a night, but I would have happily stayed for many more if I didn't have a friend who offered up her room for free while she's vacationing in Thailand for a few weeks. Here's my round-up on one of Sydney's newest and greenest—and in my opinion, loveliest—hostels: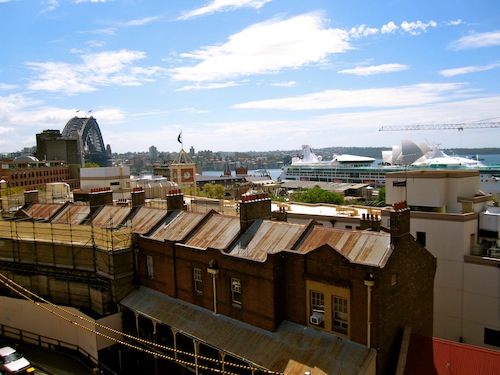 The positives:
It's got a rooftop terrace. With unparalleled views of Sydney's most iconic structures, like the Harbour Bridge and the Opera House. So much cooler than just a common room.
It's loaded with helpful information. There are boards on every level with posters and brochures for other YHAs in Australia: self-promotion, yes, but also a great way to get you thinking about your next stop. There's also a board with 101 free things to do in Sydney: perfect for not only the budget traveler, but also someone who's interested in doing more than the guidebook's top 10.
It's green. I noticed the recycling bin in the room, excellent natural lighting and the keycard-activated lighting and air conditioning. I also learned that the Sydney Harbour YHA has solar hot water, energy-efficient lighting and recycled rubber flooring. What's not to love about a cheap stay with a minimal carbon footprint?
It's very, very clean. I stayed in a four-bed dorm with a private bathroom, and it was spotless. The common room, kitchen and rooftop lounger were all immaculate as well.
All the bathrooms are en-suite. That means you don't have to go traipsing through the halls in your towel and shower flip-flops. I was also really impressed by the quality of the water and showerheads: nothing beats a nice hot shower after a long flight!
It's right in the heart of the Rocks, Sydney's oldest development: literally, it was built on the ruins. That means it still looks like an unfinished construction site at the entrance, but it's awesome to have a bit of a history lesson as soon as you arrive. There's also a Big Dig Archaeology Education Centre on site if you're interested in learning more.
For a quick trip to Sydney, the location is unbeatable. You're within walking distance to the major sites, such as the Sydney Opera House, Harbour Bridge, Botanical Gardens and the Museum of Sydney. It's also super close to key transportation, like the ferries to Manly Beach and Taronga Zoo.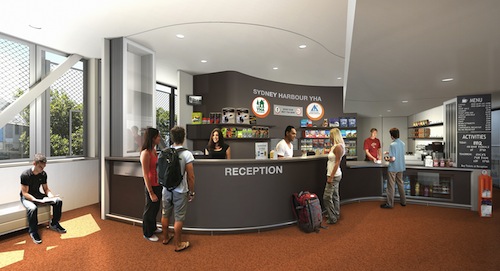 The people are awesome. Staff is really helpful and friendly. There's also a wide cross-section of people staying here: Australians, foreigners, backpackers, families, couples. The wide variety of rooms offered at every price range makes the Sydney Harbour YHA much more than a backpackers' hostel.
It's got the winning amenities. Shared kitchen, common lounge, in-room lockers: the Sydney Harbour YHA has my must-haves.
The negatives:
The internet isn't free. It's available, but at $1 for every 15 minutes. On the plus side, they offer PCs if you don't have your own computer. If you do, the Wifi is pretty quick and available anywhere in the hostel. Seriously, add in free Wifi and I might move in.
There are a heck of a lot of stairs if you're coming from the train station or nearest bus stop. If you've got a rolling suitcase or you're not up for the climb, I'd definitely recommend a taxi to the hostel's doorstep.
Note: Sydney Harbour YHA graciously offered me a free night of accommodation and use of the last two photos in this post, but all opinions are my own.
Further, I received the following note from the marketing director at YHA regarding the Wifi charges and found it very helpful in understanding why most hostels in Australia charge for Wifi:
"Just a quick note about the wifi. Here in Australia, we pay a lot to our telecommunications companies for data download – it's a rip off but they have it all sewn up. (For instance, I pay $60 a month for a very modest download allowance at home). Therefore offering free wifi would be prohibitively expensive – especially as travellers have been known to download the odd movie or two! Where you will see free wifi around town, it's usually either very slow, provided by cafes to get you to spend more on coffee, or by government bodies like libraries.
YHA decided early on that we would have the best and fastest wifi available but we would charge for it. No old dodgy machines with broken headphones, nothing to sit on and slow download. We do offer free access to a number of sites – yha.com.au, yha.co.nz andwhitepages.com.au It was a decision in keeping with our philosophy of offering the best quality backpacker hostels and services."