Staying in shape while traveling
Vacation is usually an excuse to relax and indulge; workouts and diets are best kept at home. But when travel becomes a lifestyle, it's important to learn how to stay healthy and fit without the reliable comfort of a kitchen or a gym.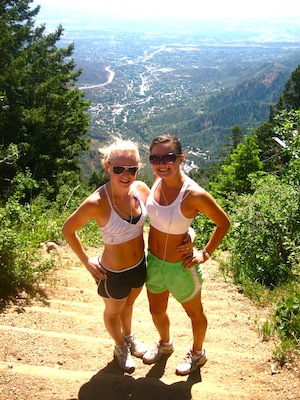 Hostels rarely have fitness centers, so I've found that my on-the-road workouts have to be able to be performed anywhere and with minimal equipment.  And even though I regularly enjoy in local specialties—good bread and rich chocolates are particular weaknesses—I rarely gain weight on the road by drinking lots of water and staying active.
Walking: Quite simply, I walk just about everywhere. It's a win-win-win situation: I stay active, I save money and I get to explore the city up close. On holiday in Spain, I rarely took public transport, preferring instead to wander through the parks and soak up the sunshine in Barcelona and Valencia. While living in Colorado Springs, I spent my days off hiking and exploring the gorgeous natural beauty that surrounded me–including doing The Incline every Saturday. Don't forget to wear comfortable shoes: I'll be testing out the Vibram FiveFingers as I explore Sydney.
Taking the stairs: When walking just wouldn't make sense, I'll always take the subway system over the bus. The primary reason is that while I can always figure out a subway system with relative ease, I never fail to get lost using the bus. An added bonus is the stairs: great leg workout!
Drinking lots of water: Alcohol, soda and fruit juice are a quick way to pack on the pounds and lose energy while you're on the road. Stick to water—I never leave without a Klean Kanteen full of tap water in the morning. It's heavy in my bag, which reminds me to drink it and stay hydrated. I also order ice water at restaurants and bars–there's nothing more refreshing and budget-friendly! Heading to a place where you don't trust the water? Try out the Bobble, which incorporates a filter into the water bottle.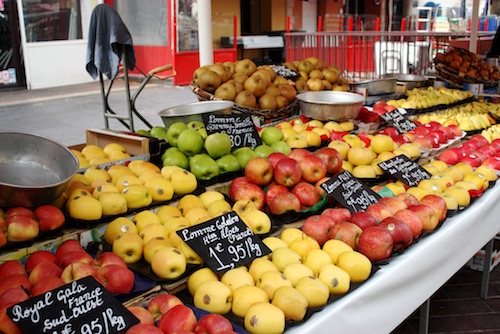 Go to market: Checking out a local market isn't just a cultural experience: it's great for your health! Plan a picnic or sneak in a snack of fresh, local produce and artisan products.
Bender ball: The Bender ball is a staple in Pilates classes and personal training sessions. It's a great way to increase the intensity on your core workouts: strengthening your abs, obliques and back.  Plus, it deflates and blows up easily, making it easy to stow in your bag.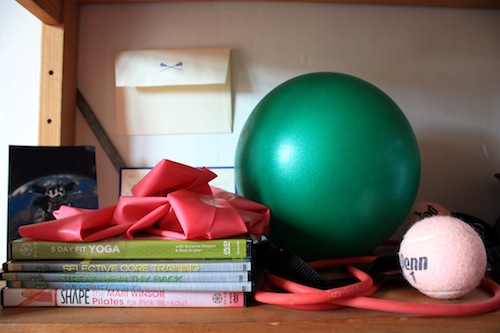 Resistance bands: Resistance bands can be used to work almost every part of the body, but they're my favorite for arms, shoulders, inner and outer thighs and glutes. They're practically weightless and can be tucked into just about any space in your bag.
Your own body weight: There's a reason why pushups, tricep dips and situps are still the most popular exercises around: they work, they're cheap and they're (relatively) easy. Add in squats, lunges and wall sits and you've got a full-body workout that doesn't require any equipment.
Yoga poses: As I stressed in how yoga made me a better traveler, yoga is an easy way to stay calm and centered while in the midst of travel chaos. I love the Yoga Journal web site to find new poses, sequences and workouts.
How do you stay healthy and in shape while traveling?