Share the tulip love
Today's photo was contributed by Marisa of MarisaWilliams.com. On an otherwise dreary spring visit to Amsterdam in 2002, she and her friend took advantage of one of the few dry days to visit Keukenhof Gardens in Lisse. If you like flowering gardens and tulips in particular, this is the mother of all such situations. More than 7 million bulbs burst with color here annually, and it's truly a sight to behold. According to the park's planners, the ideal time to view the blooms is the last two weeks of April or the first week of May, which is precisely when she had the good fortune to go. Of the many (many) beautiful beds of tulips, this pale yellow patch moved her the most.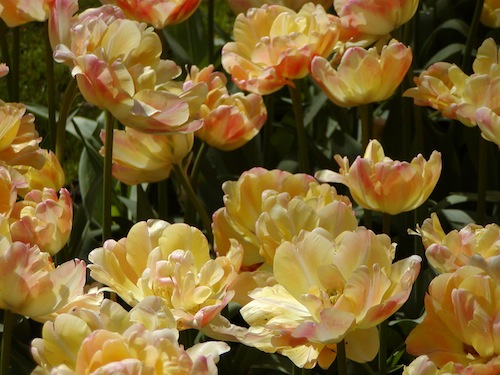 If you're interested in having a photo featured, please contact me.
I invite you to share a recent post that you loved: either your own's or someone else's, travel-related or not. I'll keep the love going by commenting, tweeting, facebooking and/or stumbling the post. I'm looking forward to building up some good blogging karma and hopefully discovering some gems that I wouldn't find on my own.