Share the Hampi Love
Today's photo was contributed by Connie Hum of ConnVoyage. In one of the Hindu temples around Hampi, India, she came across a group of raucous monkeys clambering around. Out of the corner of my eye, she saw a lone monkey sitting among the rocks, staring out toward to serene landscape in quiet reflection. The image was rather powerful and stayed with her throughout Hampi.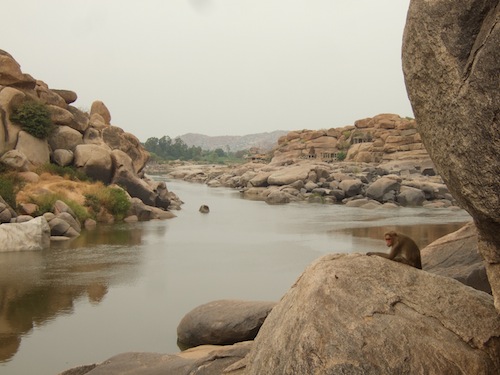 If you're interested in having a photo featured, please contact me.
I invite you to share a recent post that you loved: either your own's or someone else's, travel-related or not. I'll keep the love going by commenting, tweeting, facebooking and/or stumbling the post. I'm looking forward to building up some good blogging karma and hopefully discovering some gems that I wouldn't find on my own.